I'll never need more reasons to go for a shopping trip to Target. Nonetheless, I've just been provided with one: a crop of new Ben & Jerry's flavors. The ice cream company has added two more options to its exclusive line, available at the retail store: Volun-Tiramisu and Peanut Butter World. Both are intended to promote volunteerism, and both sound astoundingly delicious.
Peanut Butter World is described as a "milk chocolate ice cream with peanut buttery swirls and chocolate cookie swirls." Imagine a rich chocolate ice cream with two circular chocolate pieces from an Oreo cookie and swirls of gooey peanut butter.
Tasters disagreed on the ratio of chocolate to peanut butter. "Good balance of both," one commented, while another suggested, "It's really chocolate ice cream with equal parts cookie and peanut butter, so I think the name is misleading." I enjoyed the dense, cocoa-like flavor of the ice cream, which seemed more dark chocolate than milk to me. Get the rest of the new flavor scoop when you read more.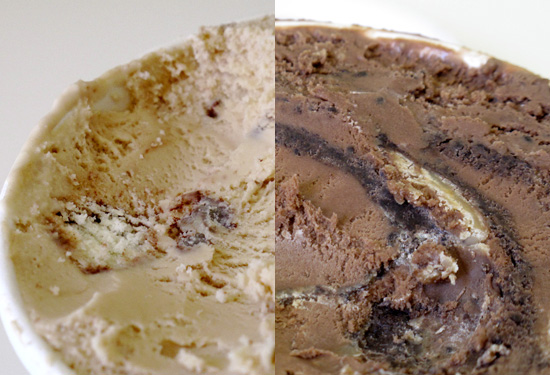 Volun-Tiramisu sounds like the stuff dreams are made of: coffee mascarpone ice cream blanketed with cocoa-dusted coffee rum lady finger pieces. We loved the cake-like texture of the cookies, which did in fact resemble real ladyfingers in flavor and texture.
Unfortunately, the rest of the ice cream wasn't so accurate: "Didn't taste like tiramisu to me," one person remarked. "Too sweet and fakey tasting," said another. I was satisfied, but could see how the ice cream would benefit from more coffee and less caramel flavor.
Warning: if you're a sucker for the combination of peanuts and chocolate, your love for Peanut Butter World will be sudden and immediate, and the tiramisu is still a suitable stand-in for the original, despite its dearth of coffee. In the end, though, one taster summed it up perfectly: "Delicious. Loved both. Would buy both. Yum!" Have you tried either of these exclusive flavors?