Benefits of Eating as a Family
Did You Eat Together as a Family?
Think sitting down and sharing a meal as a family is just about a warm, fuzzy feeling? A new study by the journal Pediatrics says it may be much more than that. The study found that kids (aged 2 to 17) who shared at least three meals a week with their families were less likely to be overweight, eat junk food, or develop an eating disorder, and more likely to eat produce.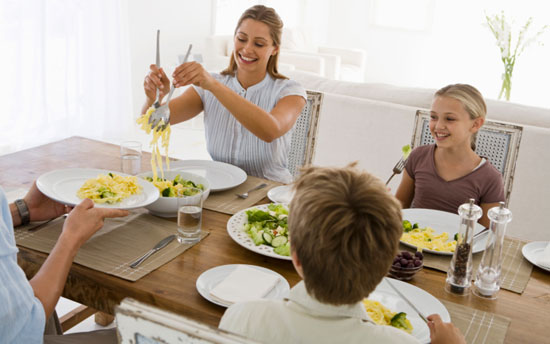 I ate meals with my family more often than not as a kid, and these findings make perfect sense to me: family meals typically consisted of homemade pasta, grilled chicken, or turkey burgers, plus lots of fruits of veggies. Meals with friends, on the other hand, usually happened at In-N-Out! Did you sit down for family meals growing up? How did it affect your eating habits?