Is This the Best Baked Brownie Recipe Ever?
Baked Brownies, or How to Win Friends and Influence People
Are these brownies the best brownies ever? OnSugar blog Twice Baked seems to think so. Her argument is so convincing I want to make them!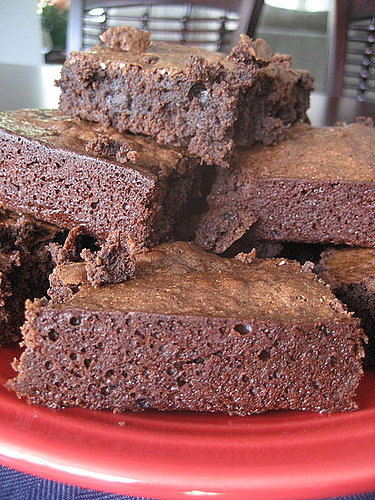 I was talking to Joe about this blog last night when I realized why I love baking so much. Of course it's partly about the end results — the sweet, sweet end results. But mostly, I said, the reasons I like baking are the same reasons I like writing. First, it's a love of the process, of putting ingredients (sugar, flour, verbs, adjectives) together to create something greater than the sum of its parts. And secondly, it's the rewarding feeling of sharing that something. To put a noble spin on it, I enjoy the mutual enjoyment of sharing both great writing and great food. Put more plainly, I like the attention I get when I make something awesome.
Which brings me to the Baked Brownies.
Read the rest of her ode to brownies after the jump.
These are the best brownies I have ever had in my entire life. That is not exaggeration for effect. I repeat: These are literally the best brownies I have ever tasted. And I'll admit that I'm a brownie snob. I don't like chocolate cake as a rule, so anything that has the fluffy texture and watered-down flavor of chocolate cake is unacceptable to me. My brownies need to be dense, rich, gooey. They need to be soft, even if that means cutting off the crusts.
These brownies meet all those criteria and more, crusts and all.
Full disclosure: I knew I'd be sharing these with Joe, who cannot stand even the slightest hint of coffee flavor in anything he eats, so I left out the espresso powder. While I'm sure I'm missing out on another level of richness because of it, I don't care because, again, these are the best brownies I have ever tasted. And I made them!
And what's almost more unbelievable is that they were easy. The process is basically mixing dry ingredients together, melting butter and chocolate, adding sugar, and folding into dry ingredient mixture. My only freak-out occurred when I added the sugar to the melted chocolate, which turned from a creamy delectable goodness (see above) into a grainy, thick, almost doughy texture. I was certain I'd caused the chocolate to seize. But after debating starting over, I threw caution to the wind (aka embraced my stubbornness) and went forth. The result: a plate full of food-porn-tastic brownies so rich that you can't eat more than one. Joe tried to eat three, barely got through two, and I think maybe he almost died. Of awesomeness.
Because they were so delicious, I had to show them off. So I sent most of our batch to the fishing dock with Joe, where he passed them out among his friends. Everyone, he reported, was blown away. "These are the real deal," one fisherman said, meaning made from scratch rather than from a box. When Joe confirmed that I had, indeed, made them from scratch, the fisherman took another bite and smiled at him. "You better hang onto that one."
It sounds like the copy from some misogynist 1950s ad, but I have to admit, there's something really rewarding about knowing that among Joe's coworkers, I'm the awesome (soon-to-be) wife who bakes. But, frankly, not more rewarding than eating one myself.
Want to see more? Follow the blog Twiced Baked or start your own OnSugar blog. We may feature your post on YumSugar.