The Best Candy Cane Ice Cream
2 Peppermint Stick Ice Cream Options to Scoop Up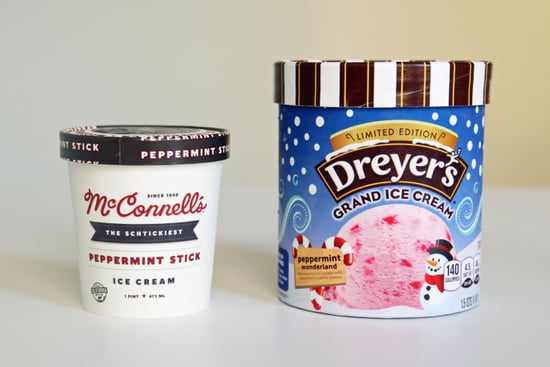 For an ice cream lover, even the Winter months can't keep 'em from scooping away. Luckily there are glorious seasonal flavors to discover. McConnell's Peppermint Stick ($10) is for true ice cream connoisseurs who don't mind shipping ice cream in. But for an easily accessible peppermint-flavored ice cream, there's always Dreyer's Peppermint Wonderland ($7). We tasted them side by side to see which pepperminty ice cream reigns supreme. Take a look at the reviews.
Dreyer's Peppermint Wonderland
Some found the bright pink swirls extremely eye catching, while others felt put off by the "radioactive color." Many tasters raved over the gooey chunks of peppermint candy and ultrafluffy texture, though some found the mint flavor highly artificial and chemically. Overall, the results were polarized. Half of the reviews exceeded four stars, while the other half voted between two and three stars.
McConnell's Peppermint Stick
In a landslide victory, every voter rated this ice cream between four and five stars. One claimed, "This is pretty much the best peppermint ice cream I've ever had." Another added, "Santa approved," with an incredible mouthfeel, smooth texture, perfect amount of peppermint stick crunch, and not too much sugar. Many also described the minty flavor as refreshing and cooling. We're apt to think this special, Winter-minty flavor is worth the shipping fees.
Photos: Nicole Perry