Best Chef's Knives
What to Look For in a Chef's Knife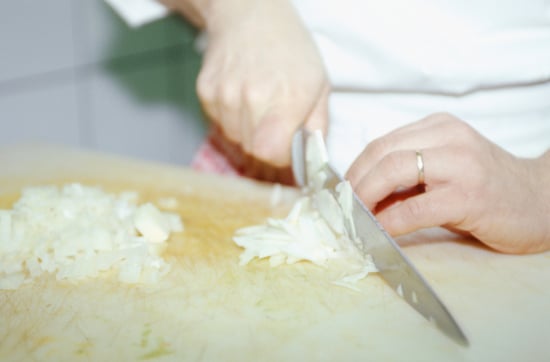 Whether you're just starting to dabble in the kitchen or cooking's an integral part of your daily life, one thing's for certain: you need a reliable chef's knife. It is, without question, the most vital tool in cooking. Although it's easy to be seduced by elaborately cut knives or 26-piece knife sets, the truth is that all you really need is one unfailing all-purpose knife.
A chef's knife, which generally has a blade that's eight to ten inches long, is the workhorse of the kitchen: it's long enough to slice, heavy enough to cleave bones, and precise enough to mince. You opt for a knife that's $30 or $300, or Japanese or German, but regardless of what specific knife you have in mind, there are a few universal attributes that you should take note of when shopping for one. Keep reading to see what you should look for in a chef's knife.
High-carbon stainless steel material. Although carbon steel is a viable option, it's apt to rust and stain, so opt for the more commonly found high-carbon stainless steel. It won't discolor and holds an edge rather well. Avoid ceramic blades, which can chip and break easily.
A knife that's sharp — and holds its precise blade for a long time. Sharp knifes require less effort, and are less likely to slip and create an accident. How do you know if that knife of yours is really sharp? Hold it against a flat surface, blade-up, and throw an onion on top of it. If a knife is truly sharp, it'll pierce right through the vegetable; if the onion bounces, the blade is dull.
Blades that don't bend easily. The blade of your chef's knife shouldn't bend; rather, it should feel firm, solid, and sturdy. Knives made of hot-forged steel are less likely to bend in comparison to stamped blades; they'll likely last longer, too.
A knife that's one piece of metal. Ideally, the blade of your chef's knife should extend all the way through the handle as one piece of metal; this way, the handle isn't ever going to separate from the blade.
General comfort and balance. At the end of the day, the right chef's knife for you should feel balanced in weight and natural to hold in your hand. Does it feel easy to control? If not, the blade may be too long. If it doesn't fit the size of your hand, or seems too heavy (or too light), keep looking for one that doesn't!
A knife that's not part of a set. Unless you're certain you'll use everything, don't buy chef's knives in a set. If you aren't familiar with a bird's beak knife or a partoku, then you probably don't need it. Focus on spending where it counts: on a single, stand-alone chef's knife that can be used in a variety of situations.
What type of chef's knife do you own and prefer?