Best Chef's Knives to Buy
Buyer's Guide: 3 Can't-Miss Chef's Knives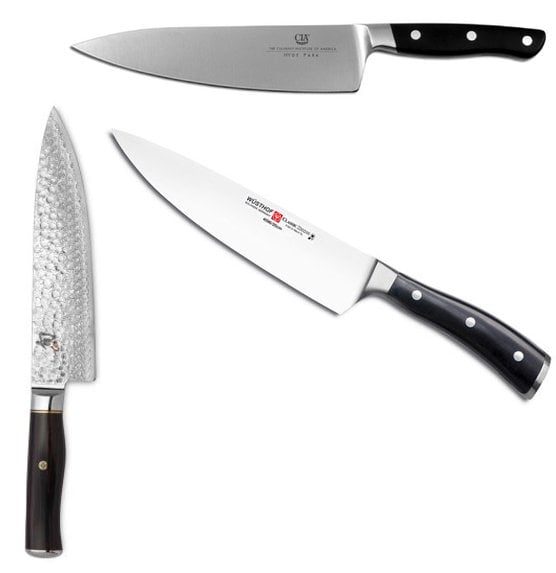 Serious chefs invest in serious knives. You'll discover that a high-quality knife cuts down on your chopping time, is less harsh on your joints, and creates precise, swoon-worthy slices. To avoid buying overpriced junk, here are a few rules you should abide by when purchasing a chef's knife. Ultimately, it's all about your hands and what feels right. Find a local store that carries the knife and practice holding and chopping with it so you're guaranteed to purchase something you love.
High-carbon stainless steel material: Stainless steel won't rust and does not impart metallic flavor or color onto your food. Because high-carbon stainless steel is hard and durable, it retains its sharp edge longer than most and is easy to clean, hone, and sharpen at home.
Heavy-duty construction: Look for knives that are forged from a single piece of steel with a full tang, which means that the steel runs from the blade to the edge of the handle. They offer better balance and are more resilient. Also look for a bolster, the thick steel portion in between the blade and the handle. A wide bolster indicates the thickness of the original piece of steel before it was forged; no sign of a bolster suggests that the knife was simply punched out of a roll of sheet metal.
Pointed tip and curved cutting edge: A standard Western-style chef's knife is eight inches long, has a rounded edge for easy chopping and mincing, and curves to a pointed tip for cutting into squash or for fine cuts.
Weighted, ergonomic handle While most chefs wrap a hand around the bolster of the knife, it's important to choose a handle you find comfortable. Most handles are ergonomically designed, but you might have a shape and material preference. Some are lined with rubber to keep the knife secure in your hand while other handles are made from wood or plastic. The best knives are designed so that the handle and the blade are equally weighted to make chopping a light, easy experience.
See why we love these three knives.
Pictured top to bottom:
CIA Masters Collection Hyde Park 8" Chef's Knife ($100): This is the standard knife used at the Culinary Institute of America, the most prominent chefs' school in the country, and it's designed to withstand years of hard labor in a kitchen. The knife is made from one piece of durable, stainless steel, is ergonomically designed, and has a lifetime warranty. For all that, it's a steal!
Wusthof Classic Ikon Cook's Knife ($160): Simple, classic, and functional, this German knife displays its fine craftsmanship through its design. The handle exposes the full tang, the two-thirds bolster gives you the opportunity to sharpen the entire blade, and it's a perfectly balanced knife.
Shun Hiro Chef's Knife ($350): This knife is the crème de la crème. It's made with a superlight, extremely thin steel, which makes chopping a quick and effortless task. The blade contains a beveled, hammered pattern to prevent items from sticking to it as you slice. The handle is ambidextrous, so it's ergonomically comfortable for anyone. When I worked at a restaurant, a line cook invested in one of these, and we all fought to get the chance to hold this remarkably designed, handcrafted knife.