Best Food News 2013
Our Gut Reactions to This Year's Biggest Food Headlines
Oh, 2013. You teased us with so many delicious things we couldn't get our hands on (read: the Cronut and Ramen Burger), gave us double the reason to celebrate the season (Thanksgivukkah), ousted a food star (Paula Deen), and stopped the production of a beloved condiment (sriracha). These GIFs pretty much sum up how we took the news.
The Cronut Made Us Groan With Longing
Dominique Ansel's Cronut, a croissant-doughnut hybrid found exclusively in his New York City bakery, flooded the food scene, blogs, and Instagram. High-res, close-up shots of those cream-filled Cronuts left us all feeling agonized . . . that is, until we got our hands on one months later.
Keep reading for more GIFs.
We Said Yes to the Ramen Burger
Ramen pro Keizo Shimamoto introduced the Ramen Burger to just a handful of Brooklynites, who Instagrammed the crazy hybrid and caused a worldwide flip-out. The hard-core fans proceeded to re-create the buns at home.
Thanksgivukkah: The Greatest Celebration Since Chrismukkah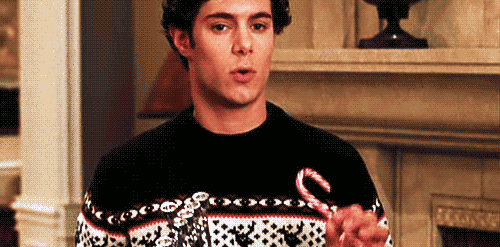 Seth Cohen of The O.C. popularized the hybrid holiday Chrismukkah, but for the only year in our lifetime, Hanukkah and Thanksgiving fell on the same day. This past Thanksgivukkah feast wouldn't have been complete without wondrous mashups like fried turkey, pumpkin sufganiyot, and challah bread rolls.
The
Paula Deen

Scandal Enraged
In one of the most epic meltdowns in food history, Paula Deen's racism scandal all but destroyed the Southern food star's empire. Only after her contract with Food Network ended and basically all of her endorsement deals dropped did the judge dismiss the racial discrimination claims. However, queen Deen is already rebuilding her brand, starting with a grocery store that will carry her name-branded items.
Sriracha Production Ended; Let the Overconsumption Commence
To sriracha hot sauce fans 'round the globe, news that a courtroom hearing forced the Huy Fong factory to close (its spicy fumes gave neighbors a chronic cough) means the time has come to put matters into our own hands by sriracha-fying everything near and dear until we can't anymore.
We Were Annoyed That Food Media Still Neglects Female Chefs
Though there are many notable female chefs, it appears as though many food publications continue to neglect them. Time magazine's "The Gods of Food" mentioned four women (though no chefs), and Food & Wine's Best New Chefs featured only one female chef out of the 25 selected chefs. The controversy sparked a hot debate. Chef Amanda Cohen pointed out that the press chooses to ignore female chefs because as of now, male chefs receive more investors, attract more buzz, and therefore receive more customers and popularity. Time posted a response article in which the author spoke to many notable female chefs, including Alice Waters, to discuss "what's holding female chefs back" from becoming as prominent as their male counterparts. Sexism in the 21st century makes our teeth itch.
Martha Stewart

's Bizarre Behavior Baffled

Martha Stewart, oh where should we even begin? Most recently, her publishing company folded Everyday Living, laying off 100 people just weeks before Christmas. Earlier this Fall, her Twitter photos shattered our ideas that everything that touches Martha's hands is pure domestic perfection. And then there was the whole Match.com profile. We learned way too much about Martha's sex life, including threesomes and sexting. Oh, and let's not forget about her drug use (she can roll a joint just as well as wrapping a gift). Martha, you are supposed to be our pristine 72-year-old grandmother, not a rebellious, experimental college student. It's pretty obvious that the bizarre behavior is just a publicity stunt in an attempt for her to connect with Gen Y.
McDonald's Released the BS Dollar-Plus Menu
With increases in ingredient costs, McDonald's finally gave in and increased its menu prices, thus forcing the fast-food giant to dub its Dollar Menu the Dollar-Plus Menu. In our opinion, that's just as bad as saying Two-and-a-Half-Buck Chuck for the now-$2.49 bottle of Charles Shaw wine. On the upside, the updated McDonald's menu came with a new crave-worthy sandwich.
Nigella Lawson

's Press Coverage Just Kept Getting Worse

It was bad enough when Charles Saatchi choked Nigella Lawson in public and filed for divorce . . . then the angry ex lashed back even more, accusing Nigella of having a serious drug problem. She testified in a London court hearing and claimed, "I did not have a drug problem, I had a life problem" during the supposed time she used cocaine and cannabis. Despite all the drama, she is still slated to host ABC's second season of The Taste this January.
We Mourned the Losses in the Food World
It was a sad year of deaths for the food world. Zuni Café's Judy Rogers, famed Chicagoan chef Charlie Trotter, Italian cookbook author Marcella Hazan, and film critic and food writer Roger Ebert passed away this year.