Best French Fry Toppings
4 Massively Underrated Toppings For French Fries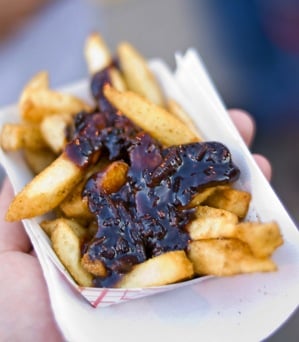 Happy Friday, and Happy National French Fries Day!
In all fairness, I don't really believe that a pastime as precious as fries deserve just one day, but who would turn down a reason to celebrate?
From ketchup to chili and cheese, you can't go wrong with any of America's favorite toppings, but if there's anytime to experiment with new, mind-blowing toppings, today — shall we call it National French Fryday? — is definitely the day.
For some of our unexpected favorites, keep reading.

Kimchi, pulled pork, melted cheddar, and scallions. I first sampled a similar combination at the revolutionary Frysmith truck in Los Angeles, CA, and my life was changed forever. Don't skimp on the Korean fermented cabbage known as kimchi; it adds a pleasantly piquant flavor to the other unctuous ingredients.
Chutney. Try topping a heap of fries with warm chutney. Personally, I'd opt for a spicy mango chutney, which would guarantee a bit of fruit, salt, and fire with every bite.
Pastrami. At Kenny and Zuke's in Portland, OR, customers can get a platter of golden, crisp fries topped with pastrami scraps and Swiss cheese. I plan to replicate this at home tonight — and add in a drizzle of Russian dressing for a Reuben-like twist.
Tartar sauce. OK, so it's not upscale, but nobody ever assumed fry toppings should be fancy. A play-by-play with your favorite pickle-inflected dip goes something like this: open jar, take fry, dunk, devour, and repeat.
What uncommon (if delicious) toppings have we left off the list? Share your thoughts below.
Source: Flickr User notashamed