Best Gordon Ramsay Insult
You'll Want to Play This Game Just to Hear Gordon Ramsay Call You a "F*cking Doughnut"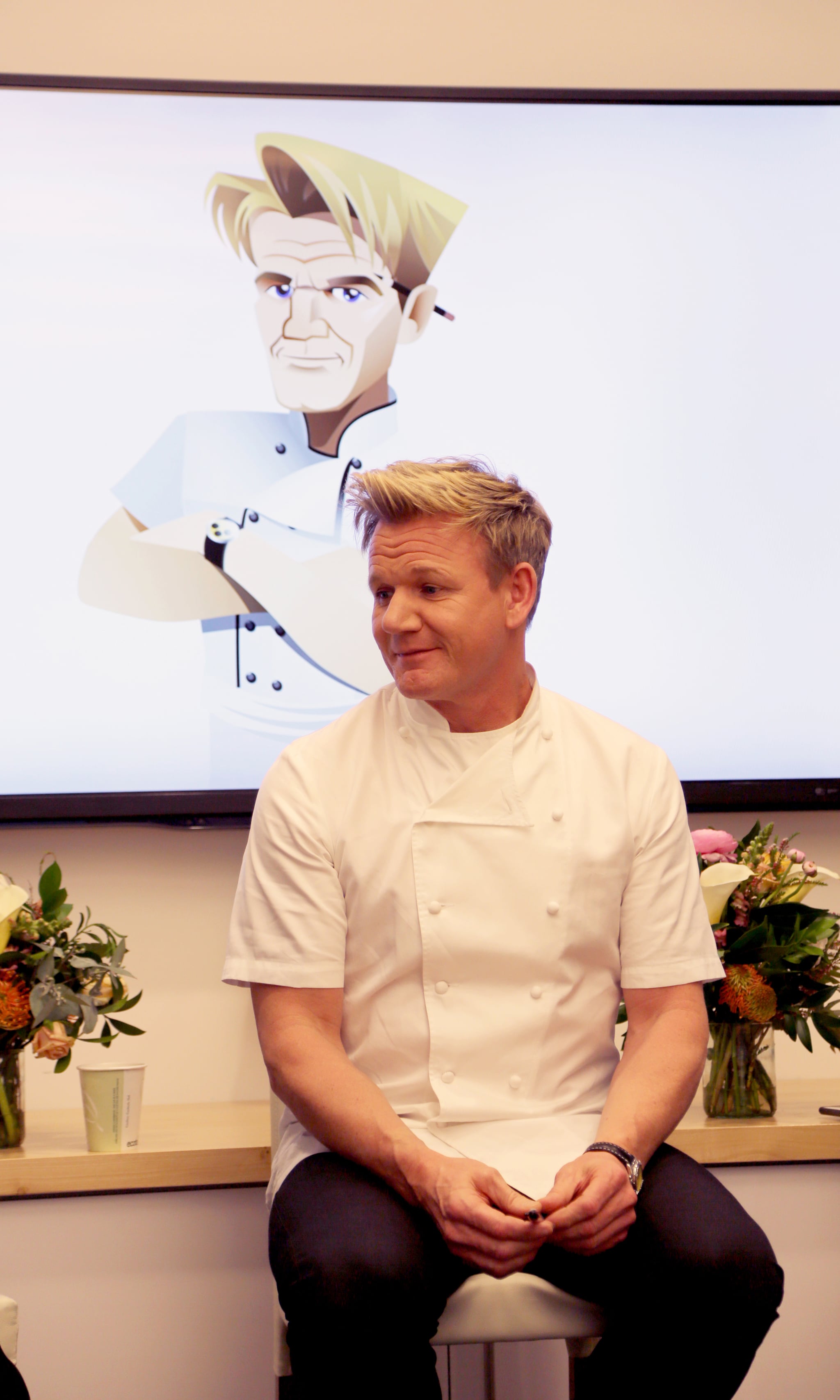 We love Gordon Ramsay as much for his food as his fiesty insults, and the chef is giving us another outlet to hear him unleash his verbal fury. He has teamed up with Glu Mobile (the same makers of the Kendall and Kylie Jenner mobile game) to create a Cooking Dash-like game where users can build a restaurant empire under chef Ramsay's mentorship. In a press event for the game, I asked Gordon, "Can we expect to see your colorful language as a crucial component of the game?" He grinned and joked, "If they didn't, you guys would pan me." Chef Ramsay then went on to explain his reasoning for using choice words, whether in his restaurants or on camera for his shows like Hell's Kitchen.
Insults Are "Industry Language"
Here's the deal, according to the chef: these insults aren't personal, they're just kitchen standards. He explains, "For me, it's an industry language, whether you're playing a sport . . . a soccer player or in the NFL. If you mic these guys up and listen to them 24/7 and you saw them in their finals, it would be no different. As an industry language, it's something I'm not proud of . . ."
You May Hear Him Call You a "F*cking Doughnut"
So what beyond idiot sandwich can you expect to hear on the game? Gordon revealed, "We've gone through pages of curse words . . . new words [like] 'f*cking doughnut.' I've got to keep it real. There will be areas across the game, where as the intensity builds, I'm going to get a bit more fierce, because the stakes are high. Honestly tonight, if my chefs were standing there at my flagship restaurant and sending crap out, I'm not going to high-five them and give them a pat on the back. 'Thanks for destroying my 25-year relationship with every guy in the country.'" Gordon added, "We go back into the studio in two weeks time for another 10 pager [of curse words]," because the writer of the game admitted there were some insults he heard Gordon say that they didn't record for the game. Nice!
The Phrase Gordon Knows We All Want to Say
We all have choice insults. What are Gordon's? He said, "F*ck off is such a lovely word. We know we can't use it that often. But to tell someone to kind of 'F*ck. off.' We're all dying to do it but we can't."
Being a Chef Means "Not Sending Out Any Mistakes"
Gordon values great food above all. He stated,"If you f*ck up fried eggs, you're not going to send them. And that's the biggest thing about a chef. Currently we're shooting MasterChef, and it's about not sending out any mistakes. I'd feel a bit short-changed if I was sort of smiling in the corner like King D*ck and watching mistakes leave the kitchen. It won't happen." But that doesn't mean he's rude all the time. He concluded on a positive note, "There are some severe words but also, on the flip side of that, there are some gestures [like] 'Let's keep this momentum going. Let's continue. Let's focus.'" Yes, chef!
Image Source: POPSUGAR Photography / Anna Monette Roberts