We live in an age in which there is more dreamy ice cream available than ever, and every state in the US has reason to be proud of its frozen perfection. We pulled together these 50, which we think are the top spots in the country, so you'll know where to pick up a cone no matter where you are. However, if you care to disagree, we want to know your favorite ice creameries and parlors in the comments below.
Alabama: Peach Park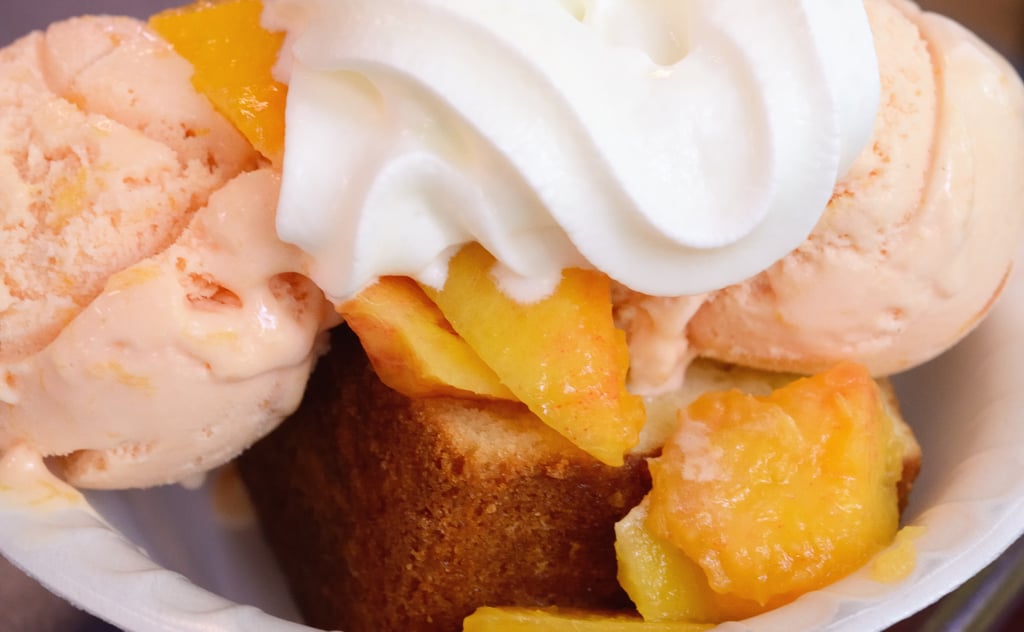 You can't go to a place called Peach Park [1] without ordering peaches! The special is a peach shortcake: fresh Clanton peaches, peach ice cream, sour cream pound cake, and whipped cream.
Alaska: Moose A'La Mode
The chilly weather in Alaska doesn't stop folks from eating ice cream! Moose A'La Mode [2] in Anchorage is a favorite for its flavors like strawberry cheesecake.
Arizona: Sweet Republic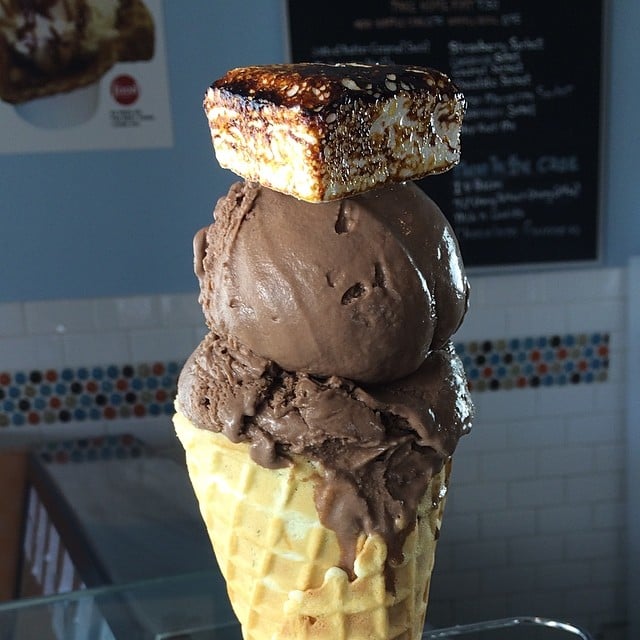 S'mores sundae: that's all you need to remember when visiting Sweet Republic [3] in Arizona. But beyond the loaded treat, feel free to ask for a toasted marshmallow atop any ice cream scoop.
Arkansas: Loblolly Creamery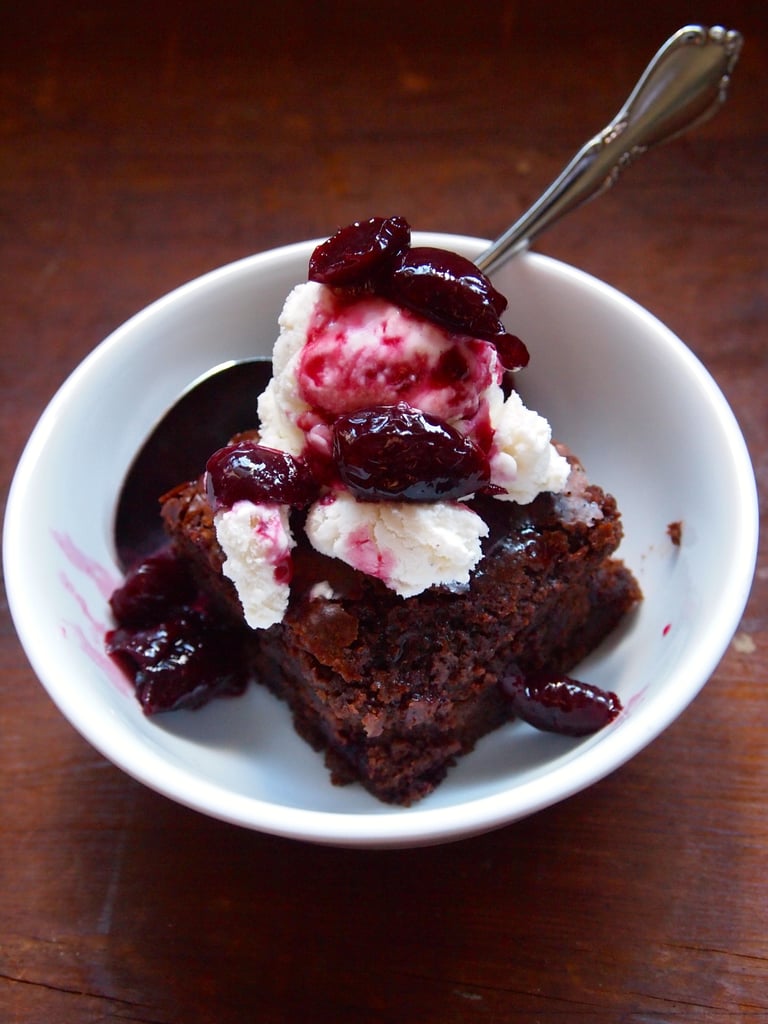 Loblolly Creamery [4] in Little Rock, AR, is known for its handcrafted, small-batch ice creams, inspired by seasonal produce in Arkansas. Flavors like buttermilk, honeycomb fromage, and blackberry sweet corn give customers many reasons to return back for second scoops.
California: Bi-Rite Creamery
San Francisco's Bi-Rite Creamery [5] always has a line around the block for its lush ice cream scoops. Salted Caramel is the favorite, but the vanilla soft-serve with rainbow sprinkles (only served on Saturdays) is not to be overlooked!
Photo: Anna Monette Roberts
Colorado: Sweet Cow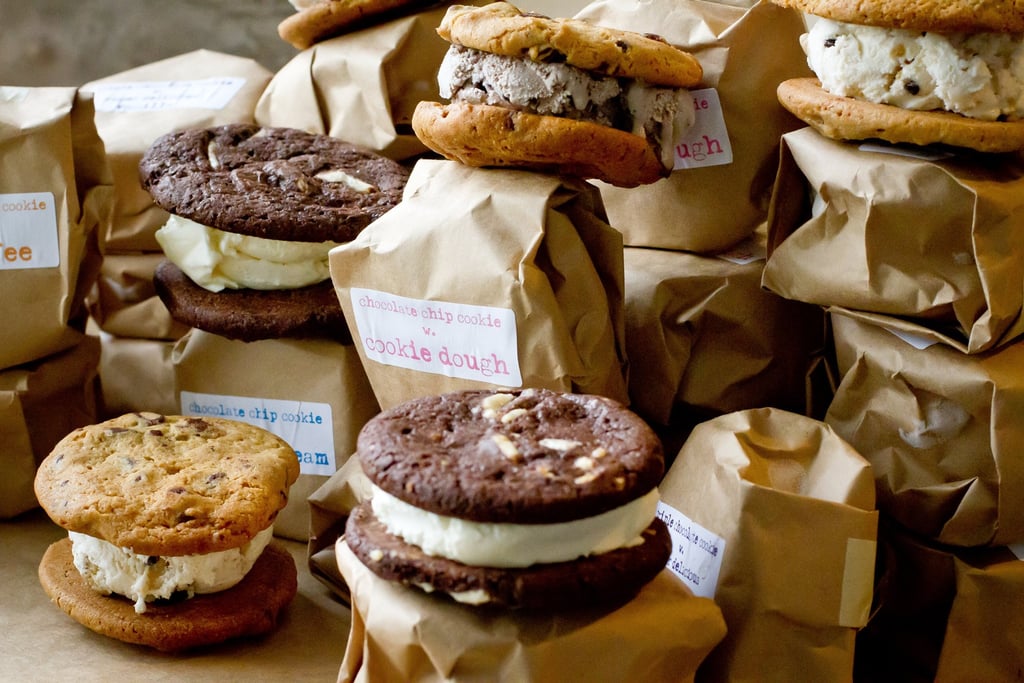 With flavors like Golden Grahams, Beam and Coke, Trix Are For Kids, and Gatorade sorbet, Sweet Cow [6] is the ultimate hipster's creamery. Don't miss out on the pretzel cone or the loaded ice cream sandwiches.
Connecticut: Buttonwood Farm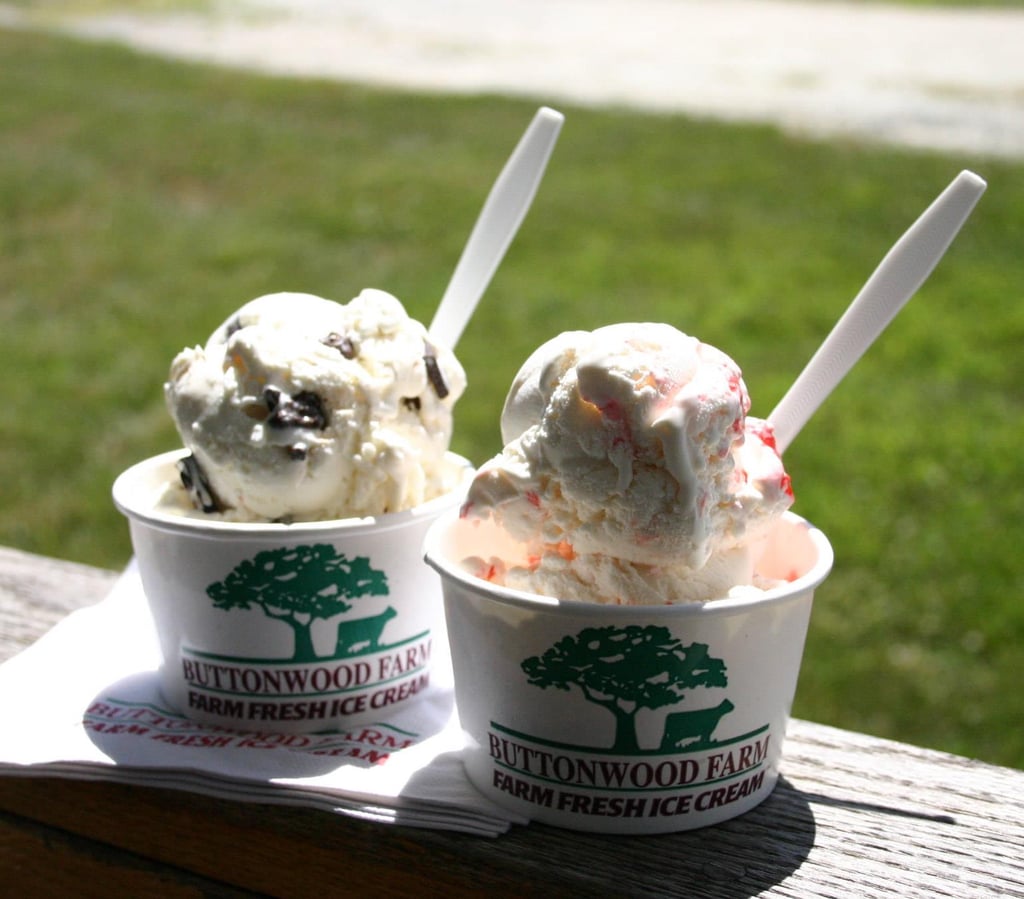 Buttonwood Farm Ice Cream [7] in Griswold, CT, is — get this — inside an actual dairy farm. The cream used in the whipped and ice creams comes from the dairy itself, and everything is made on the premise. Of the 50 flavors offered, the graham cracker ice cream and the peanut butter cannot be ignored.
Delaware: Woodside Farm Creamery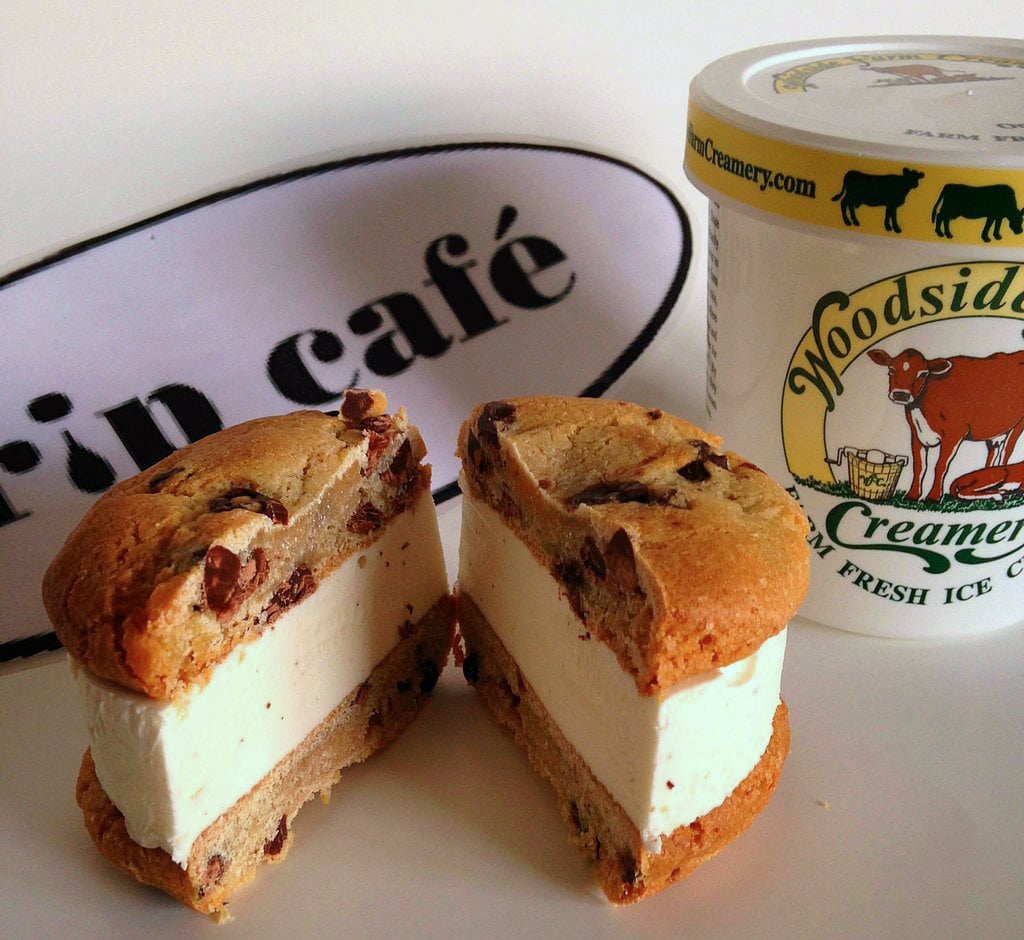 Another notable farm-fresh ice creamery is Woodside Farm Creamery [8] in Hockessin, DE. Check out the bacon ice cream, cotton candy, and the cookie sandwiches, as pictured.
Florida: Jaxson's Ice Cream Parlor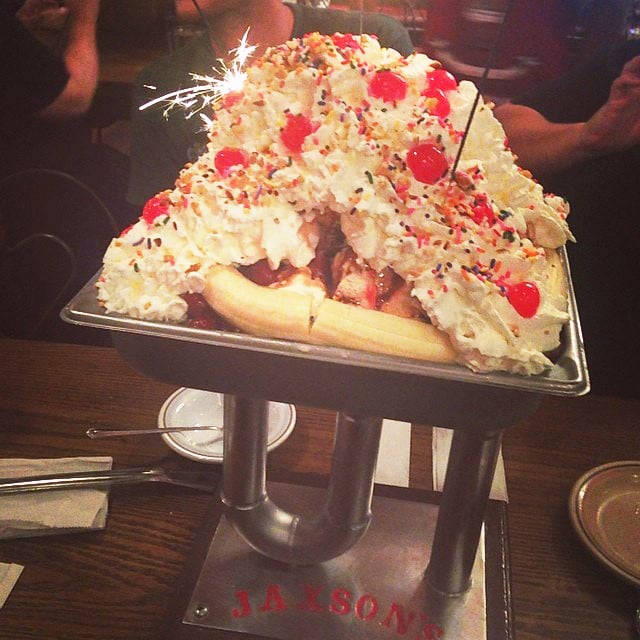 There's only one thing to order at Jaxson's Ice Cream Parlor [9] in Dania, FL, and that's the famous Kitchen Sink sundae. Choose the flavors and toppings, and prepare to dig in . . . to a kitchen sink.
Georgia: Leopold's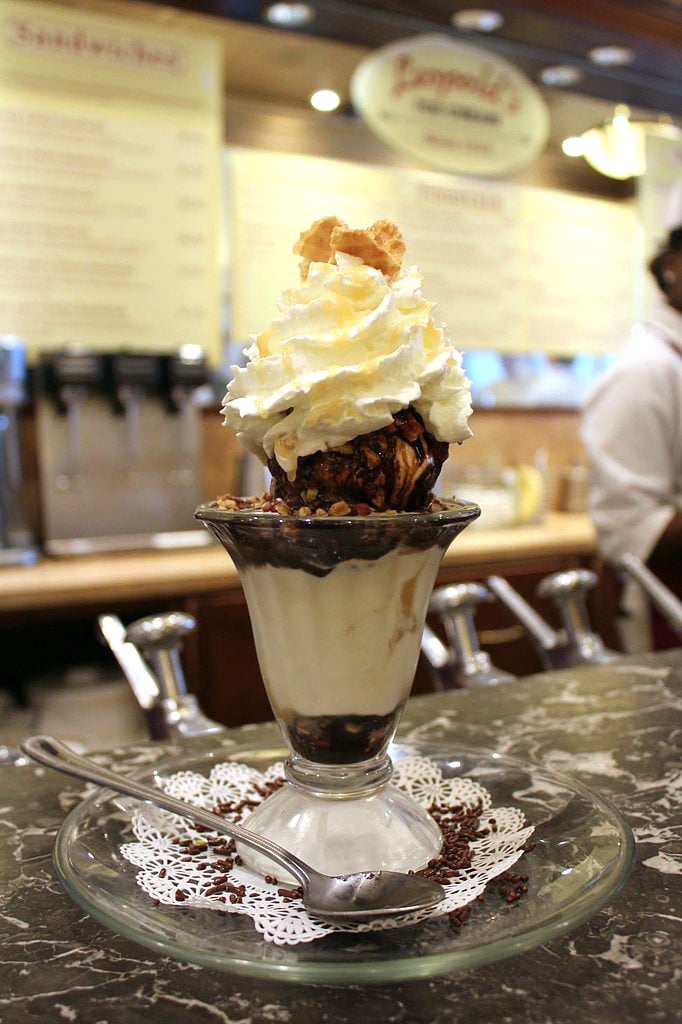 Savannah, GA, is home to the diner Leopold's [10]. Feast on old-fashioned sundaes, like this turtle sundae.
Hawaii: Bubbies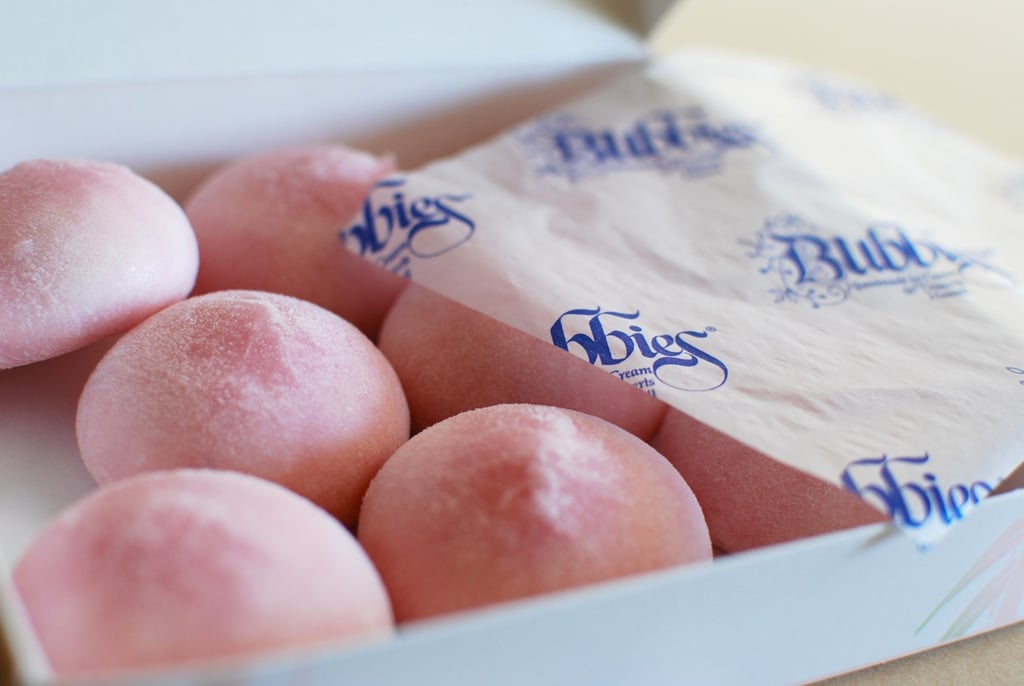 You've probably had Bubbies [11]' ice-cream-filled mochi, as it is in the freezer section of most grocery stores. But if you go to one of its locations in Hawaii, there are many more flavors to try, like azuki bean, chocolate peanut butter, and sakura (cherry blossom).
Idaho: Rainey Creek Country Store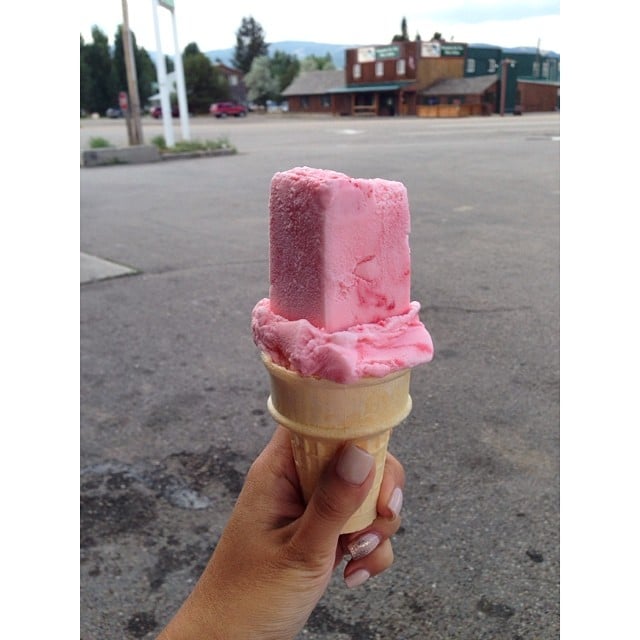 If you go to the Rainey Creek Country Store [12] in Swan Valley, ID, the thing to order is the famous square ice cream cone. And since the state is recognized for its huckleberries, go ahead and get that square scoop of huckleberry 'n' cream.
Illinois: Gayety's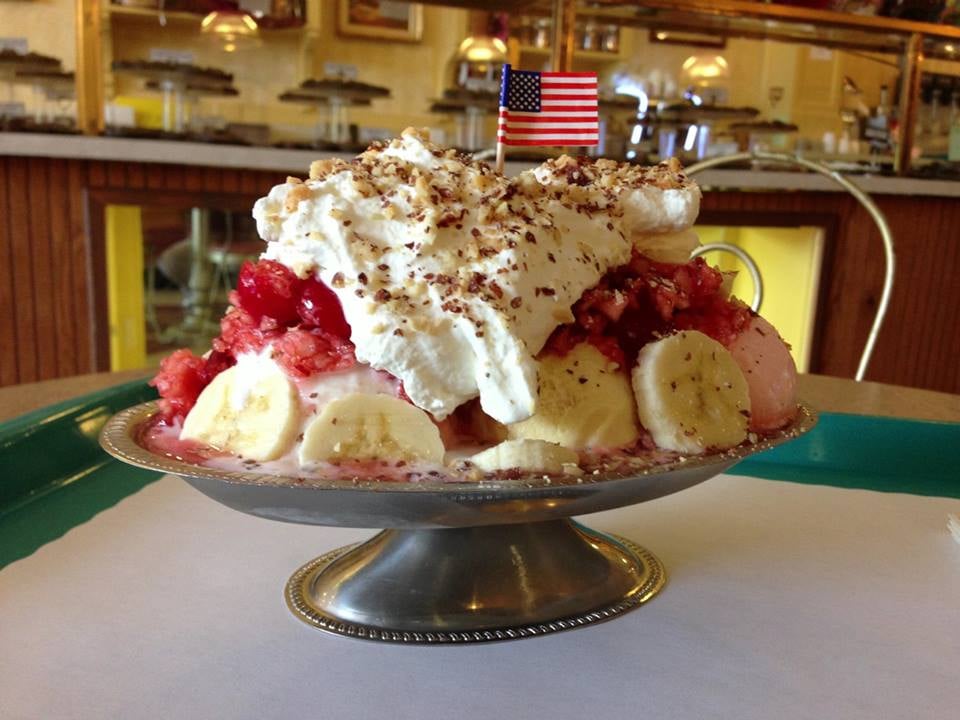 Gayety's [13] in Lansing, IL, outside Chicago, serves up chocolate, sweet candies, and ice cream, of course! Since it's an old-school ice cream parlor, ask for a sundae, complete with a silver dish and lots and lots of whipped cream.
Indiana: Valpo Velvet
Valpo Velvet [14] in Valparaiso, IN, prides itself for having the most velvety-smooth ice cream and is celebrated for its chocolate-dipped drumsticks and blueberry cheesecake ice cream.
Iowa: Whitey's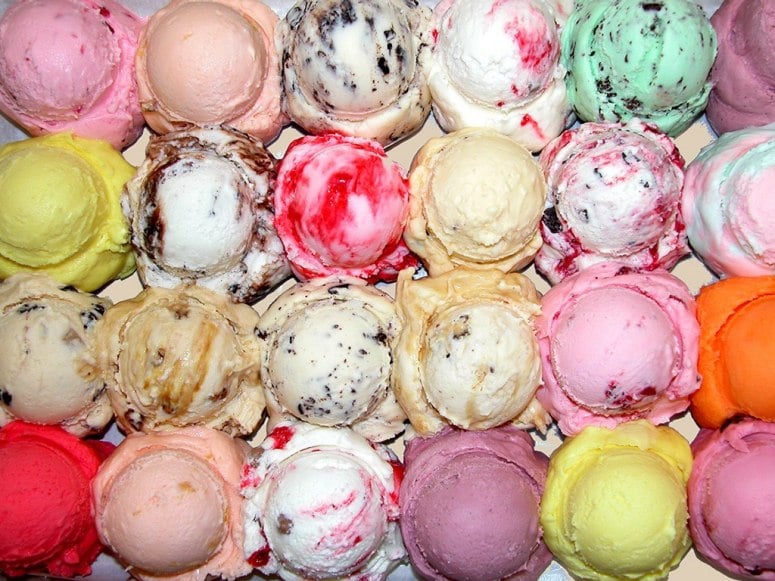 Graham Central Station is the most popular flavor at Whitey's [15] in Iowa City, IA, but the ice creamery also appeals to kids with fun flavors like watermelon sherbet.
Kansas: Braum's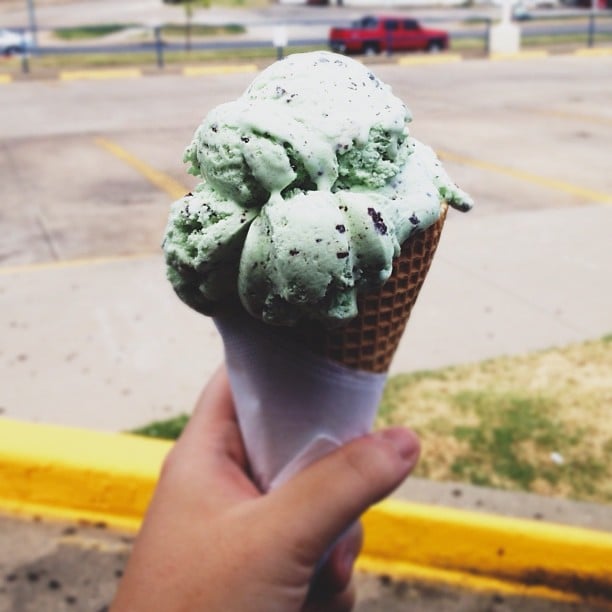 Since its start in 1933 in Emporia, KS, Braum's [16] has won hearts over with flavors like caramel cookie dough and bright blue birthday cake with marshmallow and pound cake swirled in.
Kentucky: Homemade Ice Cream and Pie Kitchen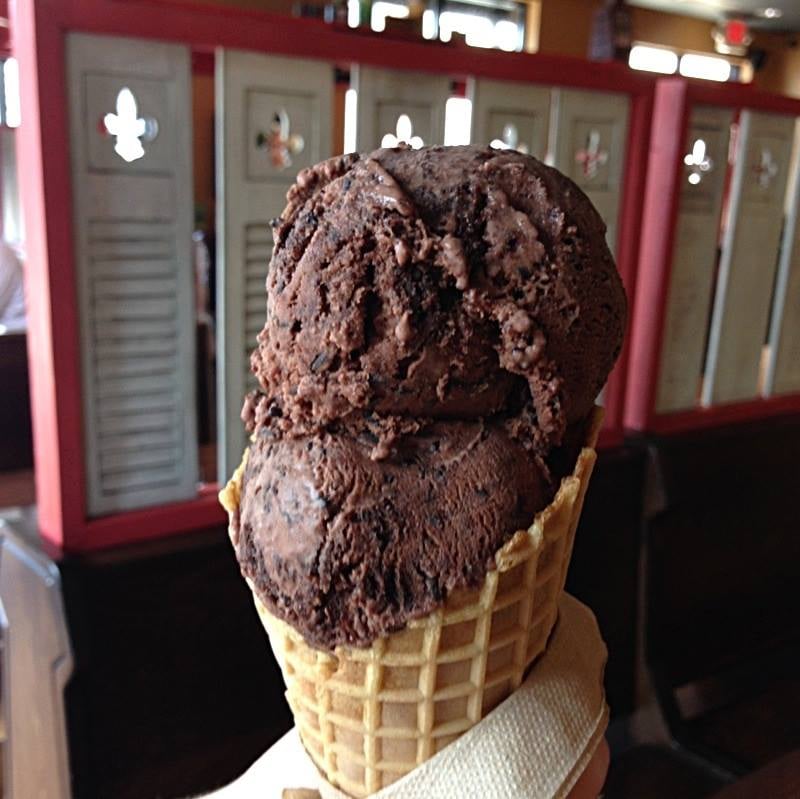 The name is a mouthful, but Homemade Ice Cream and Pie Kitchen [17] will keep your mouth full of good stuff like crème brulée and chocolate birthday cake ice creams.
Louisiana: Creole Creamery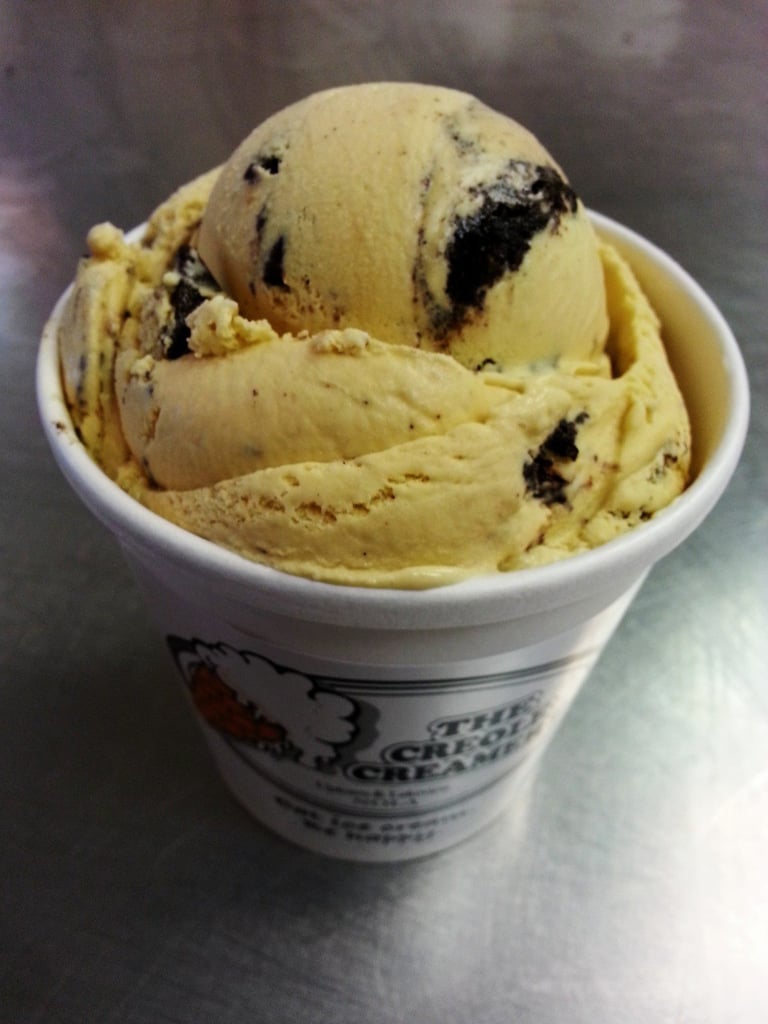 New Orleans's Creole Creamery [18] highlights Southern flavors in its ice creams, like bananas Foster and butterscotch bourbon. However, the must order is the Black and Gold Crunch (french vanilla and chicory ice cream with Oreos and chocolate chips), as pictured.
Maine: Ben & Bill's Chocolate Emporium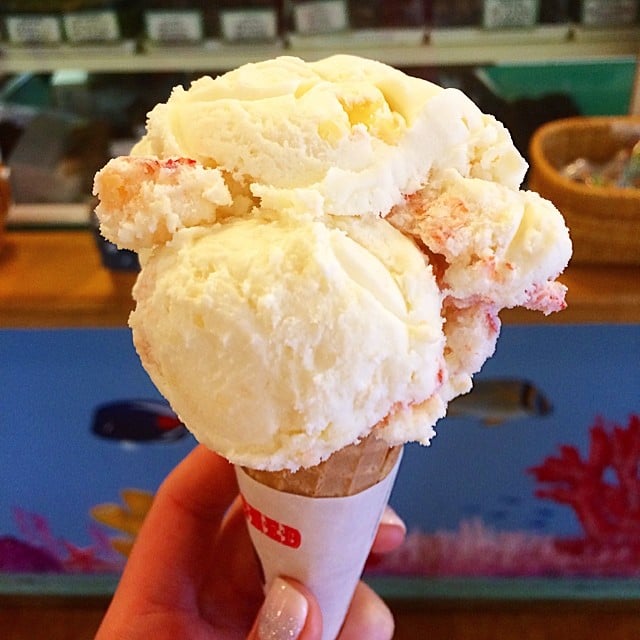 There's plenty to explore, flavor-wise, at Ben & Bill's Chocolate Emporium [19], but the truly adventurous will go for the lobster ice cream: a butter base ice cream with chunks of real lobster.
Maryland: You Scream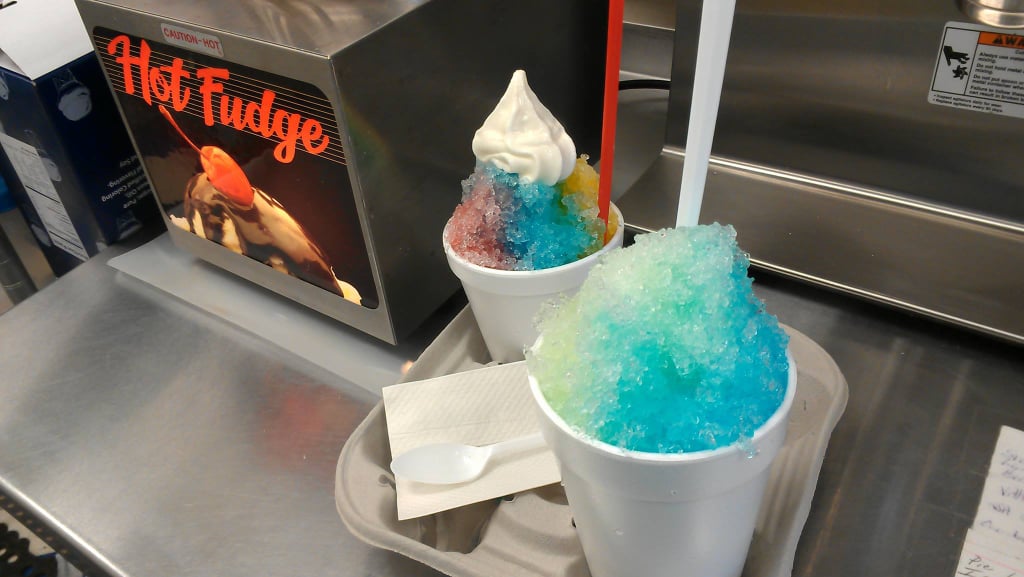 Have you ever tried a snow cone with ice cream on top? It's called a Snowball Twist at You Scream Ice Cream [20] in Catonsville, MD.
Massachusetts: Toscanini's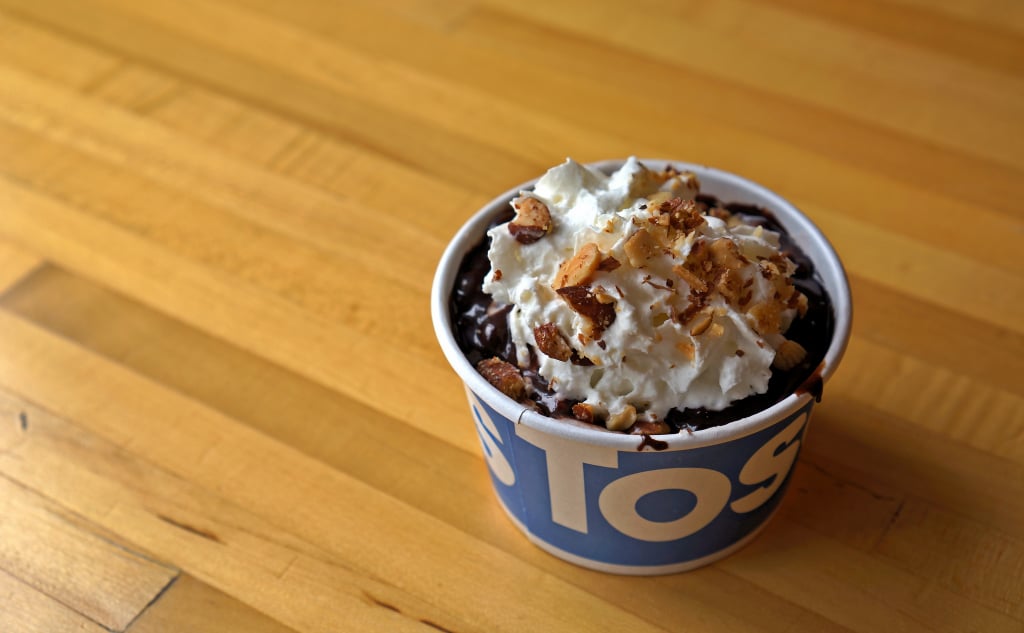 Toscanini's [21] (Cambridge, MA) is the birthplace of B3: brown butter, brown sugar, and brownies, so go ahead and get a scoop of that!
Michigan: Moomers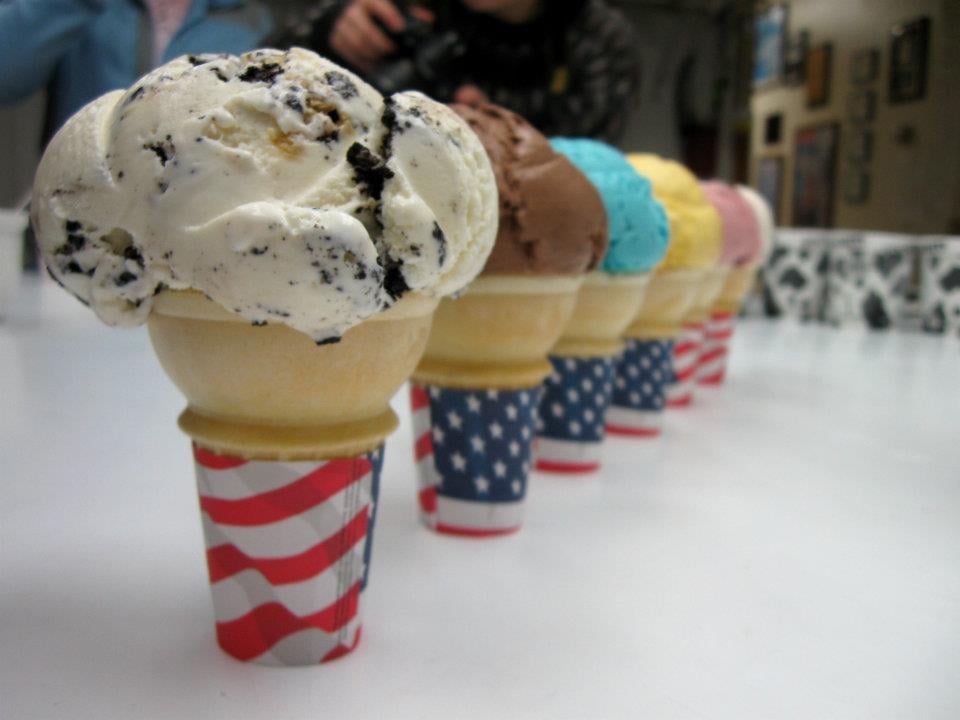 Moomers [22] (Traverse City, MI) is all about its chocolate-dipped cones and Cherries Moo-bilee (cherry ice cream with cherries and brownie bits), but there are many more flavors to sample, like its lemon poppyseed muffin.
Minnesota: Sebastian Joe's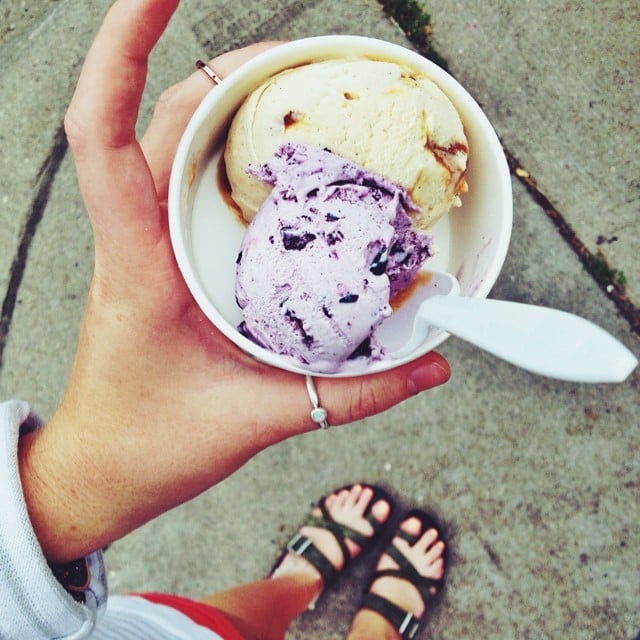 At Sebastian Joe's [23] (Minneapolis, MN), many will tell you there's no leaving the joint without a scoop of Nicollet Avenue Pot Hole (chocolate ice cream with fudge, truffles, Heath bar, and sea salt) as well as Pavarotti (banana ice cream with caramel and chocolate chips).
Mississippi: Velvet Cream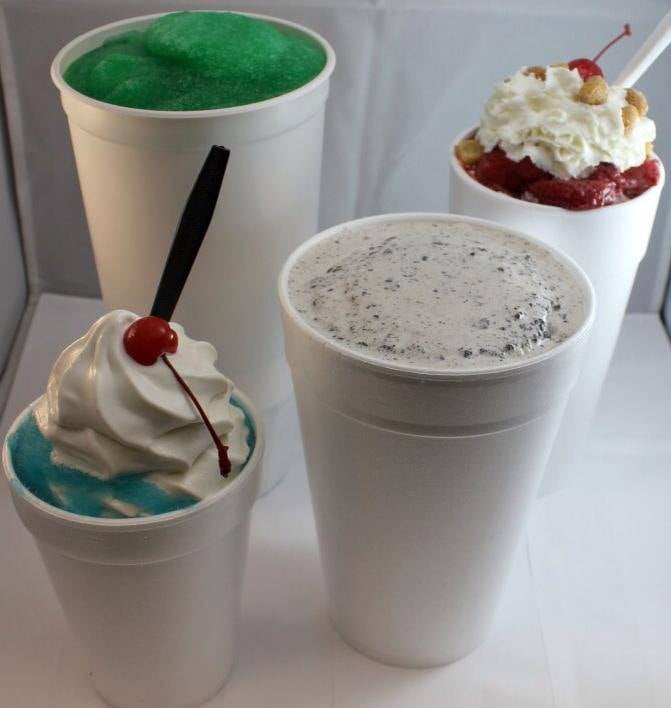 Slushies, sundaes, shakes, and freezes are the specialties at Velvet Cream [24] (Hernando, MS), all served in large Styrofoam cups.
Missouri: Glacé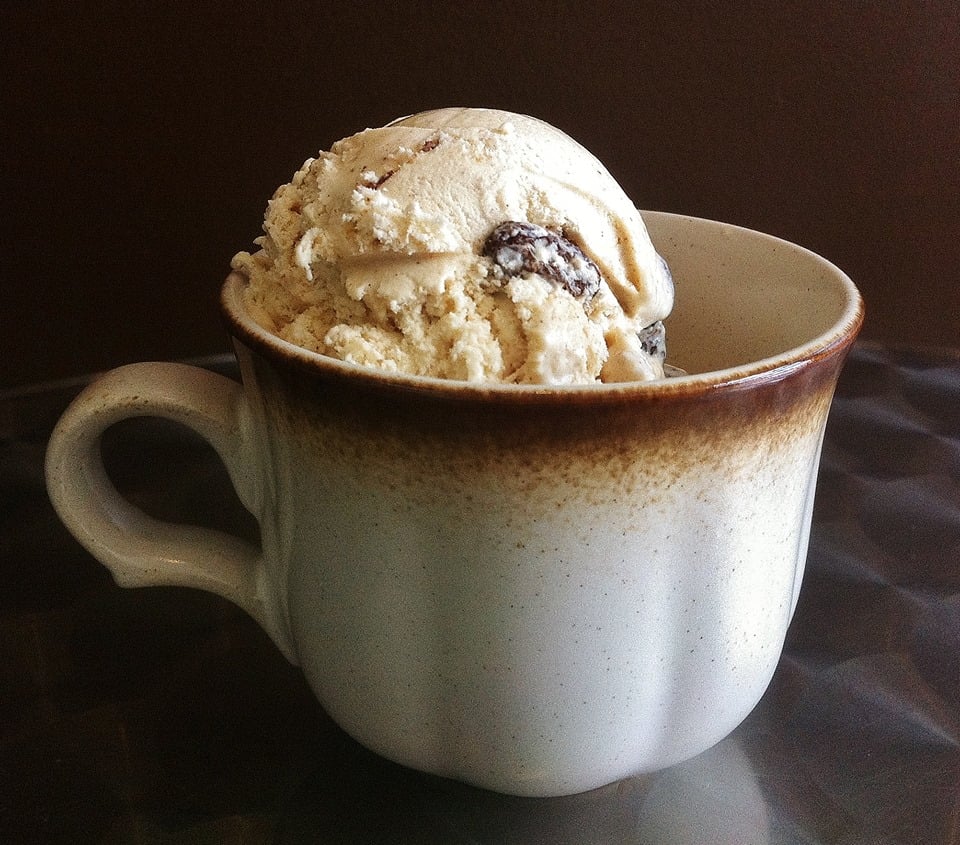 Small-batch, artisanal ice creams are what you'll find at Glacé Artisan Ice Cream [25] in Kansas City, MO. Try unique flavors like oatmeal raisin, Earl Grey tea, and french lavender.
Montana: Big Dipper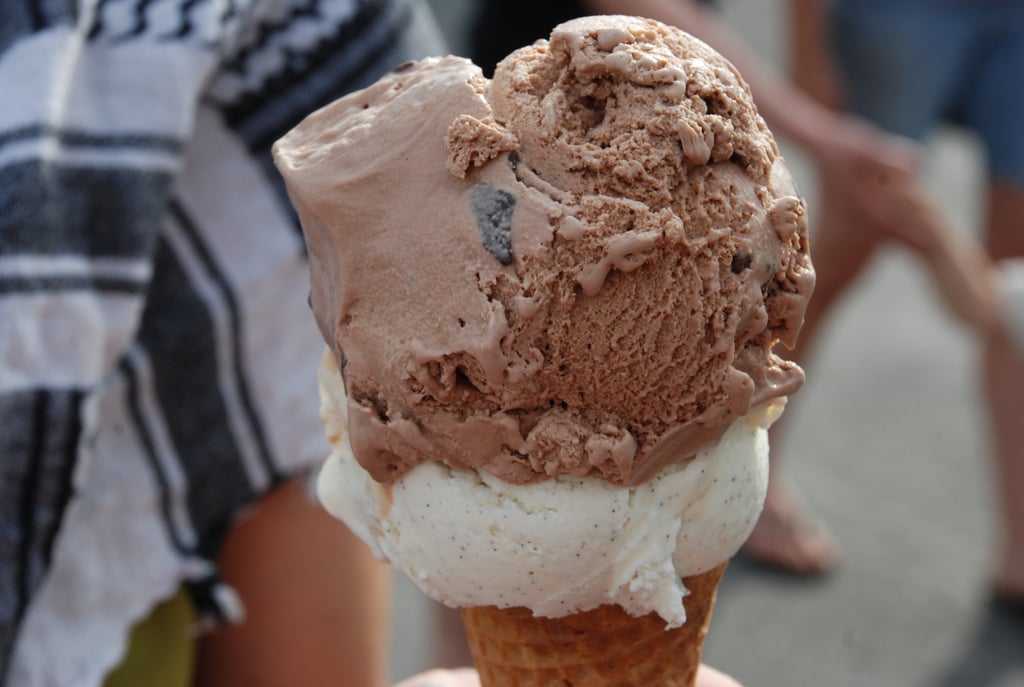 Big Dipper Ice Cream [26] in Missoula, MT, attracts crowds with its huckleberry and white mint Oreo flavors. Be on the early side, or else the sugar cones will be gone!
Nebraska: Ivanna Cone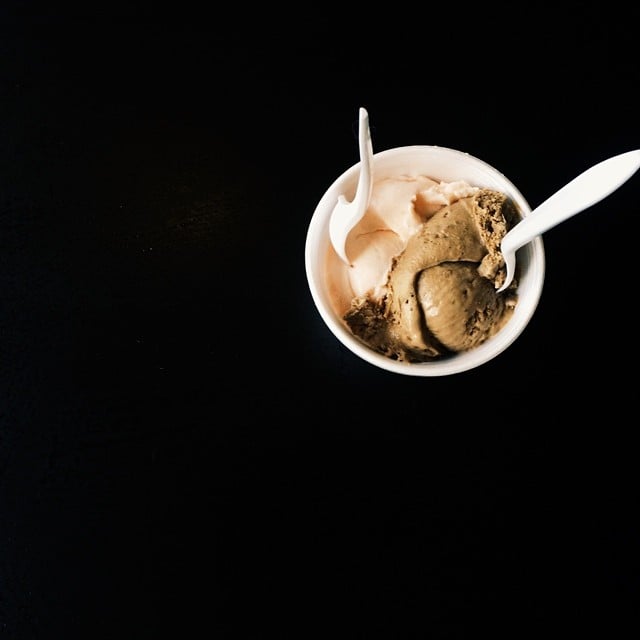 Fresh strawberry and cinnamon are the standout flavors at Ivanna Cone [27] in Lincoln, NE.
Nevada: BLVD Creamery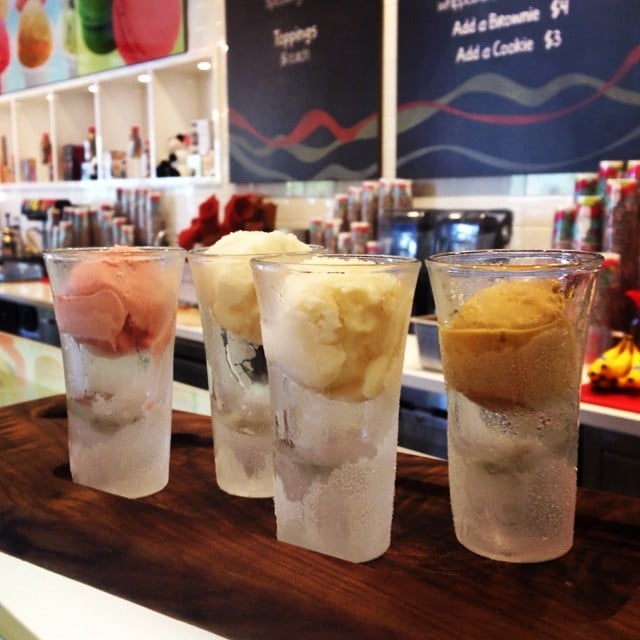 BLVD Creamery [28] at the Monte Carlo in Las Vegas has some boozy options — served in frozen shot glasses, no less. Have you ever had beer ice cream before? Many recommend trying the other weird flavors, too, like grape.
New Hampshire: Hayward's
Nashua, NH's Hayward's [29] has folks coming back for its specialty flavors like Southern apple pie, bubblegum, and Kangamangus (with pretzel, caramel, and chocolate chunks).
New Jersey: Mark and Julie's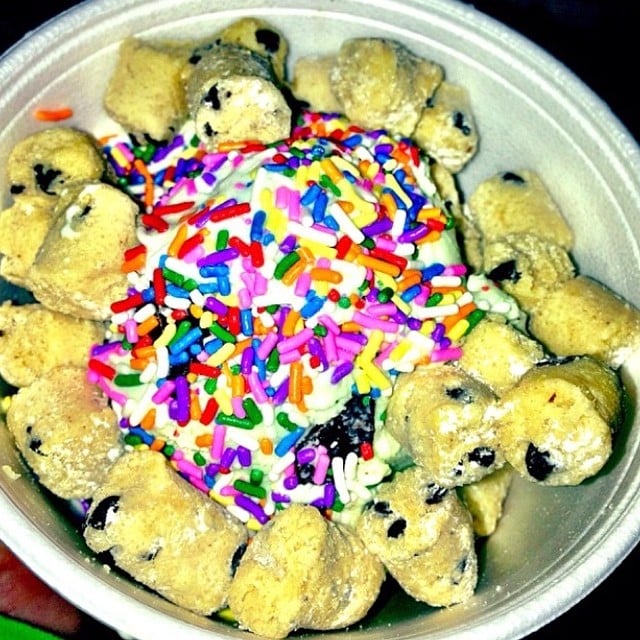 Mark and Julie's [30], in West Orange, NJ, keeps scooping up favorite classics like peanut butter vanilla as well as seasonal ones, too, like pumpkin pie. And it does not skimp on the toppings. Look at all that cookie dough!
New Mexico: Taos Cow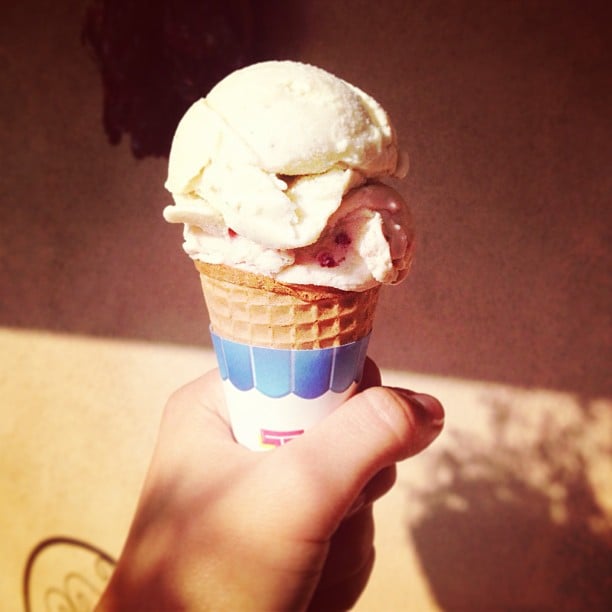 Taos Cow [31] in Arroyo Seco, NM, attracts customers for its Piñon Caramel
Vanilla ice cream with piñon nuts and vanilla caramel chunks (apparently the size of your thumbs!).
New York: Ample Hills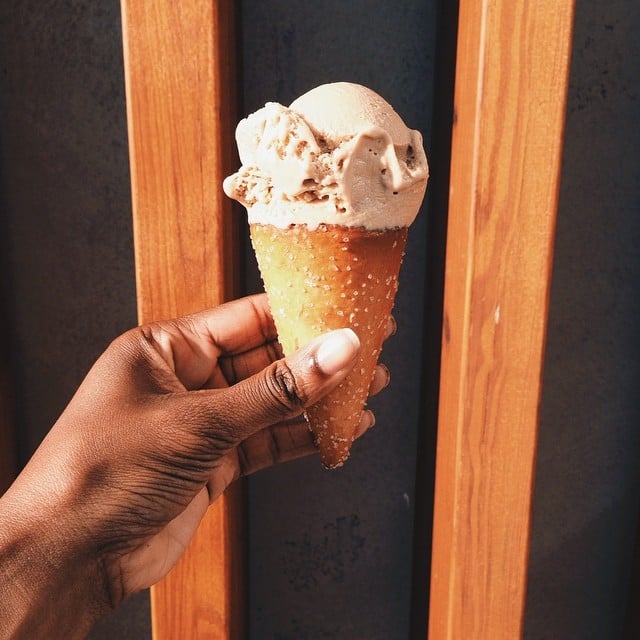 Ample Hills Creamery [32] in Brooklyn is beloved by many far and wide. It hosts true flavor innovators, and this bourbon whiskey ice cream in a pretzel cone proves it.
North Carolina: Yum Yum Better
Greensboro, NC, is home to Yum Yum Better Ice Cream [33]. Bright blue Oreo mint and banana are just a few highlights at this all-American joint.
North Dakota: Pride Dairy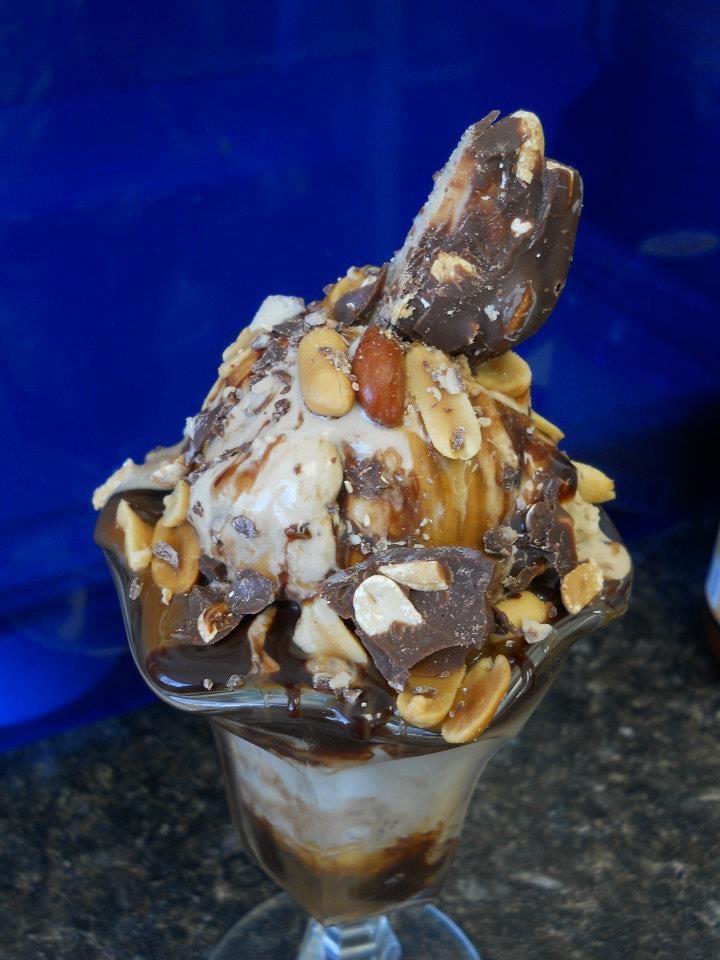 In Bottineau, ND, you'll find Pride Dairy [34], an old-school shop with eye-catching treats like this nut goodie delight.
Ohio: Jeni's Splendid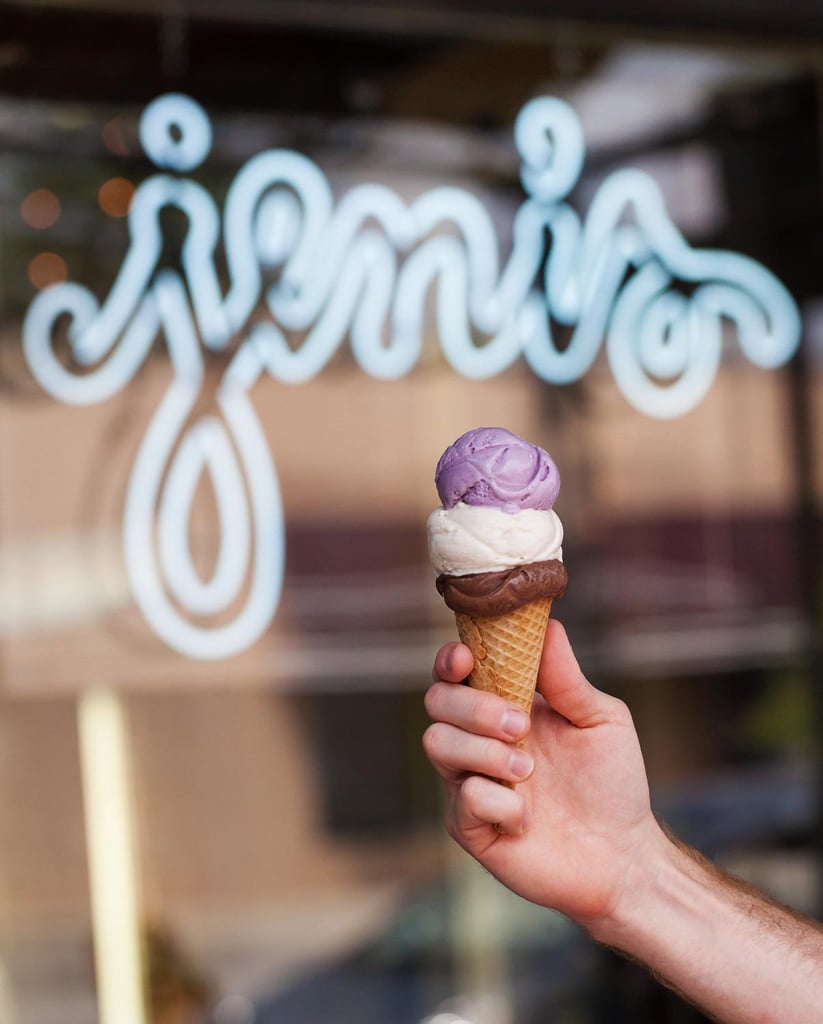 Jeni's Splendid Ice Cream [35] all started in Columbus, OH, and its grass-fed cow's-milk ice creams have a gooey, chewy, melt-in-your mouth texture like no other. She's the most famous for Salty Caramel, but you can do no wrong with any scoop at the shop.
Oklahoma: Roxy's Ice Cream Social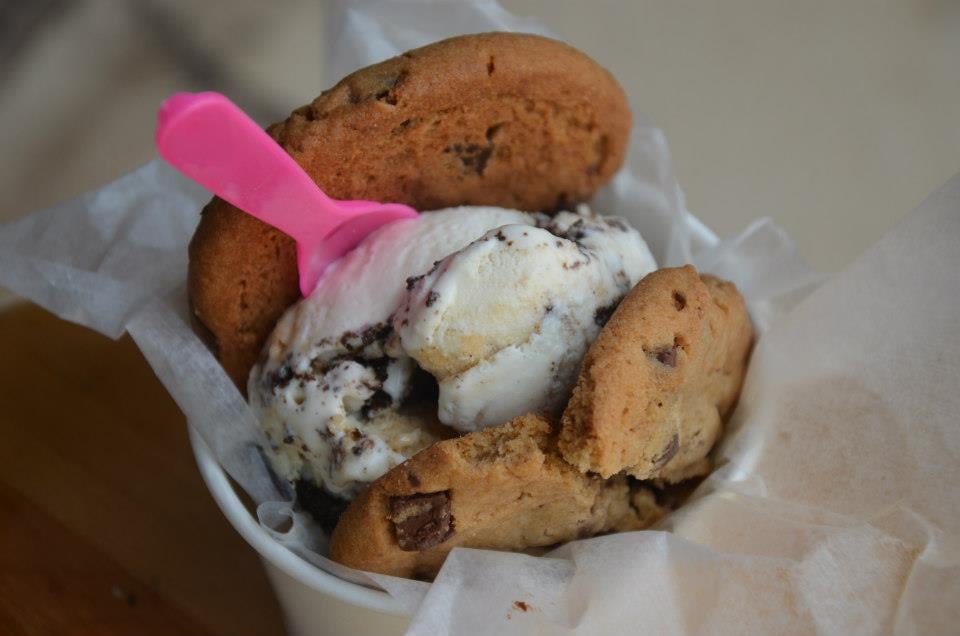 Here's what you order when you go to the Roxy's Ice Cream Social [36] truck in Oklahoma City: an ice cream sandwich filled with cookies and cream ice cream. The catch? Roxy's cookies and cream is filled with Oreos, chocolate chip cookie dough, and chocolate chip cookie pieces. Hello!
Oregon: Salt and Straw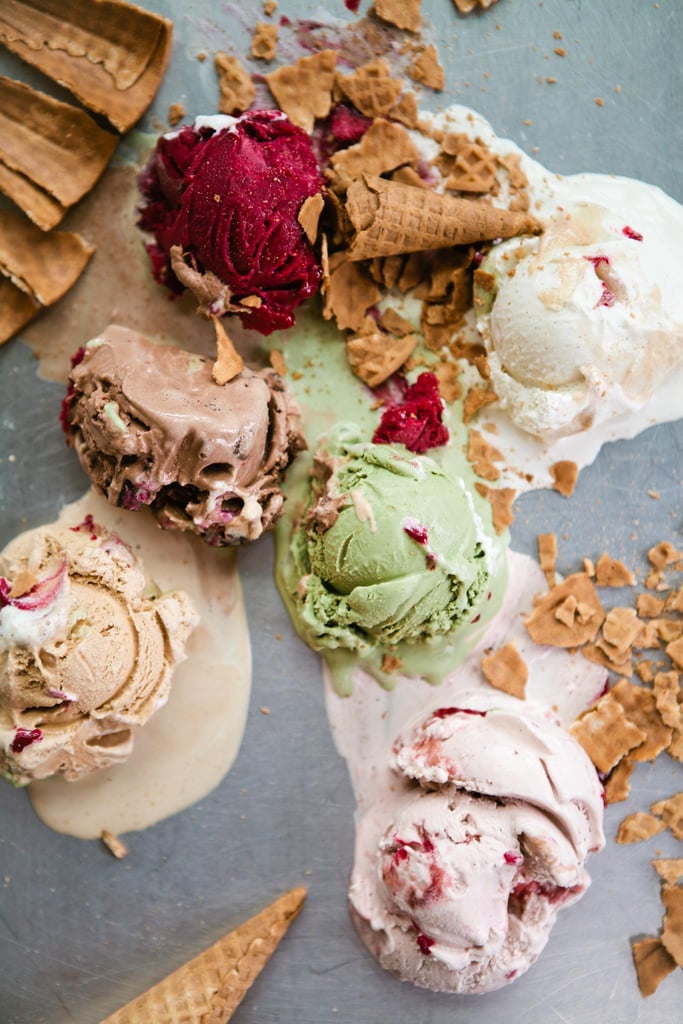 Despite the chilly, wet conditions in Portland, Salt and Straw [37] is so good (and weird) that people want scoops no matter the temperature outside. We're talking olive oil, goat cheese and pear, and bone marrow with bourbon cherries.
Pennsylvania: Penn State Creamery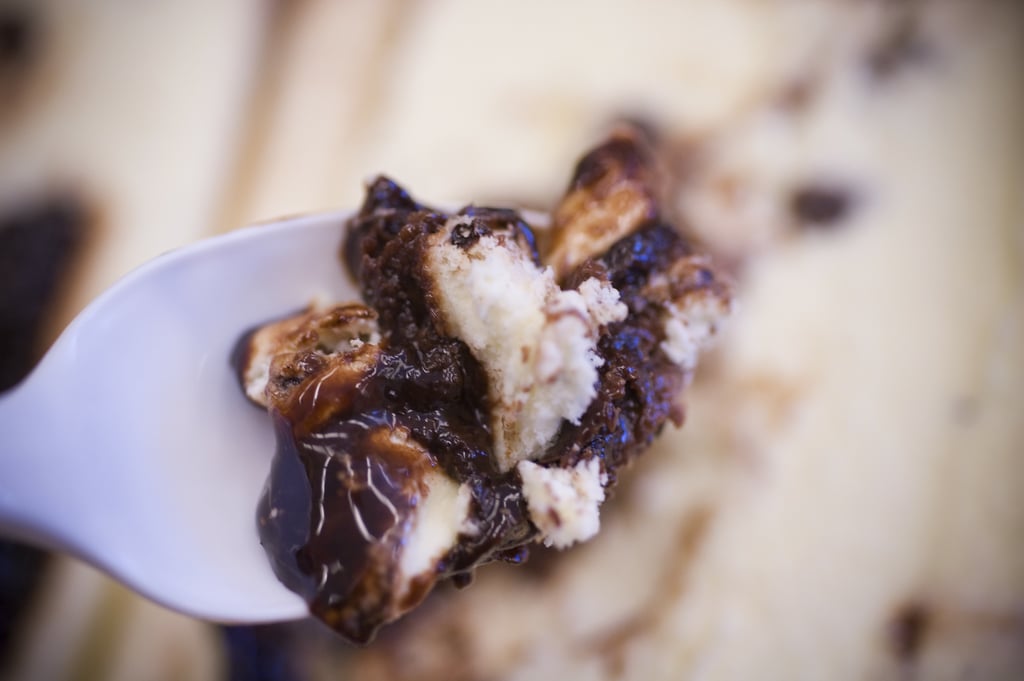 Penn State Creamery [38] has ice cream down to a science. Though it only lets you order one flavor, that flavor's bound to be a good one. Don't miss out on the cookie dough ice cream . . . The ice cream base is actually cookie-dough-flavored in addition to having chunks of cookie dough.
Rhode Island: Newport Creamery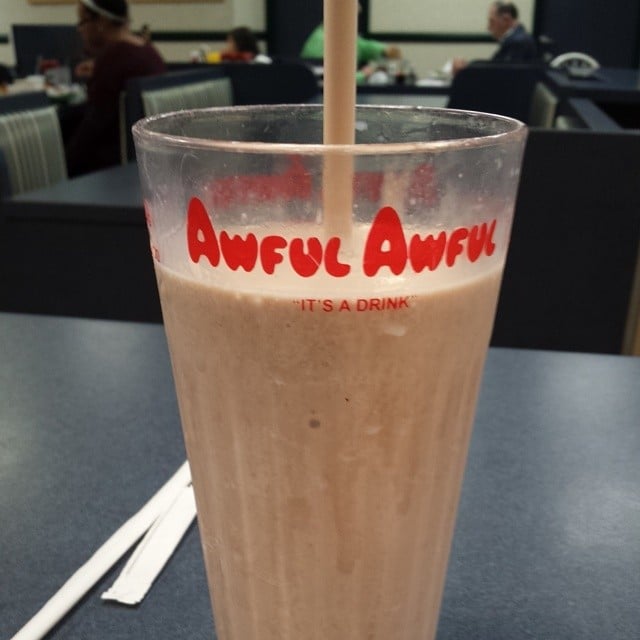 It's a Newport tradition to order and attempt to finish an Awful Awful (the thickest, creamiest shake imaginable) from Newport Creamery [39]; however, you are bound to fail unless you share it with a few others.
South Carolina: Southern Sweets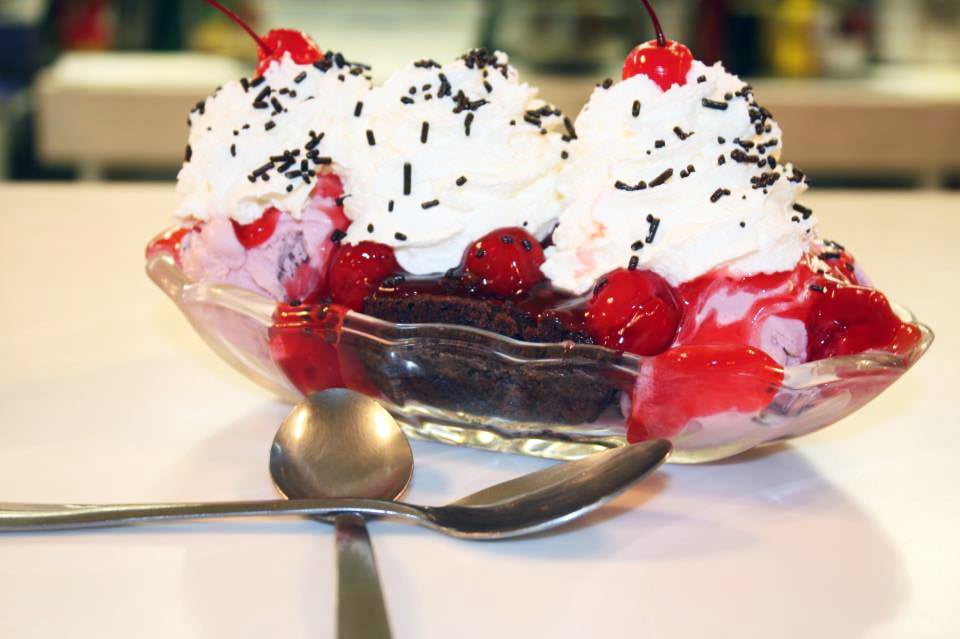 Beaufort, SC's Southern Sweets Ice Cream Parlor [40] serves a plethora of sundaes, including brownie sundaes, that are not to be passed over. People rave about the Chocolate Fetish and black cherry ice creams, as well as the lemon custard.
South Dakota: Edgar's Old Fashioned Soda Fountain
When all you want is a classic sundae, Edgar's Old Fashioned Soda Fountain [41] in Elk Point, SD, is the place to go.
Tennessee: Mike's Ice Cream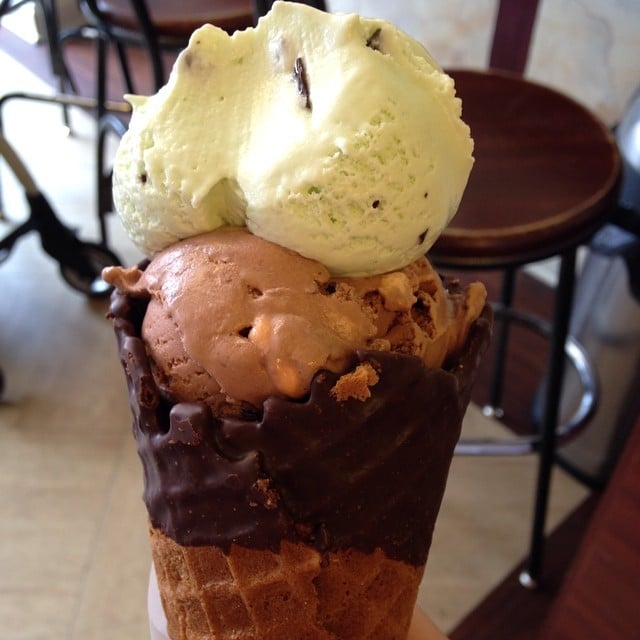 Nashville lines out to the door for a scoop from Mike's Ice Cream [42]. Red velvet cake, loaded butterscotch, and pumpkin are a few of its delicious offerings.
Texas: Hank's Ice Cream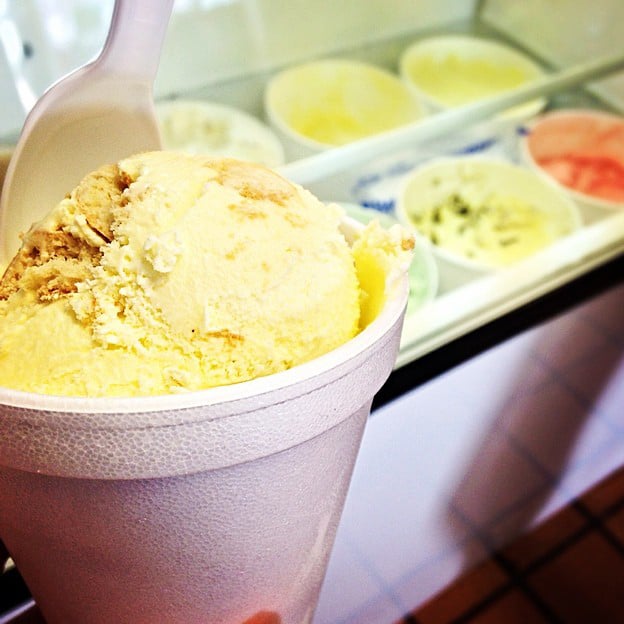 Who needs cake batter when you can pick up a scoop of banana pudding with crispy Nella wafers at Hank's Ice Cream [43] in Houston?
Utah: Sub Zero Ice Cream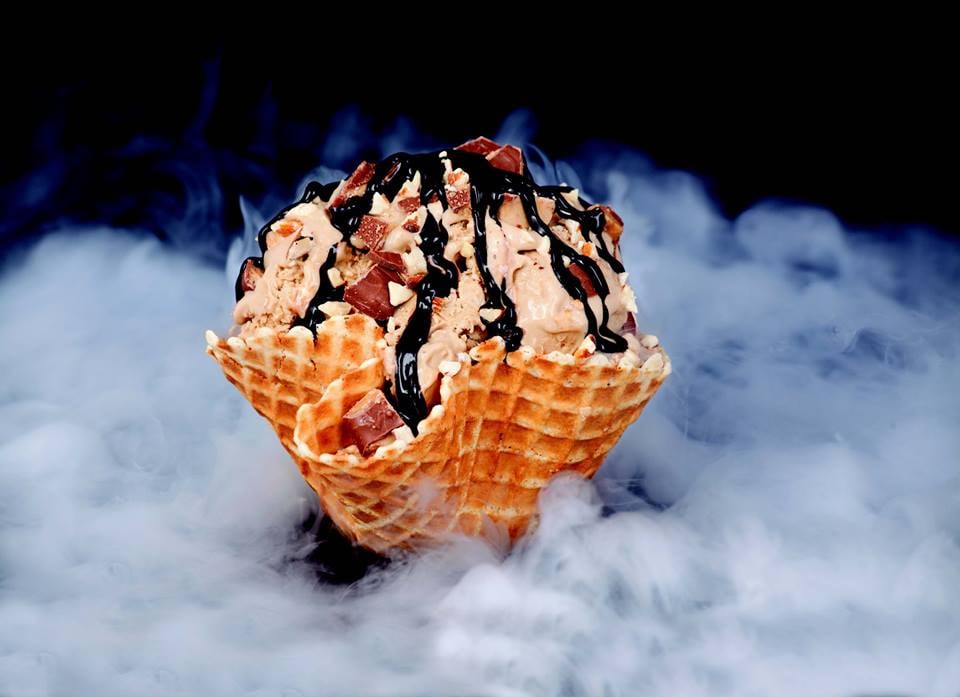 Nitrogen-churned ice cream is what Sub Zero Ice Cream [44] specializes in. Choose the ice cream base of your choice along with the texture you want (soft to superfrozen) and watch cream freeze in front of your eyes.
Vermont: Ben & Jerry's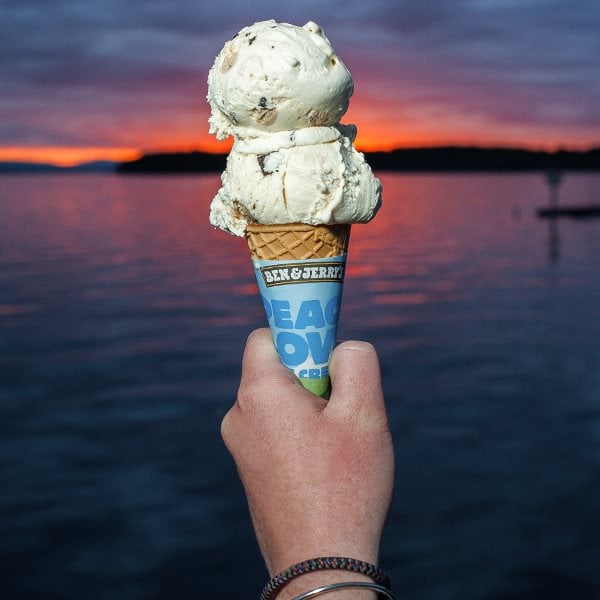 Ben & Jerry's [45] is practically a household staple, but the ice cream dream team got its start in Vermont. While there will always be new flavors surfacing, it's all about the chocolate chip cookie dough and peanut butter cup, in our humble opinion.
Virginia: Gelati Celesti Ice Cream Makers
Gelati Celesti Ice Cream Makers [46] (Richmond, VA) satisfies with its long list of flavors, but the one people can't get enough of is Just Ask, a white chocolate ice cream with crushed Oreos and peanut butter ribbons.
Washington: Molly Moon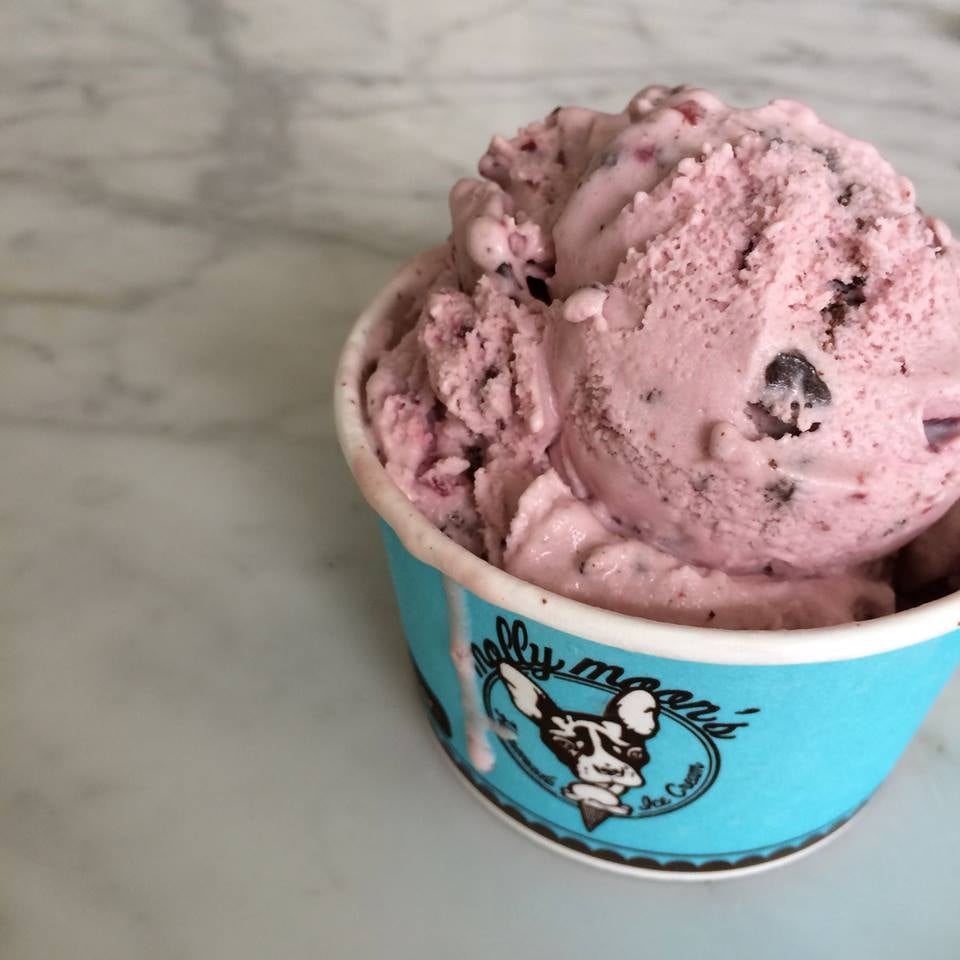 Seattle's Molly Moon [47] is notable for its incredible cones as well as its scoops of honey lavender, strawberry balsamic, and blueberry lemon curd. However, even the non-dairy-eaters can be happy, as the shop offers vegan cherry chunk.
Washington DC: Thomas Sweet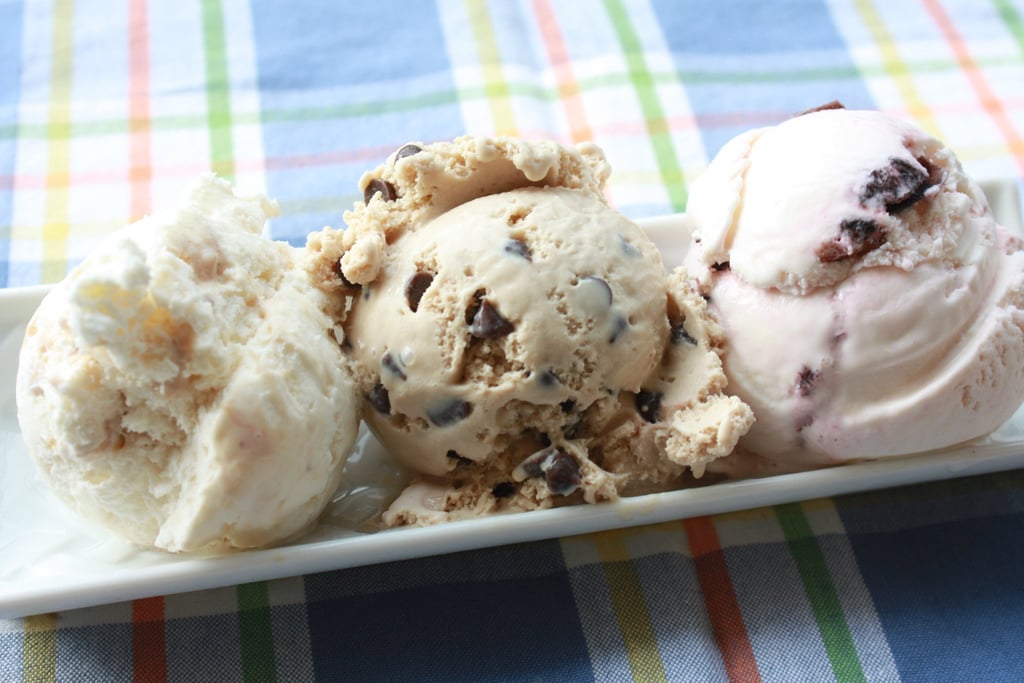 Butterbrickle is a DC favorite at Thomas Sweet [48] in Georgetown. Even President Obama stops in the shop [49] every now and again.
West Virginia: Ellen's Homemade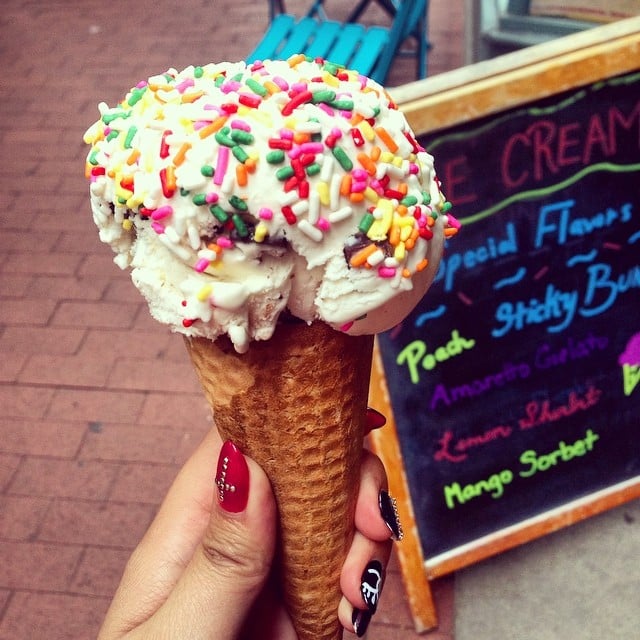 Charleston's Ellen's Homemade Ice Cream [50] is all about doing classic flavors right, although it does change out a few seasonal ice creams, sherbets, and sorbets each week. Year-round, fans rave over the Oreo espresso.
Wisconsin: West's Hayward Dairy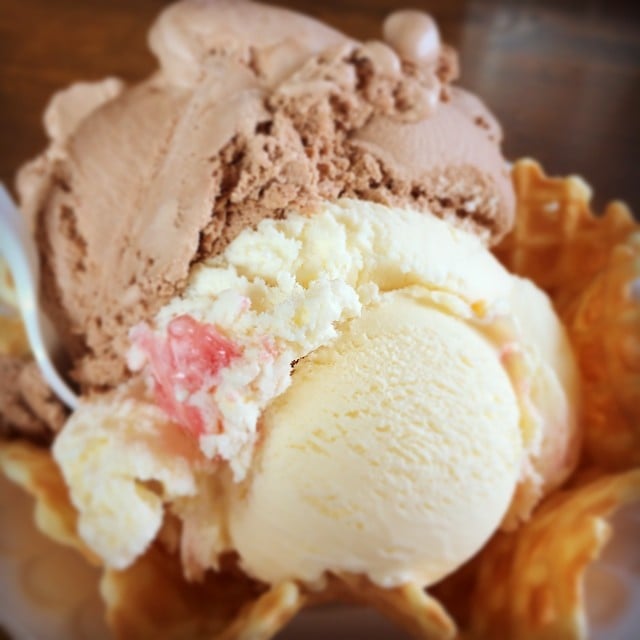 Kids and nostalgic adults go for the bright blue Blue Moon (Froot Loops-flavored) at West's Hayward Dairy [51] (Hayward WI), but another favorite is the Chunky Musky (banana, chocolate chunks, and walnuts).
Wyoming: Moo's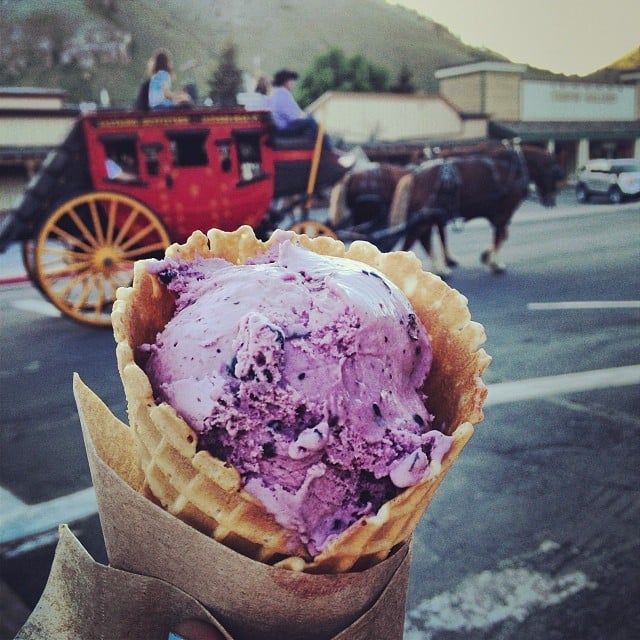 Huckleberry put Jacksonhole's Moo's [52] on the map, but there are many other flavors to taste, like chocolate Cabernet Sauvignon.