We nibbled and sipped on quite the assortment of food and drink at the New York City Wine & Food Festival [1], but these dishes and cocktails will forever stay close to our heart for being so absolutely delicious.
Pulled Pork Sliders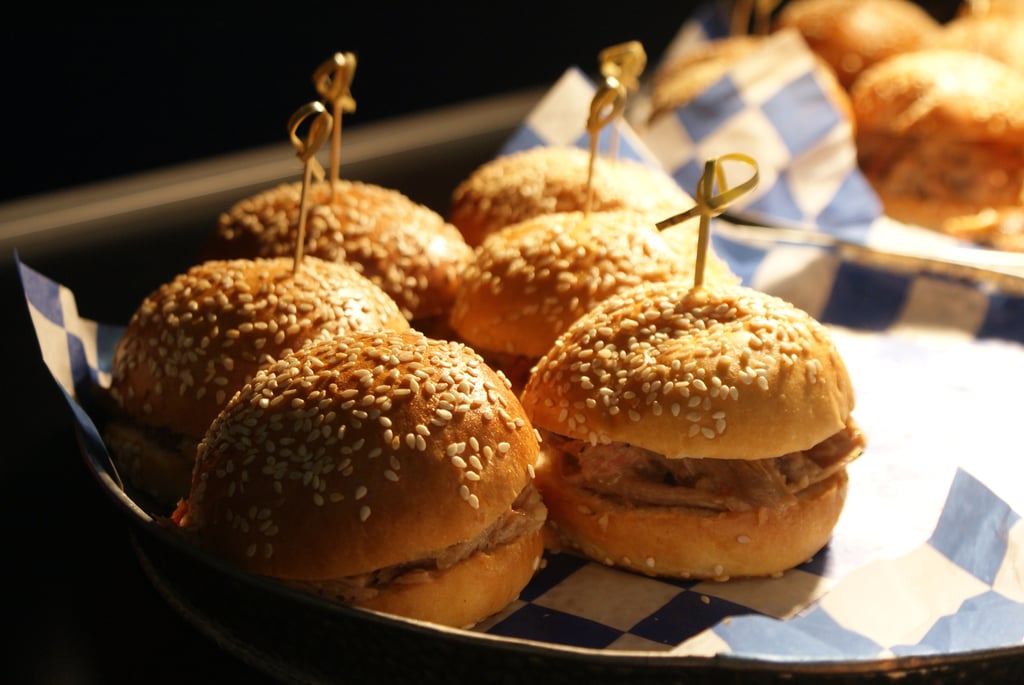 We're not even sure why we wandered over to the Blue Smoke [2] sandwich buffet at the Delta Air Lines booth inside the Grand Tasting. Our New York office is less than a block away from Blue Smoke, and airline food doesn't exactly have a siren song-like effect. But this very simple sandwich was one of our favorite bites at the festival. The pulled pork was perfect, as were the sesame-studded buns, proving that well-done simplicity can be a standout.
Source: Nancy Einhart
Nutella French Toast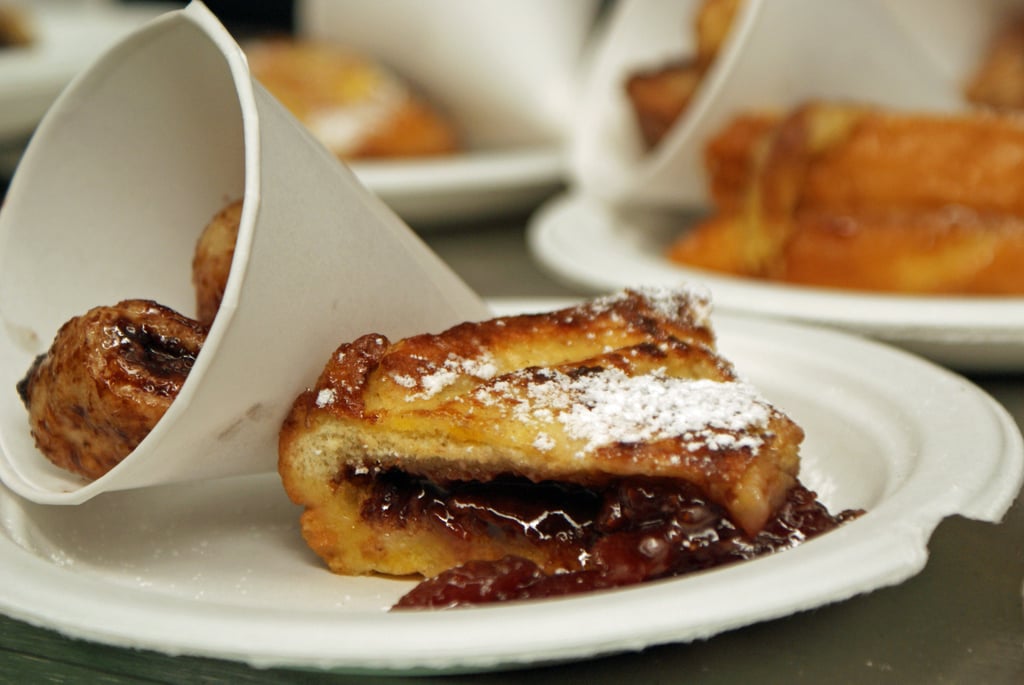 The Ferrero USA [3] booth at the Grand Tasting kept things simple and simply delicious with Nutella-filled French toast, the second-best sweet sandwich creation we ate at the festival. (What's the first best, you may ask? Keep reading.)
Source: Nancy Einhart
Cured Ocean Trout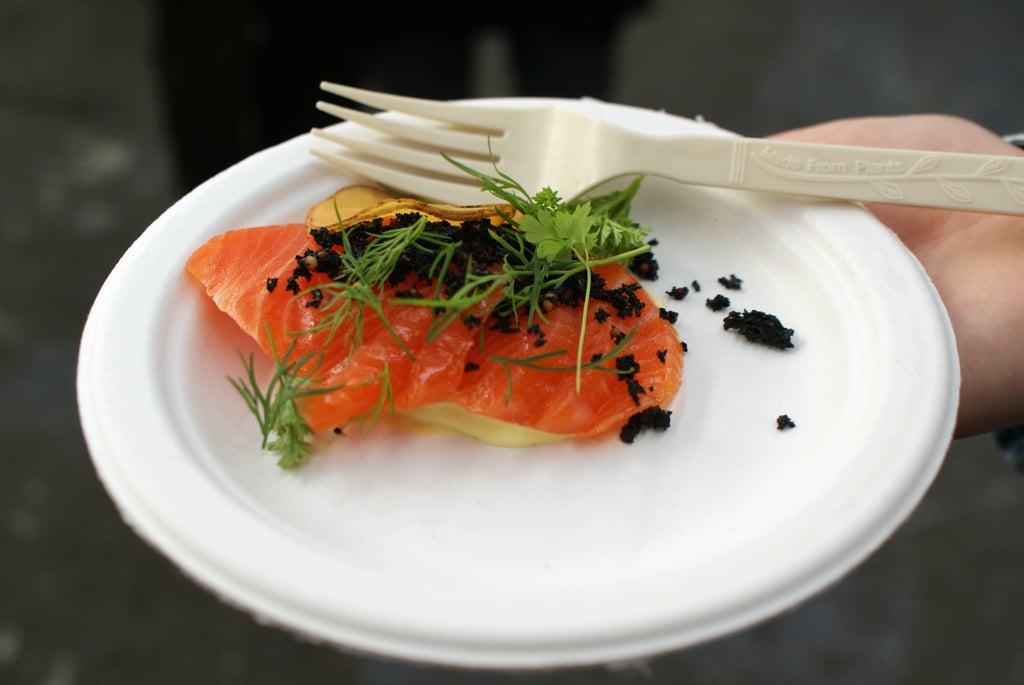 At the Grand Tasting, Gwynnett St. [4] served a divine cured ocean trout with a golden beet yogurt.
Source: Nancy Einhart
Whey Vinaigrette
The Pines [5] restaurant used whey as an unusual vinaigrette starter that give the carrot salad an acidic touch.
Pudsters Original Puddy Melt
Pudsters [6] toasted the bread of the Original Puddy Melt to golden perfection and dressed it up with plenty of Hellmann's mayo and American cheese. The American cheese and mayo melted together to form a saucy concoction that judges deemed good enough for third place at the Burger Bash.
Blue Marble Spiced Pumpkin Ice Cream
Toward the entrance of the Grand Tasting tent, Blue Marble Ice Cream [7] in Brooklyn scooped up a spiced pumpkin ice cream with visible pieces of pumpkin churned in the Jersey cream.
Beth's Farm Kitchen Cranberry Horseradish Chutney
Beth's Farm Kitchen Cranberry Horseradish Chutney [8] ($9) has the addition of wasabi for a spicy, tart spread that apparently goes great on turkey or avocado sandwiches. At the Tasting Tent, we generously dolloped the chutney onto sourdough.
Domain NYC Smoked Salmon
Domain NYC [9] served smoked salmon in these little plastic orbs at the Tasting Tent. Cooks blasted the inside with a puff shot from a smoke gun then quickly twisted the caps. The orbs contained the smoky flavor so when the containers were untwisted, the smokey scent escaped and filled the air.
Ilili Schwarma Burger With Phoenician Fries
During the Burger Bash, Ilili [10]'s Schwarma Burger with Phoenician fries proved that Mediterranean flavors do belong in burgers. The chef precisely crafted a Western burger with a complex list of Eastern components: a cardamom-scented bun, kashkaval cheese, pickled Lebanese cucumbers, and parsley slaw with jalapeño labneh and tahini. The burger paved the way to the fries tossed in sumac and Aleppo pepper and served with a spicy garlic whip reminiscent of hummus.
Chipotle Patrón Margarita
Earlier this year, Chipotle released two new items to its menu: a Patrón margarita [11] and Sofritas [12], a vegan protein. We stopped by the Chipotle truck inside the Tasting Tent to see if any changes to the Sofritas had been made. While the margarita was a perfect blend of citrus flavors, the Sofritas tacos missed the mark yet again.
Ample Hills Creamery Ooey Gooey Butter Cake
Butter cake sounds plain Jane and boring, but Ample Hills Creamery [13] knows what it's doing. Chunks of St. Louis-style gooey butter cake, moist and decadent in nature, are lodged in the vanilla cream cheese ice cream base. As soon as we tried this ice cream at the Burger Bash, we thought, "This should be the new standard."
Cambodian Corn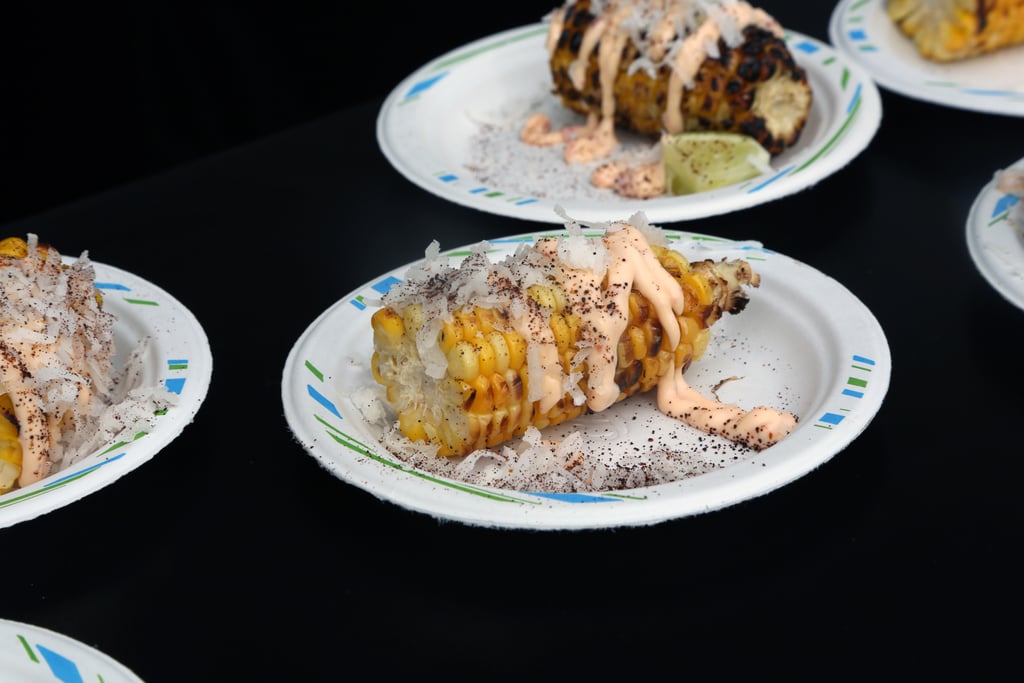 During the Jets + Chefs tailgating event, Num Pang Sandwich Shop [14] served grilled corn on the cob with chili mayo, coconut flakes, chili powder, and fresh lime juice. Fans of Mexican-style street corn will appreciate the spiciness of this combo, plus the unusual crunch and tropical flavor imparted by the coconut.
Watermelon Mojito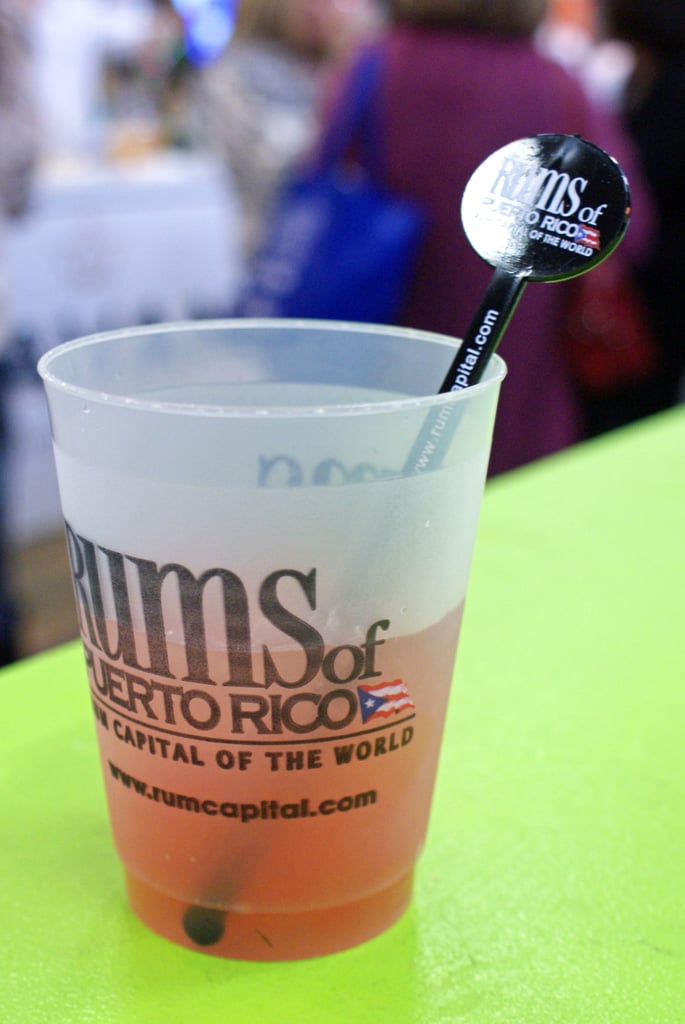 This slightly sweet, mint-infused rum makes mojitos dangerously easy to mix, and this watermelon mojito cocktail, made with Don Q Mojito Rum [15] was dangerously easy to drink.
Shake Shack Bacon Cheeseburger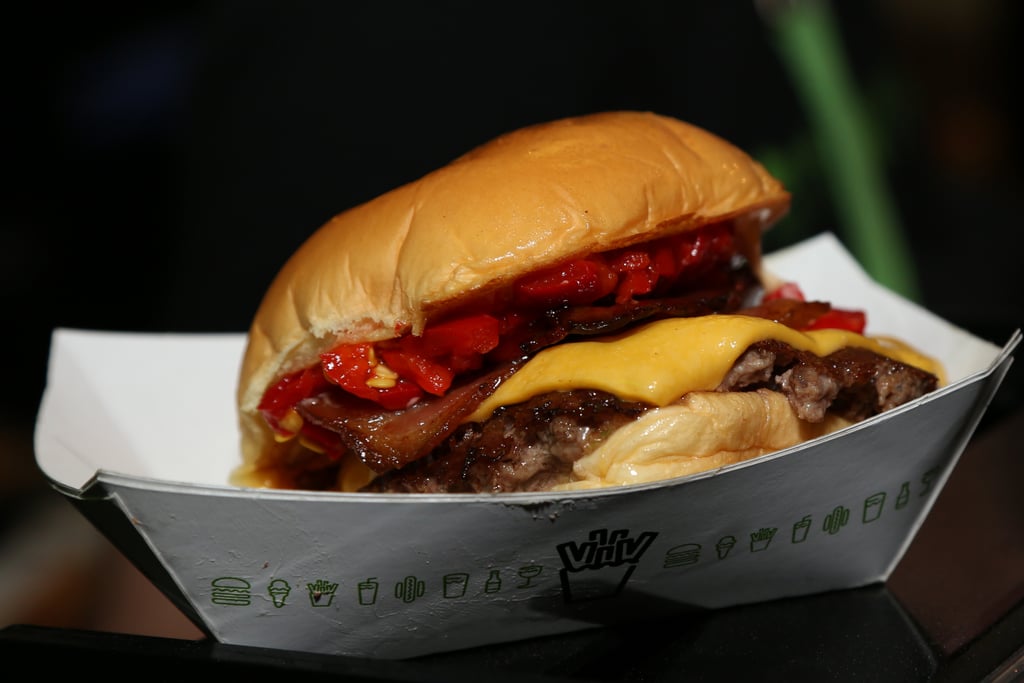 Shake Shack [16] garnished its bacon cheeseburgers with chopped cherry peppers instead of pickles. The spicy, vinegary peppers cut through the grease and offer extraordinary flavor.
Brioche Ice Cream Sandwiches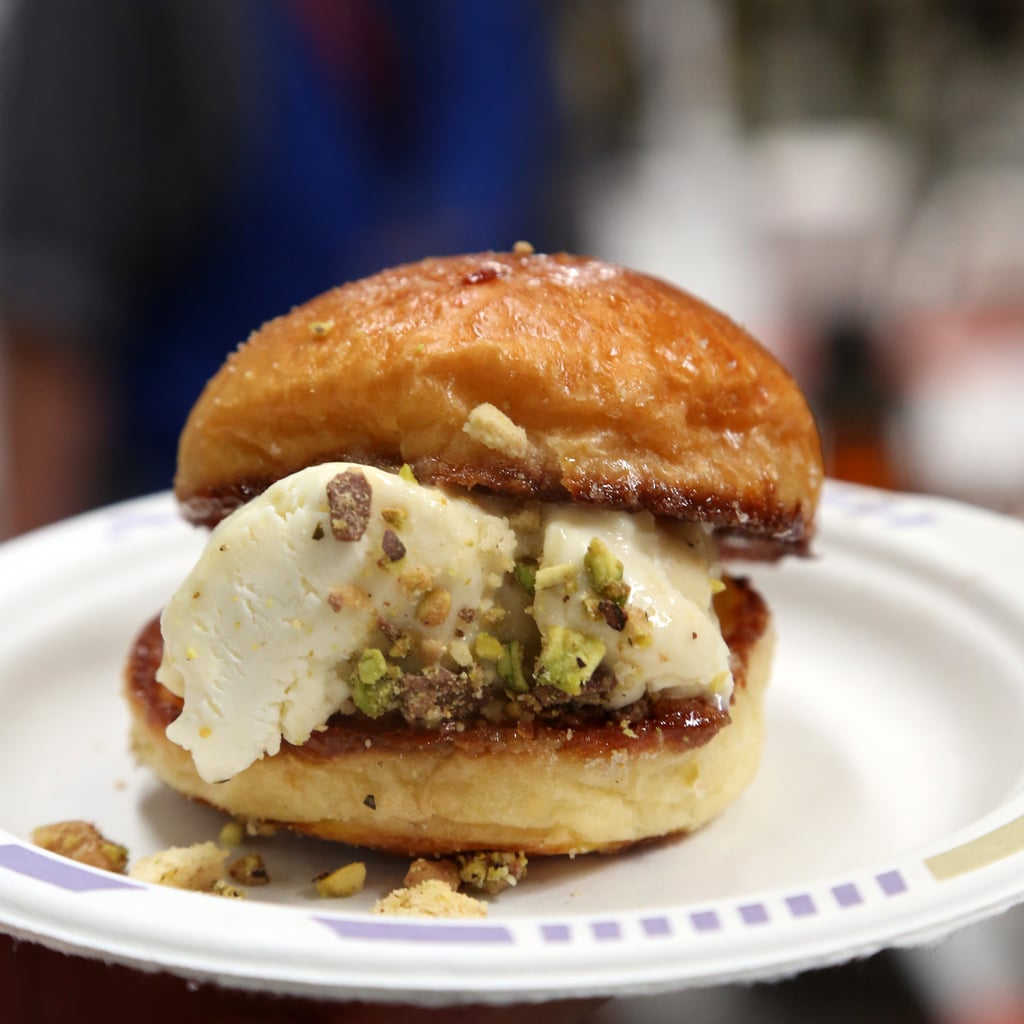 The best sweet sammie we ate was discovered the last day in the Tasting Tent. This ice cream sandwich from High Road Craft Ice Cream [17] looks a little bit like sliders, but this mind-blowing creation is actually freshly grilled brioche buns stuffed with honey ice cream and coated in pistachios, chocolate pieces, and cookie crumbs.
Bobby's Burger Palace Carolina Burger
At the Burger Bash, Bobby's Burger Palace [18] Carolina Burger ("crunchified" with a stack of potato chips) had all the right things, from a soft bun to a moist burger. But the smoked cheddar sauce, Velveeta-like in texture and oozing out the sides, turned out to be the star.
Cocoa Puffs Carbonara
Justin Warner previewed his Cocoa Puffs Carbonara [19] recipe at the Global Night Market. This may have been the only plate licked clean. The crunchy, chocolaty cereal orbs effortlessly adorned the pasta that is also studded with bacon, parmesan, and parsley.
Dominique Ansel Cronut Hole
Dominique Ansel [20] brought Cronut holes to the Jets + Chefs event. The mini croissant-doughnuts, in this month's caramelized-apple crème fraîche flavor, attracted the largest line we've ever seen in festival history. And the one-bite Cronut was worth it.
Green Juice Margarita
Partygoers agreed that hands down, the best drink of Justin Warner's Sunday night mixology party belonged to Jason Mendenhall of The Wayland [21] for his Garden Variety Margarita. Blanco tequila, lime juice, agave, ginger and kale juices, and a smoked chili salt rim are all that's needed to re-create the recipe at home. We think it calls for a recipe hack!