Best Pizzas in the US
21 Perfect Pizzas From Coast to Coast
Call it a 21-pie salute to the best pizzas our country has to offer. In honor of National Pizza Month, we've teamed up with our expert taste testers in NYC, Chicago, LA, and San Francisco to pinpoint our 21 favorite pizza places in four major cities. Read on, then eat up.
YumSugar's Top 5 Pizzas
Motorino: New York's East Village is lucky to have this neighborhood spot, which makes a memorable, chewy-blistery crust (pictured above). Try the brussels sprouts and smoked pancetta pizza.
Pizzeria Mozza: The luscious toppings and creative flavor combinations at Mario Batali's Los Angeles pizza outpost will leave any pie lover hankering for more.
Gino's East: Chicago's deep-dish pizza wouldn't be what it is without the precedent of Gino's East. Do as a Chicagoan would do: order a pie with an entire layer of the joint's famous sausage.
Pizzeria Delfina: San Francisco's favorite neighborhood pizza house makes solid pies across the board, but the panna pizza — with sweet-tart tomato sauce, cream, basil, and thin shavings of parmigiano — will change your life.
Grimaldi's: There's a perpetual line around the block at this Brooklyn institution, and for good reason. Don't pass up an opportunity to try a classic New York slice, made in a historic coal-burning brick oven.
Check out 20 more favorites from New York, Chicago, Los Angeles, and San Francisco, after the jump.
Lombardi's: Opened in 1897 just down the street from its present location, Lombardi's is one of the city's oldest pizzerias. Signature toppings, like pepperoni and homemade meatballs, keep locals and tourists very happy.
Grimaldi's: In New York, Grimaldi's is an institution. If you have a bone to pick in that regard, take it up with Grimaldi's fan, former mayor Rudy Giuliani.
Artichoke: A relative newbie with three Manhattan locations, Artichoke serves its pizza 'round the clock. The margherita is a personal favorite.
Motorino: Made in the traditional Neopolitan style, Motorino delivers soft, crispy crusts with none-too-sweet cheese and tomato toppings.
Di Fara Pizza: The people have spoken, and there are two words that kept tongues wagging — Di Fara's. You'll find owner Domenico De Marco in his flour-dusted apron, making thin Neapolitan pies.
PopSugar Chicago's Pop 5 Thin-Crust Pizzas
Piece Brewery & Pizzeria: Choose from crazy toppings like mashed potatoes and clams or another fave: pepperoni, spinach, banana pepper, and goat cheese.
Lou Malnati's does have deep dish, but it's the thin crust, still made with that "world-famous buttercrust," that's our fave.
Aurelio's might be a chain, but one taste of the sauce, and you'll get why it made this list.
Great Lake pizza has been called unbelievable and stunning in national press outlets; stop in and you'll see why.
Spacca Napoli is obsessed with bringing authentic Neapolitan-style pizza and ambiance to Chicago.The charred crust is about as good as it gets.
Bottega Louie: Whether you go with the classic margherita or off-kilter clam, every slice is going to be superb.
Stella Rossa Pizza Bar: The new applewood bacon and goat cheese pizza is too good for words.
Pizzeria Mozza: You can't talk about high-quality pizza without mentioning Mozza, with signature pies like egg, bacon, Yukon gold potato, and Bermuda onions.
Casa Bianca Pizza Pie: It's been around since 1955 and serves up toppings like basil, meatballs, green olives, and mushrooms.
Village Pizzeria: Hand-spun and made-to-order pizzas include two veggie options, a Greek pizza with feta, and more.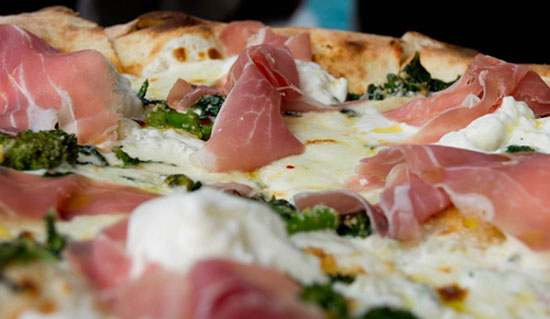 Pizzeria Delfina: Neopolitan-meets-American style crust and SF-ied gourmet toppings, fired to crisped, melting perfection.
Tony's Pizza Napoletana: The crust is just as upper-level as Delfina, but the style is more traditionally Naples.
Little Star: The rich, cornmeal-crafted crust forms some of the most divine deep-dish pizza we've ever tasted.
Za Pizza: An irresistible palette of palate-pleasers combine to form comforting works of pizza art.
Golden Boy: Hands down SF's best hole-in-the-wall hideout for two-handed squares of greasy delight.
Source: Motorino