Best Pumpkin Treats, Lattes, Cupcakes, and Donuts in the US
10 Pumpkin Treats You Don't Have to Make
Just because we're done carving pumpkins doesn't mean we're done eating them. If your pumpkin cravings are coming in the form of lattes, sweets, and other treats, we've rounded up 10 delicious pumpkin-flavored finds you could be eating right now.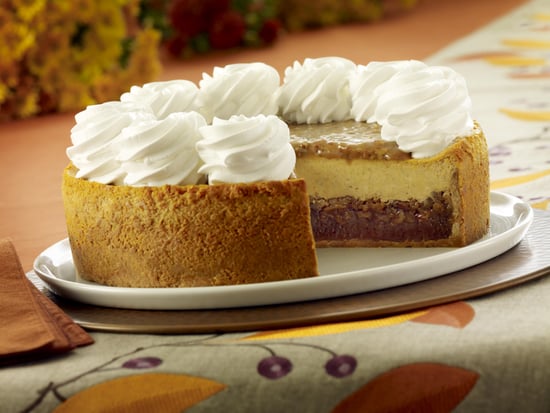 No cooking required: most of the treats are available nationwide or delivered to your door. If not, we've got some make-at-home alternatives, too. Chime in with your favorites and check out our list of 10 pumpkin treats to try right now.
The Cheesecake Factory's pumpkin pecan cheesecake (pictured). Available now through Thanksgiving day, this fusion of three beloved desserts is sold by the slice, or you can order a whole cake online.
Jamba Juice's pumpkin smash smoothie. More like a mix between a smoothie and a milk shake, this drinkable indulgence surfaces in the Autumn months.
Starbucks pumpkin spice latte. One of our seasonal favorites is a must try, and it's surprisingly easy to replicate at home with our pumpkin spice latte recipe.
See's Candies pumpkin spice lollipops. These limited-edition lollies are almost as creamy and delicious as a pumpkin spice latte.
Dunkin' Donuts glazed pumpkin cake doughnut. This simple yet elegant doughnut adds trendy pumpkin flavor into an old-fashioned cake style ring.
Sprinkles pumpkin cupcakes. These adorable treats are available at Sprinkles through Nov. 30, or you can make your own with Sprinkes at-home pumpkin cupcake mix.
Pumpkin beer. We love the Shipyard Pumpkinhead Ale, but if you can't find it in stores, look for pumpkin brews by Samuel Adams, Blue Moon, and more.
Planters pumpkin spice almonds. Strange-sounding but also strangely delicious, these tailgate snacks are a great mix of salty, spicy, and sweet.
Trader Joe's pumpkin butter. TJ's makes a number of variations on the apple butter concept, and the seasonal pumpkin butter is my hands-down favorite.
Pinkberry pumpkin yogurt (pictured below). This seasonal flavor tastes even better topped with cinnamon. No Pinkberry nearby? Make your own pumpkin ice cream instead.