There's no denying it — Halloween [1] inspired many of our October recipes. However, the runners up had to be pumpkin, other edible gourds, and Fall spices. This slideshow contains all of our October recipes. We hope it inspires you to get cooking this Autumn!
Jump ahead to:
Breakfast [2]
Appetizers, snacks, and sides [3]
Main dishes [4]
Desserts [5]
Drinks and cocktails [6]
Maple-Ginger Almond Butter
Breakfast toast receives an upgrade thanks to maple-ginger almond butter [7], made with real ginger juice.
Pumpkin Spice Latte Muffins
Many love a rich pumpkin spice latte during the holiday season, so pair it with an appropriate pastry, like these pumpkin spice latte muffins [8], combining espresso, pumpkin, and a streusel topping.
Ricotta Honey Toast
If you're experiencing a breakfast rut, try ricotta and honey on toast [9].
"Green" (but Not Green) Cherry-Vanilla Smoothie
Few really love a green smoothie, but this cherry-vanilla smoothie [10] is filled with a salad's worth of greens yet tastes and looks innocent and kid-friendly.
Ghost Toast
Cut out cute ghost shapes in foil and place them on buttered bread to create catchy ghost toast [11].
Apple Butter
Apple sauce cooked low and slow turns into a concentrated, spreadable apple butter [12] for toast, oatmeal, or even graham crackers.
Bacon-Wrapped Brie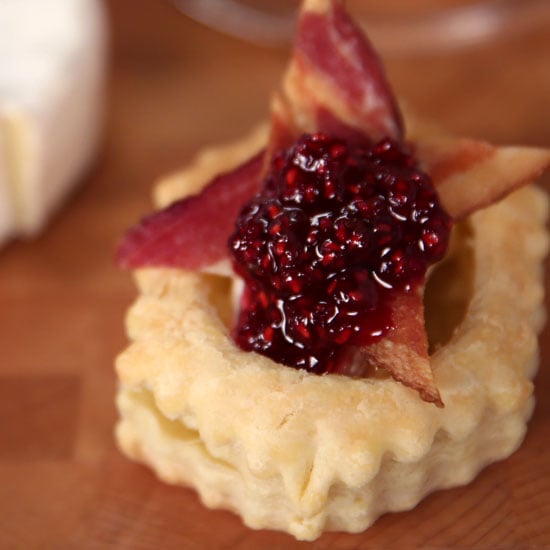 For a quick but addictive appetizer, try bacon- and brie-stuffed puff pastry cups [13] topped with raspberry compote.
Old Bay Hummus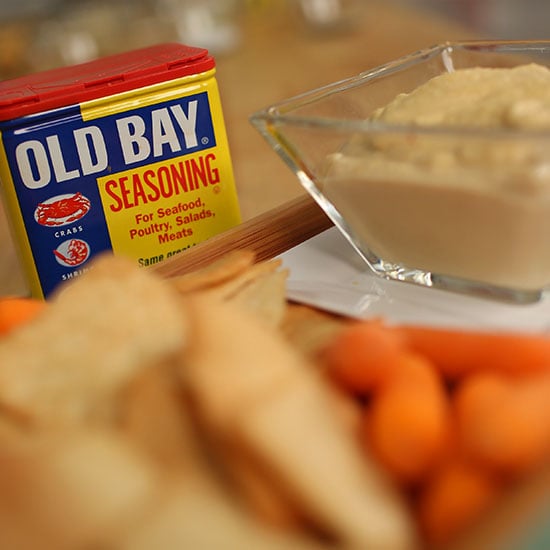 Spice up hummus with Old Bay seasoning [14], which contains celery salt, paprika, crushed red pepper, and other spices.
Speck and Apple Salad
Make a filling Fall speck and apple salad [15]. Speck is a cured Italian ham worth trying.
Mashed Potatoes With Goat Cheese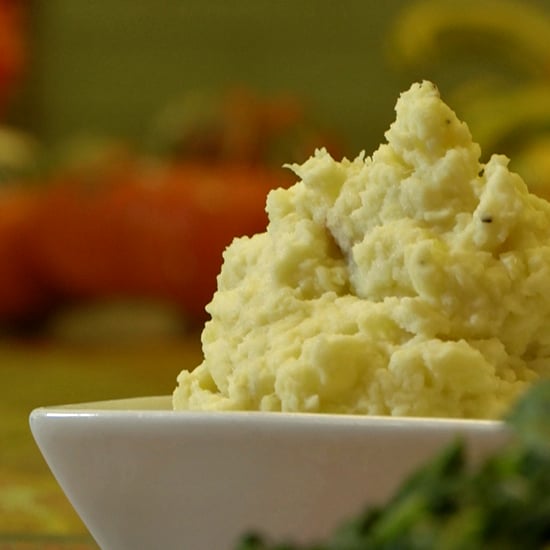 This holiday season, change up your game plan slightly by making mashed potatoes with goat cheese [16].
Cauliflower Steak With Pancetta
This is no vegetarian main dish, despite having a name like cauliflower steak. This cauliflower steak is topped with rich pancetta [17] and capers.
Marinated Eggplant With Tahini
Ottolenghi, the famed Mediterranean chef, developed this insanely good marinated eggplant with tahini [18].
Cheesy Bacon Tater Tots
Every game day should have indulgent finger foods to match, which is why you should make cheesy bacon tater tots [19] topped with a ranch dressing-spiked sour cream.
Spam Fries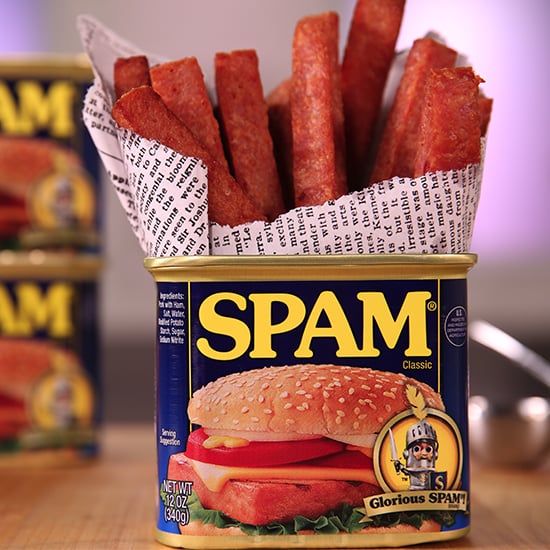 French fries are so passé. Try Spam fries [20] at your next party, and watch the room devour the porky product.
Frito Pie . . . That's Actually Pie
When most people hear Frito pie, they think of pie (even though it's a misnomer). This Frito pie [21] is actually pie!
Jalapeño Popper Mac
Instead of frying up jalapeño poppers, create a mac and cheese [22] riff on the game day favorite.
Smoked Salmon Quesadilla
We can't help but love a good hybrid! Insert lox inside tortillas and cheese to form a multicultural quesadilla [23].
Cobb Salad Skewers
Salad is so difficult to eat during parties, but now it's a breeze with cobb salad skewers [24].
Butternut Squash Pasta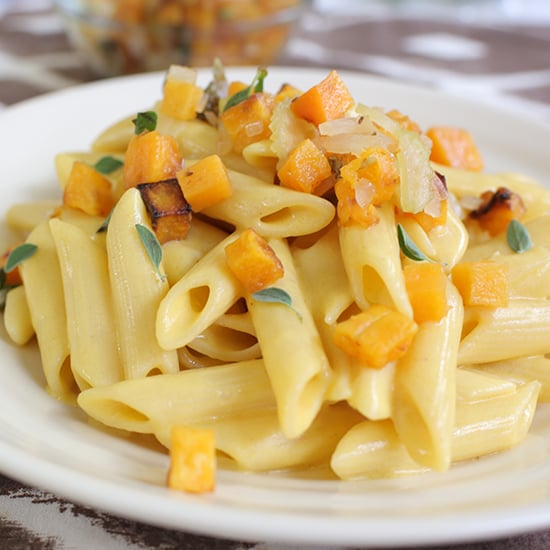 Dine on a butternut squash pasta [25] with a creamy, sweet butternut squash sauce.
Cocoa Coq au Vin
The French dish, which in English means chicken and wine [26], receives a chocolatey twist that can't be missed.
Jet Tila's Pad Thai
Learn a classic Thai dish: pad Thai [27] from Thai master Jet Tila himself.
Maine Lobster Rolls Both Ways: Hot and Cold
When it comes to special occasions, procure the ingredients to prepare famous Maine lobster rolls [28], both hot and cold.
Pumpkin Pie Dip
Don't be surprised if this pumpkin pie dip [29], made with pumpkin puree, cream cheese, and caramel, goes extremely fast at holiday gatherings.
Homemade Sprinkles
Did you know you can actually make homemade sprinkles [30]?! The base is royal icing, piped into thin lines and broken into small pieces when dried.
Homemade Caramel Apples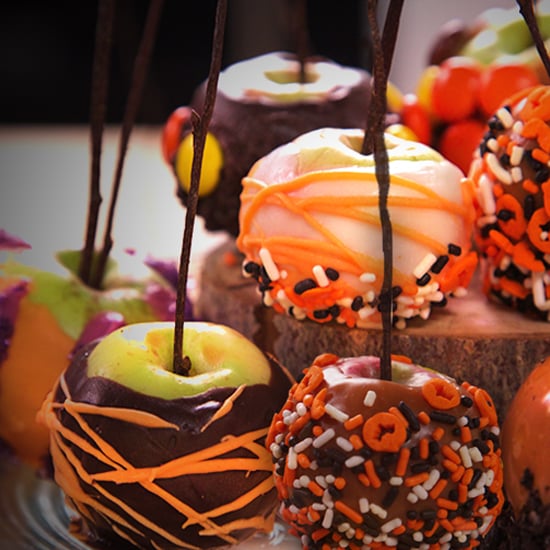 There's no need to buy caramel apples when you can easily make and decorate them at home [31].
Cowboy Cookies
The recipe for granola cookies, better known as cowboy cookies [32], is worthy of bookmarking and baking over and over.
HIMYM's Chocolate, Peanut Butter, and Caramel Sumbitch Cookies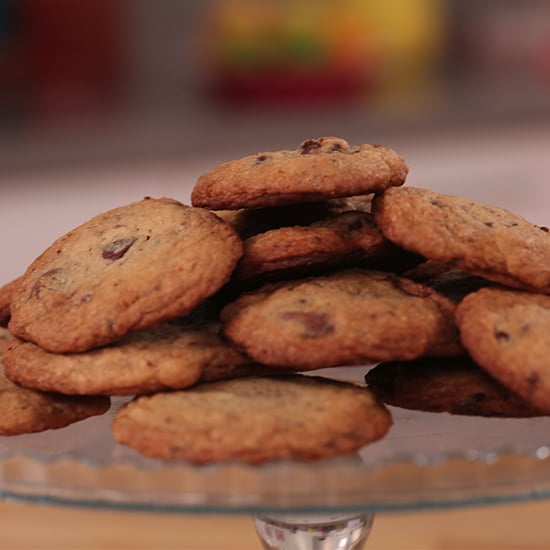 How do chocolate, peanut butter, and caramel Sumbitch cookies [33] sound? Pretty bitchin', if you ask us.
Spiderweb Cheesecake
Those who aren't big on decorating can still get in the festive spirit with an easy spiderweb cheesecake [34].
Magical Cookies and Milk
Alice in Wonderland fans: prepare to learn how to make your own magical cookies and milk [35] based on the book.
Pecan Pie Cookies
We lovingly dub these pecan pie cookies [36] "pecan pie, the lazy girl's way."
Edible Monster Mouths
Tart Granny Smith apples, candy corn [37], and cookie butter form these edible monster mouths [38].
Sweet Dessert Cups
Pudding, ice cream, and even fruit needs to be served in a sweet edible cup [39].
Vampire Diaries-Themed Fang Cookies
Decorating fang cookies [40] couldn't be simpler. The best part is the marshmallow teeth, of course!
Pumpkin Chocolate Chip Cookies
Take a seasonal favorite and pair it with the ultimate cookie flavor, and you have a very lovable pumpkin chocolate chip cookie [41] recipe.
Candy Sushi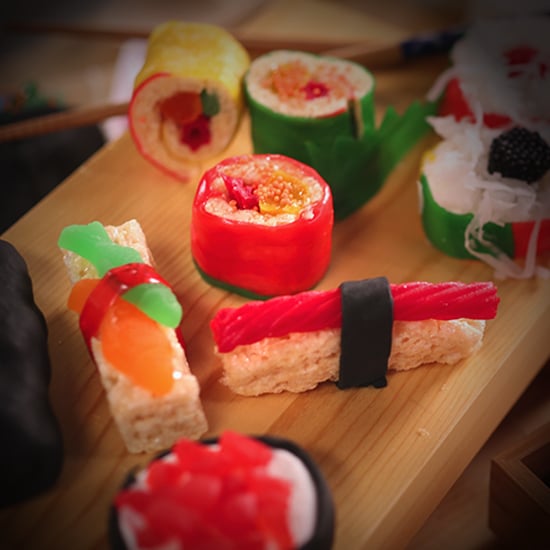 Have a (candy) sushi party [42] — Swedish Fish, Rice Krispies treats, and sprinkle fish eggs included.
Candy Corn Vodka
Though it sounds strange, try infusing vodka with candy corn [43]. Serve it with soda water for a sparkling treat of a drink.
Vampire Martini
Despite this cocktail looking quite ghoulish, it's just a strawberry jalapeño martini [44]!
Trick-or-Tini
The layered Trick-or-Tini [45] cocktail consists of whipping cream, fruity mixer, banana liqueur, and rum.
Thai Iced Tea
The best drink to pair with Thai food is super sweet, milky Thai iced tea [46].