The Best Ways to Store Nuts
A Guide to Buying and Storing Nuts and Seeds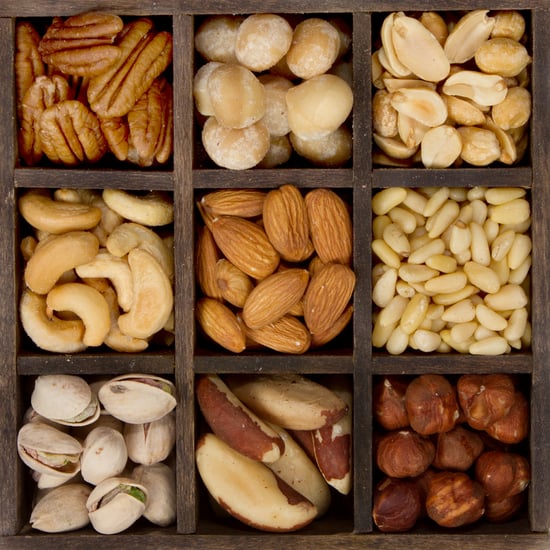 We've all been there: going a little bulk-bin happy and ending up with a lifetime supply of walnuts or pumpkin seeds. Months later, when you rediscover the stash, you come to the devastating realization that they've gone completely rancid, and all of that money has gone to waste! It's a challenge to know how long nuts and seeds will last, but there are tricks to buying and storing them to extend their shelf life so that you don't end up tossing the majority in the trash. Here are a few rules to live by:
Taste-test before you buy: Nuts and seeds are expensive, but buying them in bulk is not only more economical; it also allows you to taste a few to make sure the batch is fresh and not rancid. Additionally, those from the bulk bins tend to have a higher turnover than prepackaged nuts, so there's a lower chance of rancidity.
Only buy what you need: Ignore the special two-for-one sales, and only buy what you need for the week. It's better to replenish your nut and seed stashes frequently to ensure that you are using the freshest nuts and seeds available, rather than cashing in on deals, because chances are that, if they're on sale, the nuts and seeds are past their prime.
Buy whole, raw nuts: Chopped, sliced, ground, or blanched nuts and seeds have a shorter shelf life than whole, raw varieties. These processed versions produce oxidize faster, because the oils inside the nuts and seeds are exposed to more air. When it makes sense for your recipes, try to avoid precut varieties.
Learn more nut and seed storing tips.
Avoid light, heat, moisture, and air: All of these elements contribute to stale or rotten seeds and nuts. In my brief stint as a chocolatier, the kitchen positioned the nuts and seeds in the worst place possible: above the stove and on shelves where the hot ceiling lights beamed down on the boxes. It was hardly shocking that all the nuts went rancid within a matter of weeks. Store your nuts in airtight containers or plastic bags in a cool, dry, and dark pantry.
Refrigerate or freeze extra nuts: If you broke down and purchased a surplus of nuts and seeds, then store extras in plastic baggies in the fridge or freezer. Many restaurants (and pastry chefs) store bags of nuts in the freezer, since there are no other cool, dark places in the kitchen. This is also a great solution for storing nut meal/flour.