Better Homes and Gardens Slow Cooker Recipe For Kielbasa Stew
Sunday Slow Cooker: Kielbasa Stew Make the most of the rest of your weekend by playing hooky and celebrating the luck of the Irish rather than laboring over a Sunday meal.
Using cooked pork sausage not only cuts down on your meat prep time, but it also provides a satisfyingly smoky depth to the other elements of the stew, such as carrots, cabbage, and chicken broth.
As an added bonus, the bold spices of the sausage pair really nicely with any full-bodied beer. To see the two-step recipe,
.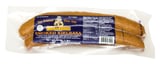 Ingredients
4 cups coarsely chopped cabbage
3 cups peeled, cubed potato
1-1/2 cups sliced carrots
1 pound cooked kielbasa, sliced
1/2 teaspoon dried basil, crushed
1/2 teaspoon dried thyme, crushed
1/2 teaspoon ground black pepper
2 14-ounce cans reduced-sodium chicken broth
Directions
In a 4- to 5-quart slow cooker combine cabbage, potato, and carrots. Top with kielbasa. Sprinkle basil, thyme, and pepper over kielbasa. Pour chicken broth over all.
Cover; cook on low-heat setting for 7 to 9 hours or on high-heat setting for 3-1/2 to 4-1/2 hours.
Serves 4 to 5.
Information
Category

Main Dishes, Pork

Cuisine

Russian/Eastern European