Beverage Titans Team Up to Remove Soda From Schools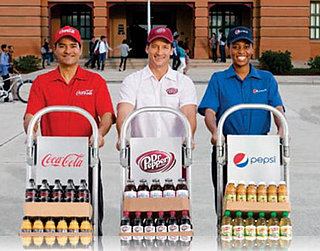 Coca-Cola, Pepsi, and Dr Pepper Snapple Group have just done the unthinkable. They've banded together in print and television ads to promote their new campaign to remove full-calorie soft drinks from nationwide schools. The joint initiative, spearheaded by the American Beverage Association (ABA) and called Clear on Calories, hopes to tackle childhood obesity with actions such as placing calories on the front of packages, vending machines, and fountain machines.
Thus far, the campaign has involved removing full-calorie sodas, and replacing them with portion-sized options like juice, tea, and water. So far, Clear on Calories has led to an 88 percent decrease in calories from beverages shipped to schools in 2004 — and the goal is to have all full-calorie soft drinks completely removed by 2012.
Through the campaign, the beverage industry hopes to fend off potentially costly legislation, such as taxes on sweetened beverages. "The 'clear on calories' initiative will have far more impact in addressing childhood obesity than a tax ever will," Kevin Keane, an executive at the ABA, told Ad Age. Can the top soft drink giants harness their market influence to effect a healthy change, or should the government step in to take action?