Bite-Size Pumpkin Pies With a Baklava Twist
After drooling over Party's pumpkin cake and these pumpkin pies, I wanted to experiment with my own unique concoction: a traditional pumpkin pie filling with baklava-inspired crust and streusel topping. With a belly full of Thanksgiving fixings, eating a whole piece of pie can be a rather daunting task, so I made bite-size pies to satisfy everyone's sweet tooth. The pumpkin pie filling and walnut-oatmeal streusel are simple to make, but the cinnamon-sugar phyllo cups are more time consuming due to the very delicate nature of phyllo. All three of the components can be made in advance and quickly assembled and baked the day of, prior to serving. These mini pies are light, crunchy, and nutty with a scrumptious creamy pumpkin pie filling! To make your own tiny pumpkin pies with a baklava twist,
.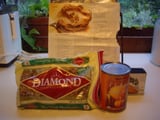 Ingredients
Walnut-Oatmeal Streusel
6 tablespoons old-fashioned oats
3 tablespoons chopped walnuts
3 1/2 tablespoons flour
Pinch of salt
3 tablespoons light brown sugar
1 1/2 tablespoons unsalted butter
1 tablespoon honey
Phyllo Crust
5 sheets of phyllo, thawed and room temperature
3/4 teaspoon ground cinnamon
1/2 cup granulated sugar
6 tablespoons (3/4 stick) unsalted butter, melted
Pumpkin Pie Filling
7.5 ounces solid-pack pumpkin
1/4 cup light brown sugar
1/8 cup honey
1 egg
1/8 cup heavy cream
1 1/2 teaspoon cornstarch
1/2 teaspoon vanilla extract
1/4 teaspoon coarse salt
1/8 teaspoon freshly grated nutmeg
1/2 teaspoon ground cinnamon
1/2 teaspoon ground ginger
Directions
Make the walnut-oatmeal streusel: Preheat oven to 350. Combine oats, walnuts, flour, salt and sugar in a large bowl.
Melt butter in small saucepan over medium heat. Whisk in honey. Stir into oat mixture.
Spread streusel on a rimmed baking sheet. Bake, stirring occasionally until light gold and crunchy, 12 to 15 minutes.
Let cool on baking sheet on a wire rack. Streusel will keep, covered for up to 3 days.
Make the phyllo crust: Preheat oven to 350. Combine 1/2 cup sugar and 3/4 teaspoon cinnamon. Gently place one layer of phyllo dough on a large cutting board. Brush with a thin layer of butter and sprinkle cinnamon-sugar mixture. Repeat this step five times until all 5 sheets have been used.
Cut phyllo into 2 by 2 inch squares. Remove each square and gently press and fold the edges into the mini muffin tin. Bake for 5-8 minutes until phyllo cups are golden.
Make the pumpkin pie filling: combine pumpkin, brown sugar, honey, egg, cream, cornstarch, vanilla, salt, nutmeg, cinnamon, ginger in a large bowl.
Sprinkle a bit of streusel in the bottom of each phyllo cup. Spoon in a small amount of pumpkin pie filling in each phyllo cup. Bake at 350°F 15-20 minutes until the pumpkin filling is firm.
Sprinkle a little strusel on each and serve warm.
Makes 30 bite-size pies.
Information
Category

Desserts, Pies/Tarts