Bitter Greens With Cherry Beer Vinaigrette Recipe
Berry Tempting: Bitter Greens With Cherry Beer Vinaigrette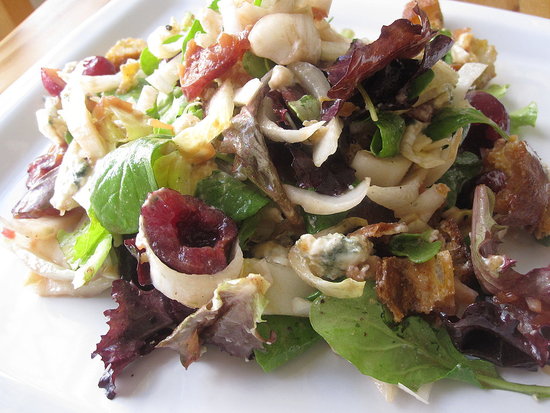 Sometimes I'll make a hurried salad by haphazardly throwing vegetables and oil into a bowl. Other times, I'll make a leisurely salad with homemade croutons and an elaborate vinaigrette.
This amazing dinner salad is the latter, because the vinaigrette has to be made in advance. Don't be intimidated though, once you've reduced the beer, the rest is easy. The ingredients — tangy blue cheese, juicy cherries, crunchy croutons, and bitter greens — come together perfectly, creating a salad that is sophisticated and filling. It's the kind of salad you'll want to serve to girlfriends at a bridal shower. Be sure to pair with a luxurious white wine like Forefront's classic Sav Blanc. I enjoyed this dish so much that I've already made it multiple times. Give it a try and get the recipe now.
Bitter Greens With Cherry Beer Vinaigrette
Modified from Food & Wine
Ingredients
For the vinaigrette
1/2 cup cherry-flavored beer, such as Boon Kriek
2 shallots, finely chopped
2 tablespoons fresh pitted cherries, coarsely chopped
1 tablespoon honey
2 tablespoons red wine vinegar or raspberry vinegar
2 teaspoons Dijon mustard
1/2 cup canola oil
Salt and freshly ground pepper
For the salad
6 cups mixed bitter greens, such as radicchio, escarole and arugula
2 Belgian endives, cored and thinly sliced crosswise
1/4 pound Roquefort or Gorgonzola cheese
1-2 cups homemade croutons
1 cup fresh pitted cherries, halved
Directions
Make the vinaigrette: In a small saucepan, combine the beer with the shallots, cherries and honey and bring to a boil over high heat. Reduce the heat to moderate and simmer, stirring occasionally, until the beer has reduced by half, about 5 minutes. Remove from the heat and let cool to lukewarm.
In a medium bowl, whisk the vinegar with the mustard. Whisk in the beer reduction, then gradually whisk in the canola oil. Season the cherry beer vinaigrette with salt and pepper.
Add the greens and endives to the vinaigrette and toss to coat. Add the blue cheese, croutons, and cherries. Toss to combine and serve.
Serves 6.
Information
Category

Greens , Salads

Cuisine

North American