Blackberry Grunt Recipe
Berry Tempting: Blackberry Grunt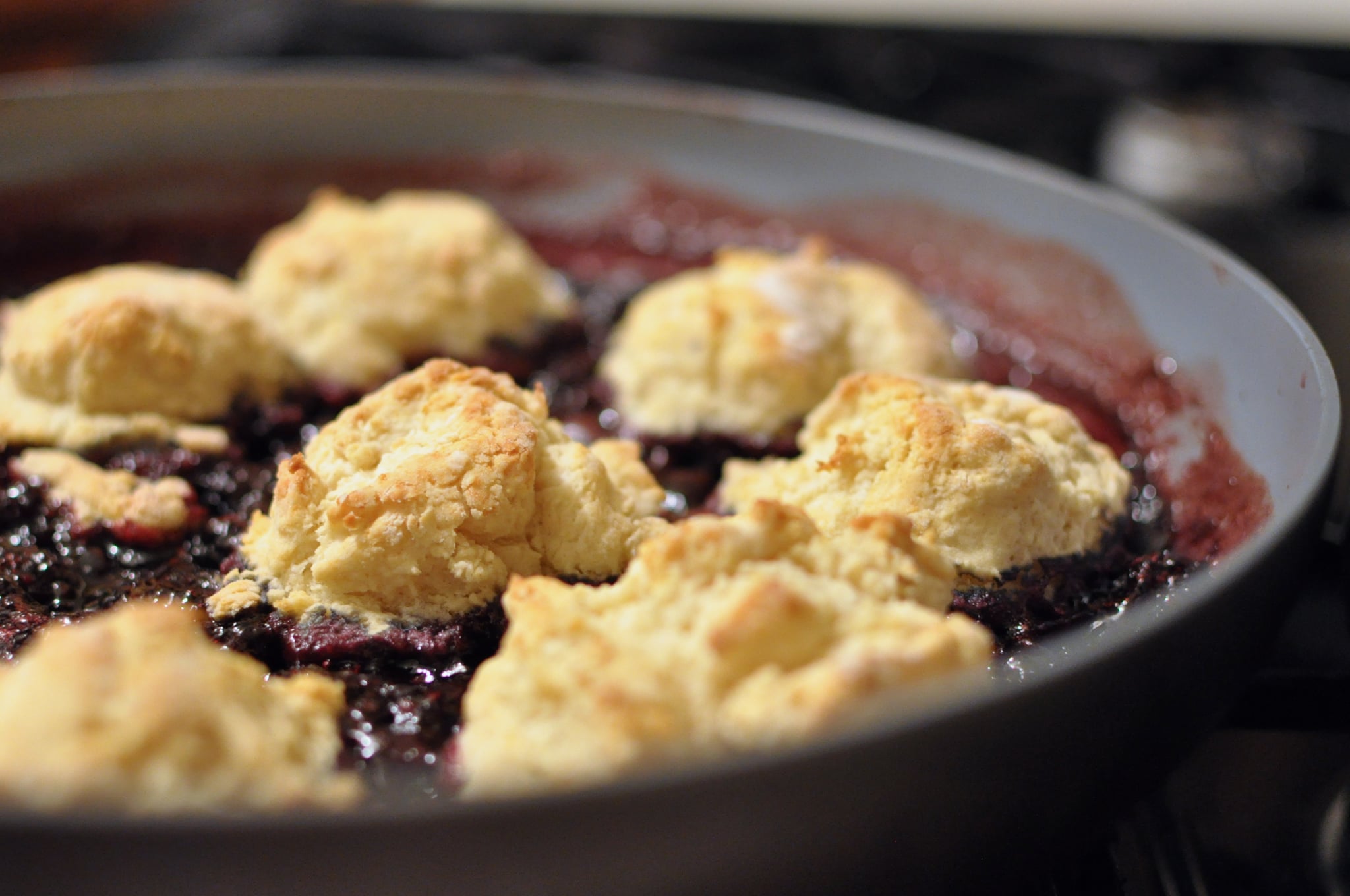 I've made a crumble, I've made a cobbler, but I've never made a grunt! So the moment I came across a blackberry grunt recipe, I knew it was a must make. It's a pretty basic concept that involves cooking berries and prepping a dough that's very similar to buttermilk biscuits. Rather than pulling out the baking sheet to cook the biscuits, they go right on top of the syrupy blackberries and straight into the oven. It's said that as it bakes, it begins to make a grunting noise (hence the name), although mine never made a peep. The best part of this delicious dessert is that the biscuit absorbs some of the blackberry flavor, and it comes out golden on the top and a lovely purple shade on the bottom. Make your oven grunt by reading more.
Ingredients
9 1/2 ounces all purpose flour, approximately 2 cups
2 teaspoons baking powder
1 teaspoon kosher salt
1/4 teaspoon baking soda
2 ounces unsalted butter, cut into small pieces and chilled
1 cup buttermilk
1 pound 3 ounces fresh or frozen blackberries, approximately 4 cups
1 cup sugar
1 cup water
1/2 teaspoon ground ginger or 1/4 inch fresh ginger
Directions
Preheat oven to 400 degrees F. Place a piece of foil on the bottom rack of the oven to catch any drippings.
Mix the flour, baking powder, salt and baking soda well. Pour the mixture into a large mixing bowl and, using your hands, work the butter into the flour mixture until about half of the fat disappears and the rest is left in pea-size pieces. Make a well in the center of the mixture and add the buttermilk and stir with a rubber spatula or wooden spoon just until it comes together. Turn the mixture out onto a piece of parchment or waxed paper that has been lightly dusted with flour, shape into a ball and wrap and store in the refrigerator while you prepare the filling.
Combine the blackberries, sugar, water and ginger in a large mixing bowl. Pour the mixture into a 10-inch cast iron skillet and place over medium heat. Bring this to a simmer decrease the heat to medium low and continue to cook, stirring occasionally, for 15 minutes, or until the liquid is thick enough to coat the back of a spoon.
Retrieve the dough from the refrigerator and gently drop it on the fruit mixture using a 1-ounce disher or large spoon, evenly distributing it over the top. Bake in the oven for 15 to 20 minutes, or until the top is just starting to brown. Remove from the oven and allow the grunt to cool for 15 to 30 minutes before serving.
Serve on its own or with whipping cream or vanilla ice cream.
Serves 6-8
Information
Category

Desserts, Cobblers

Cuisine

North American