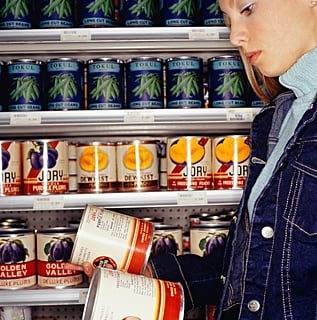 Have you clicked around the Internet today? It's overrun with site blackouts, with everyone from Wikipedia to Reddit completely shut down in protest of SOPA and PIPA.
All of this blackout talk has us thinking about what we'd eat during an IRL blackout. When it comes to natural disasters, it's best to prepare for the worst, then hope for the best. This includes food and drink! For seven shelf-stable provisions that I recommend you have on hand, keep on reading.


Canned fish. This isn't just limited to tuna, but also includes salmon, herring, sardines, anchovies, and shellfish; it's rich in calories, protein, and healthy fats like omega-3s. Keep a manual can opener around for the good-quality stuff from Matiz España. Can't stomach those little metal cans? Try making a fresh homemade version.
Nut butters. Peanut, almond, cashew, and sunflower seed butter make for great sweet and savory plant-based protein sources, given their extended shelf life.
Crackers. What else are you going to eat alongside peanut butter and tuna? Stock up on the most whole-grain, nutrient-dense crispbreads you can find, with a high amount of fiber and/or protein and low sodium (so you won't constantly be hogging that water supply).
Ramen. Instant ramen is delicious, whether there's an impending earthquake or not. Keep a box of your favorite brand (mine's Nong Shim Neoguri) around just in case.
Dehydrated fruits and vegetables. Where else are you going to get your daily dose? Have packs of dried apricots and bananas at the ready for quick access. Those dehydrated vegetables will come in handy for snacking — and those packets of ramen, too.
Sports bars. High-protein sports bars are easy to keep on hand, light and compact, and already preportioned. Get busy buying up your favorite.
Canned meals. There's nothing like sauce-laden comfort food to get you through tough times. Best bets: barbecued beans and ravioli.
Water! The most important provision of them all. Account for one gallon of H2O per person, per day. Drinking water tablets, for portable water purification, aren't a bad idea either.
What foods are on your list for an in-real-life blackout?