Blue Cheese Burger Recipe
Take Your Next Burger From Roadside to Bistro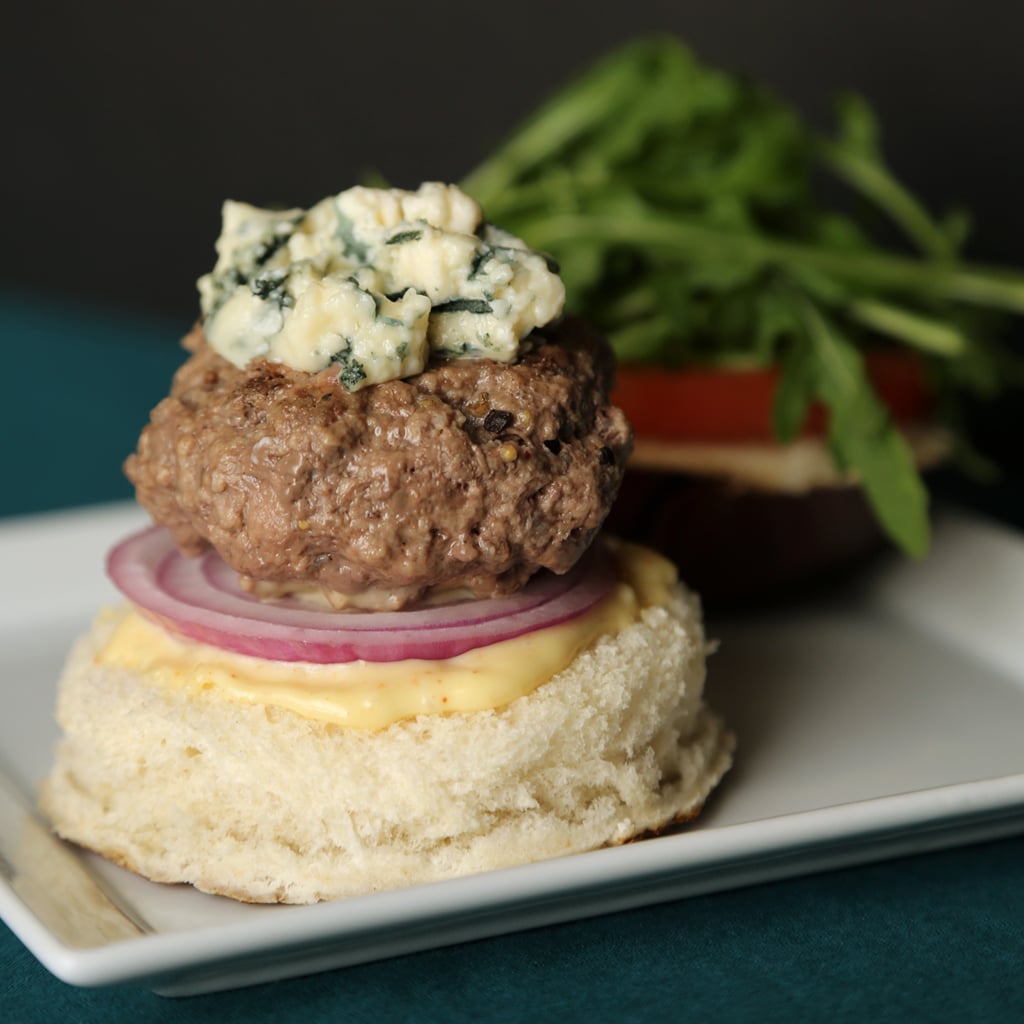 Cheddar has nothing on a good blue cheese burger. The funky flavor and saltiness of blue cheese shines but does not overpower the beef, and it's enough to elevate the roadside burger to a bona fide bistro burger. Even if you're blue cheese adverse, it truly is all about the cheese choice. Using a high-quality blue cheese, like the tart, creamy Point Reyes Original Blue Cheese, may make you change your mind. I made these for a friend who claims that she's anti-blue cheese, and she practically inhaled her burger before I plated mine.
Blue Cheese Burgers
From Anna Monette Roberts, POPSUGAR Food
Ingredients
For aioli:
1/2 cup mayonnaise
1/4 cup extra-virgin olive oil
1 tablespoon fresh lemon juice
Pinch of cayenne pepper, to taste
1 clove garlic, minced
Salt, to taste
For burgers:
2 pounds ground beef chuck
1 clove garlic, minced
1 teaspoon salt
1/2 teaspoon freshly ground black pepper
2 tablespoons high-heat oil, like canola
12 ounces blue cheese, crumbled
4 pretzel buns, split in half
1 red onion, cut in 1/4-inch slices
1 beefsteak tomato, cut in 1/4-inch slices
4 ounces arugula
Directions
To make aioli: In a medium bowl, whisk mayonnaise, then gradually whisk in olive oil, followed by lemon juice. Season with cayenne. Using the flat side of a chef's knife, mash garlic clove into a paste with a generous pinch of salt. Whisk garlic paste into aioli. Set aside and refrigerate for later use.
To make burgers: Light a grill or place a grill pan on the stove over high heat. In a medium bowl, combine beef, 1 tablespoon garlic, salt, and pepper, and mix gently but thoroughly. Divide and form into 4 equal-sized patties. Brush burgers with 1 tablespoon of oil, then place the burgers on the grill and cook, flipping once, until browned and cooked through, about 8 minutes. Two minutes before serving, place blue cheese crumbles on top of burgers; brush cut sides of hamburger buns with remaining oil and grill until toasted. Transfer burgers to a platter and let stand for a few minutes.
To assemble burgers: Spread a thin layer of aioli on insides of buns. Set burgers on buns and top with onion, tomato, and arugula.
Serves 4.
Information
Category

Main Dishes, Beef

Cuisine

North American