Blueberry Corn Muffins
A Texan Take on Blueberry Muffins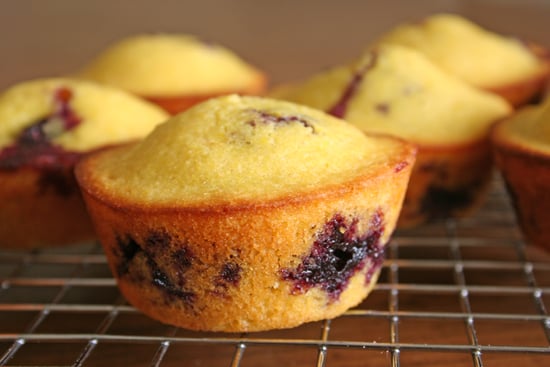 As a food enthusiast growing up in Texas, it was blueberry muffins for breakfast and cornbread for dinner. I always wondered what would happen if the two collided — which is why I created this a rich, buttery cornbread muffin oozing with fresh blueberries. It's subtly sweet and surprisingly light on the palate. With a sour pungency from the Greek yogurt and a bright, floral flavor from the lemon zest and honey, the flavors are perfectly balanced and complex, making this one delightful love child of two Texan quick bread recipes. Try the cornbread muffin recipe here.
Blueberry Cornbread Breakfast Muffins
From Anna Monette Roberts, YumSugar
Ingredients
Nonstick cooking spray
1/4 cup butter
3/4 cup cornmeal
1/2 cup all-purpose flour
1 1/2 teaspoons baking powder
1/2 teaspoon salt
Zest of 1 lemon
1/2 cup plain Greek yogurt
1/2 cup honey
2 eggs
1 teaspoon lemon extract
3/4 cup (5 ounces) fresh blueberries
Directions
Preheat the oven to 375ºF. Spray a muffin tin with nonstick cooking spray. Melt the butter in the microwave or on the stovetop in a small saucepan. Set aside to cool.
In a large bowl, whisk together the cornmeal, all-purpose flour, baking powder, salt, and lemon zest.
In a separate bowl, whisk together the yogurt, honey, eggs, butter, and lemon extract. Slowly whisk in the flour mixture until all of the ingredients are thoroughly combined. Fold in the blueberries.
Fill the muffin tin with batter until two-thirds full. Bake in the oven for 15 to 18 minutes, or until a toothpick test comes out clean. Transfer the muffins to a wire rack to cool.
Makes 12 muffins.
Information
Category

Breads, Breakfast/Brunch

Cuisine

North American