Blueberry Marshmallows
Taste Summer's Sweetest Bounty With Blueberry Mini Mallows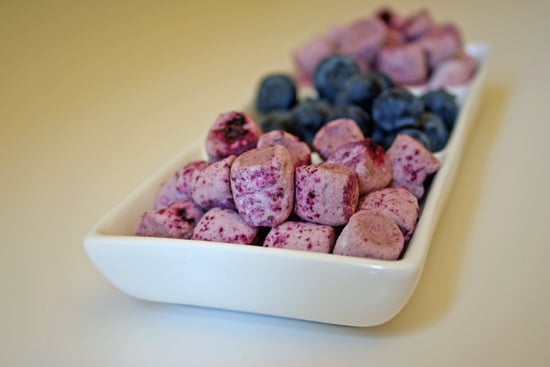 I'm seriously obsessed with marshmallows: something about their light, fluffy texture and subtly sweet flavor makes me think I'm not really indulging. That is, until I look down and see that most of the bag is missing. I especially love creating homemade marshmallows with unusual flavors, and since blueberries are practically bursting from the tables of farmers markets everywhere, it's only appropriate to highlight their sweet, seasonal goodness in a marshmallow form.
Shauna Sever's Marshmallow Madness! cookbook has a recipe for strawberry marshmallows that uses no artificial extracts, only real fruit puree and freeze-dried berries. Intrigued, I tweaked the recipe a little to create these adorable, bite-sized blueberry marshmallows. The freeze-dried berries rehydrate slightly in the marshmallow and provide more berry flavor and a chewy texture.
Toss these mini marshmallows on top of frozen yogurt, dip them in melted chocolate, or eat them solo. They make a great gift or a fun party snack. Now's the time to make a homemade batch of blueberry marshmallows.
Ingredients
1/4 cup cornstarch
1/4 cup powdered sugar
1 cup blueberry puree, thawed to room temperature, divided
6 tablespoons cold water, divided
2 tablespoons unflavored powdered gelatin
3/4 cup granulated sugar
1/2 cup light corn syrup, divided
1/8 teaspoon salt
1 teaspoon vanilla extract
3/4 cup freeze-dried blueberries
Directions
Fit a large piping bag over a tall cup or container, folding the edges of the bag over the sides of the cup. Lay out two large baking sheets, and place parchment paper over the tops. Sift cornstarch and powdered sugar together in a bowl. Dust parchment paper thoroughly, then set powdered sugar coating aside.
In a small sauce pan, whisk 1/2 cup blueberry puree and 2 tablespoons water. Whisk in gelatin, and let sit for 10 minutes.
In a large sauce pan, combine granulated sugar, 1/4 cup corn syrup, 1/2 cup blueberry puree, salt, and remaining water. Bring to boil over high heat, stirring occasionally so sugar does not stick to bottom of pot, and cook until syrup reads 240ºF on a candy thermometer.
Meanwhile, in electric mixer bowl, pour 1/4 cup corn syrup. On the stove, over high heat, melt gelatin mixture in pot until completely dissolved. Pour gelatin mixture into mixer bowl; set mixer to low; and keep machine running.
When syrup reaches 240ºF, slowly pour it into mixer bowl. Don't scrape any off of the bottom of the pan; it will affect the marshmallow's texture. Increase the mixer speed to medium, and beat for 5 minutes. Increase to medium-high and beat for 5-6 minutes more, adding vanilla in last minute. Marshmallow should be fluffy, opaque, and tripled in size. Fold in freeze-dried blueberries with a spatula.
Load mixture into piping bag or ziplock bag. Pipe 10 long rows of marshmallow per baking sheet. Imperfect lines are OK! Dust with cornstarch/powdered sugar mixture. Let set for 8 hours.
Using kitchen shears, cut marshmallows into 1/2-inch pieces. Pour powdered sugar mixture and marshmallow into a wire mesh sieve. Under the parchment paper, shake the sieve until marshmallows are fully coated. Use extra coating if necessary. Store marshmallows in a plastic or glass container or plastic bag. Marshmallows will last about a week in a cool, dry setting.
Makes about 400 1/2 inch pieces.
Information
Category

Desserts, Candy

Cuisine

North American