Blueberry Ricotta Pancakes
Embellish Blueberry Pancakes With the Addition of Ricotta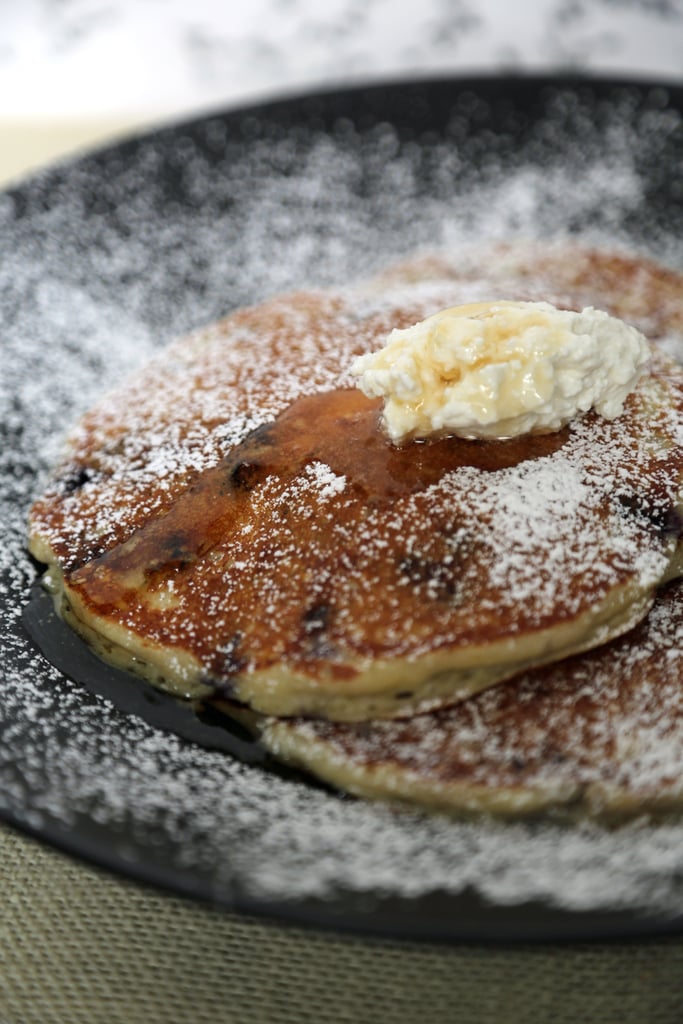 Blueberry pancakes are delicious on their own, but the addition of ricotta cheese amps up the sour tang of the buttermilk, plus it makes an interesting topping.
This recipe adds just enough ricotta to enhance the flavor of the pancake without changing its traditional texture and size.
Dollop additional ricotta on top of the pancakes to ensure each bite has plenty of creamy curds.
Serve up a stack of blueberry ricotta pancakes.
Blueberry Ricotta Pancakes

From Anna Monette Roberts, POPSUGAR Food
Ingredients
2 cups all-purpose flour
1/4 cup granulated sugar
1 teaspoon baking powder
1/2 teaspoon baking soda
1/4 teaspoon salt
2 eggs
2 cups buttermilk
2 cups fresh or frozen blueberries
1 cup ricotta, divided
1/2 cup salted butter, melted and cooled slightly
Clarified butter or high-heat vegetable oil, for cooking
Powdered sugar, sifted, for garnish
Directions
In a medium bowl, whisk together flour, sugar, baking powder, baking soda, and salt. Set aside.
In a large bowl, whisk eggs. Whisk in buttermilk and melted butter. Stir flour mixture into buttermilk mixture until just combined (lumps are OK). Fold blueberries and 1/2 cup ricotta into pancake batter.
Heat the oven to 200°F and place an oven-safe plate or baking dish inside. Heat a large, nonstick skillet on the stove top over medium heat. Melt 1/4 teaspoon of butter on skillet. Dollop 1/2 cup batter onto skillet; depending on the size of the skillet, it may fit 2-3 pancakes. Cook pancakes until bubbles rise to the surface and pop, about 2 minutes. Carefully flip pancakes and cook another 2 minutes.
Transfer cooked pancakes to plate in the oven. Cover with foil. Repeat with more butter and remaining batter, until all pancakes are cooked. Garnish a stack of pancakes with powdered sugar and a dollop of ricotta.
Makes 15-16 pancakes.
Information
Category

Breakfast/Brunch, Pancakes/Waffles

Cuisine

North American