Blueberry Shortcakes Recipe
Blueberries Take Over My Shortcake Since blueberry season has begun, I couldn't help but go overboard and buy several baskets from my local farmers market. While I enjoyed one basket raw, I used the rest to make these mini blueberry shortcakes with lemon and thyme biscuits.
The moist biscuits are simple to make. The final dish is not too sweet, so the pure flavor of blueberries shines through in each bite. Although the original recipe calls for a larger biscuit, I decided to use a shot glass (instead of a cookie cutter) to make them mini. The shortcakes are delicious with a dollop of heavy cream or scoop of ice cream. To try these bite-sized blueberry shortcakes,
.
Mini Blueberry Shortcake Biscuits
Adapted from Bon Appétit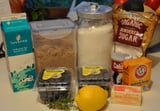 Ingredients
Filling
4 cups fresh blueberries (rinsed, drained well)
2/3 cup powdered sugar
2 tablespoons water
Biscuit
3/4 cup chilled buttermilk
1 tablespoon finely grated lemon peel
1 teaspoon chopped fresh thyme
2 1/4 cup all purpose flour
1/2 cup packed golden brown sugar
1 1/2 teaspoon baking powder
1 teaspoon baking soda
1/4 teaspoon salt
6 tablespoons chilled unsalted butter, cut into 1/3 inch cubes
1 tablespoon raw sugar
Vanilla ice cream or fresh whipping cream
Directions
Make the filling: Combine blueberries, powdered sugar and water in a large saucepan.
Stir over medium heat until berries are slightly softened and syrup coats the spoon about 10 minutes. Transfer to medium glass bowl and let cool to room temperature. Can be made 3 days ahead and stored in the refrigerator. Bring to room temperature before serving.
Make the biscuits: Position rack in the center of the oven and preheat to 425°F. Line large rimmed baking sheet with silicone baking mat or parchment paper.
Mix buttermilk, lemon peel, and thyme in a small bowl.
Whisk next 5 ingredients in large bowl to blend, breaking up any large clumps of brown sugar with fingertips until mixture resembles coarse meal.
Add buttermilk mixture and stir with fork just until blended (the dough will be sticky).
Transfer dough to lightly floured work surface. Knead gently just until the dough comes together, 4 to 5 turns. Pat dough out to 3/4 inch thick round. Using a shot glass or 1 1/2 inch diameter cookie cutter dipped in flour, cut out dough rounds.
Transfer dough rounds to prepared baking sheet. Sprinkle rounds with raw sugar. Bake biscuits until golden and tester inserted into center comes out clean about 8-10 minutes. Transfer to rack to cool.
Using a serrated knife, carefully cut biscuits horizontally in half. Place bottom half of each biscuit on large serving tray. Spoon blueberries and syrup equally over each biscuit. Cover with top of biscuit.
Serve with whipped cream or ice cream.
Makes 30 mini blueberry biscuit shortcakes.
Information
Category

Desserts, Pastries