Bobby Flay's Burger Tips
Dos and Don'ts From Bobby Flay, Burger Bash's Newest Champ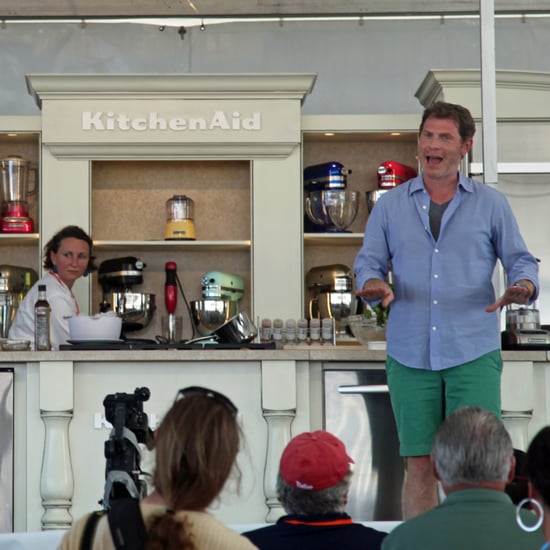 Bobby Flay has a shining new accomplishment to put under his belt: winner of the Burger Bash people's choice award. The owner of Bobby's Burger Palace shared his elation with the crowd at a South Beach Wine and Food Festival demo yesterday, mostly about dethroning best friend and long-standing winner Michael Symon. "I've endured 36 straight months of razzing from Michael. The next 12 will be bliss . . . I'm going to give it back." Chef Flay also shared tips and his controversial opinions on what does — and does not — belong between two buns.
Don't even bother with chicken burgers. When asked by an audience member why her chicken burgers never turn out quite right, Flay had a simple, definitive answer: "Don't make them!" Ground chicken breast doesn't work: it's too rubbery and dry. Instead, he offers customers a chicken breast sandwich and turkey burgers to satisfy those in need of a poultry fix.
Keep reading for a deeper glimpse into his burger philosophy.
Do use corn-fed beef. While he acknowledged that grass-fed beef is sustainable and in vogue, Bobby maintains corn-fed beef "has more flavor." He's partial to a blend of 80 percent lean and 20 percent fat sirloin and chuck for the most tender, juicy, beefy burger patties out there.
Don't try to pretend that a veggie burger is an adequate substitute for meat. "I've never seen a veggie burger that's good," he told the audience. He skips portobello mushrooms, grains, legumes, or vegetables as a base, because they don't promise the same texture. "I want you to come in, eat a burger, and 48 hours later, crave that flavor," he said of his burgers. At Bobby's Burger Palace, he serves hearty salads to satisfy his vegetarian clientele.
Do you agree with Bobby? What's your take on poultry and vegetarian burgers?