Bobby Flay Joins Cast of America's Next Great Restaurant
Bobby Flay Signs On to NBC Restaurateur Show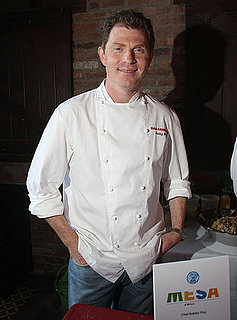 Today there's more intel on NBC's restaurateur reality TV show, formerly titled United Plates of America. Variety reports that the competition, which will air next season, has a new name, America's Next Great Restaurant, that's perhaps more fitting of the show's premise than its old title.
In addition, Bobby Flay has signed on to be one of the five restaurant and business leaders who will be a judge, mentor, and investor to the contestants. On the new program, which is casting right this moment, industry insiders like Mesa Grill owner and Iron Chef Flay will help a winning chef or aspiring restaurateur open a new eatery.
NBC hasn't had too much success in the food reality series department: 2003's The Restaurant, starring Rocco Dispirito, was a flop; last year's The Chopping Block with Marco Pierre White was canceled after just three episodes. Still, this is a completely new premise, and having Bobby Flay star certainly can't hurt. What do you think? Does the show sound like it has the ingredients for success?