Bobby Flay's Tips For Cooking Steak
Bobby Flay's Tips For Making the Perfect Steak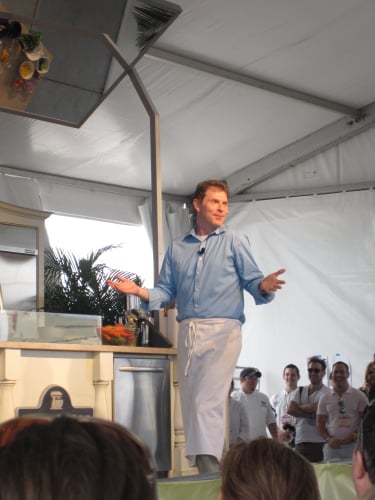 During his demonstration on Saturday morning in South Beach, Bobby Flay made steamed fish and steak. The chef invited Next Food Network Star winner Melissa d'Arabian to join him on stage, where the two bantered about cooking on a budget. Although he's known for grilling, Flay cooked the steak on the stove while providing plenty of tips for making the most delicious piece of meat. To find out what the chef, whose favorite cut is rib eye, had to say, keep reading.


Select dense pieces of meat that are thick with a red color and rich marbling.
Be sure the pan is really hot. Bobby prefers a cast iron skillet for steaks because they hold heat well and form a nice crust.
Cook in canola oil. This Canadian grapeseed oil has a very high burning point — meaning it's ideal for cooking in an extremely hot pan.
It's important to consider contrasting flavors, even when making steak. Flay coated the rib eye with crushed black and pink peppercorns. Then, he made a mango and mint glaze to serve over the meat.
Once you've placed the meat in the pan, leave it alone. Do not touch or move it. "Let the pan do its job," Flay says, "that's the only way to get a good crust."
Once you've created a crust, finish cooking the steak in a hot oven. Bobby keeps his oven at 550°F. "If you're going to make a steak, you might as well go for it."
Cut the steak into thick slices and serve family style at the table.
How do you like to make steak? Share your tips with us below.