Bobby Flay For YumSugar: Two Tasty Sandwiches In case you hadn't noticed, we're obsessed with getting our weekly sandwich fix. And there's no doubt that we're fans of chef Bobby Flay, who has a knack for spicy ingredients. That's why I'm happy to announce that two of our favorite things have come together in a very exciting three-part series. As spokesperson for mayonnaise giant Best Foods (or Hellmann's, for all you East Coasters), Flay has created a bunch of innovative sandwich recipes. With my help, Flay tailored two of these recipes to suit the YumSugar reader. Check out our exclusive video of Flay making the two YumSugar sandwiches below!
Be sure to tune in tomorrow, when the grill master gives pointers for making the perfect sandwich. See Flay's first fashionable sandwich recipe when you
.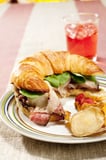 Ingredients
¼ cup mayonnaise (recommended: Hellmann's® or Best Foods® Real)
2 tablespoons Hellmann's® Dijonnaise
2 tablespoons prepared horseradish, drained
Salt and freshly ground black pepper
8 slices white cheddar, thinly sliced
½ red onion, thinly sliced crosswise
1 small bunch watercress
4 croissants, sliced through crosswise
1/2 pound, thinly sliced London broil or roast beef (from your deli department) or 1 ¼ pound flank steak, trimmed of excess fat and marinated in olive oil, chopped garlic and fresh thyme*
Directions
Whisk together the mayonnaise, Dijonnaise and horseradish in a small bowl, season with salt and pepper.
Heat a grill pan or griddle over medium heat.  Add 3 slices of beef in an even layer, next to each other and cook for 30 seconds per side, just to warm through.
Top the meat with 1 or 2 slices of the cheese, cover with a lid and let melt, about 20 seconds.
Spread some of the mayonnaise on both sides of each croissant. Layer on beef, cheese, onion and watercress.
Serves 4.
*If using the flank steak: Marinate for at least 2 hours and up to 24 hours.  Heat a grill to high or a grill pan over high heat until smoking. Season the steak with salt and lots of black pepper and cook on both sides until golden brown and slightly charred and cooked to medium-rare doneness, about 6 minutes per side.  Remove from the heat and let rest 10 minutes before slicing into thin slices against the grain of the meat.
Information
Category

Main Dishes, Sandwiches