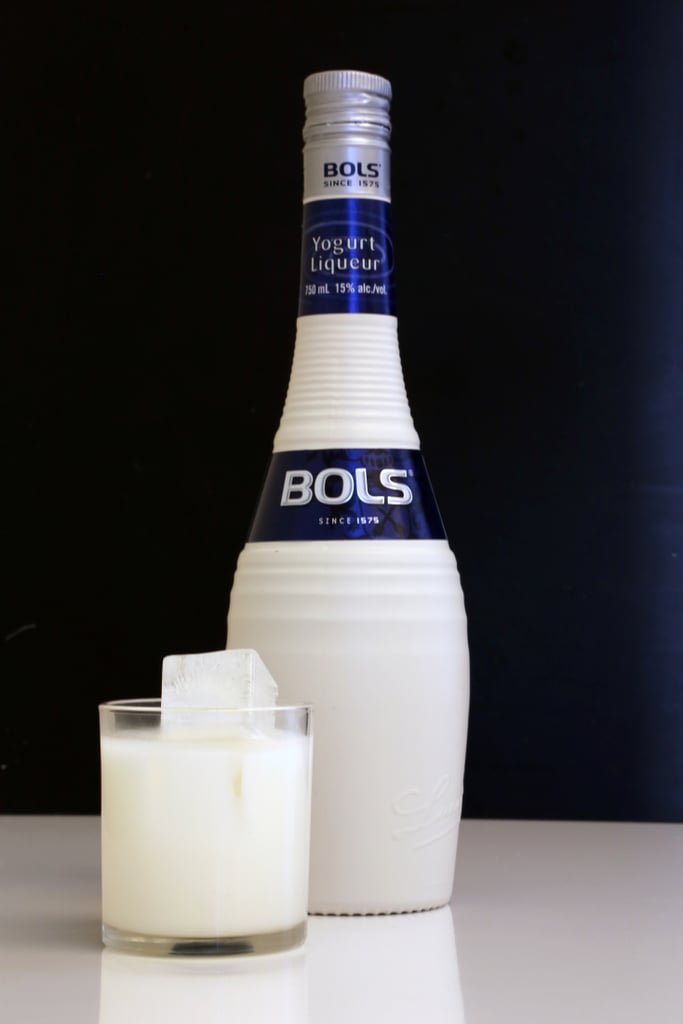 You would think the world invented something revolutionary: that's how crazed the US is about plain Greek yogurt and tart frozen yogurt. Everyone is trying to cash in on fermented cow's milk in all forms, including Dutch liqueur company Bols. This month, the company released a natural yogurt flavor ($18) to Florida and California (it will be available to the rest of the states come August). The product does contain fresh yogurt (yay!) but only 15 percent ABV (nay!). It's intended to be enjoyed on the rocks or mixed with fresh fruit in a variety of cocktails. Let's be real: we were skeptical of a yogurt-flavored liqueur. But as all critics must, we braved the bottle before gushing our thoughts. Read on to see our review.
We took a whiff of the bottle and likened the liqueur to melted, tart-flavored frozen yogurt. It took a few swallows before our taste buds warmed up to the taste, which was like thawed froyo in both flavor and texture. The drink has a watered-down yogurt flavor that's more syrupy than creamy, and after all that, there's only a hint of alcohol present. Our biggest hang-up: what to use it in. We figure it could be shaken into a chocolate martini, or perhaps poured over a bowl of fresh Summer fruit for an adult riff on England's famous strawberries and cream. Maybe — just maybe — it could work well in an adult smoothie, as the company advertises on the suggested cocktail list for this liqueur flavor.
When all is almost said and barely drunk, we must offer some kudos to Bols for jumping on a trending flavor. Would we see ourselves ordering this and drinking it solo? Probably not. It wasn't bad, per se, but it wasn't a joy to gulp either. As for how to use the spirit, we're ever-so-slightly sure that our bartender friends will be inspired to come up with yogurt-liqueur-enhanced cocktails. Sure, we'll order them for curiosity's sake. We're just hoping this Bols flavor doesn't wind up gathering dust at the bar.