Bon Appetit Recipe For Pappardelle With Bean Bolognese
Monday's Leftovers: Pappardelle With Bean Bolognese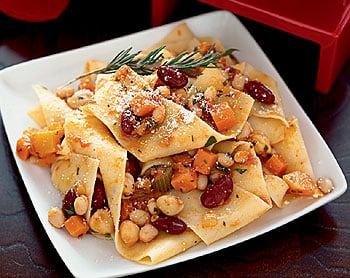 I'm not a recession flexitarian yet — but my goal is to make today a meat free Monday. It seems easier for me to go light on animal protein at lunch, but dinner, my biggest meal, will be more challenging.
Not to worry: I found a hearty, meat-free alternative last night, and today, I'll be using the leftover beans to make an equally substantial Italian bolognese.


The herbed tomato sauce doesn't need beef to be satisfying — instead, I'll use meaty legumes and butternut squash. See the recipe when you read more.
Ingredients
2 tablespoons olive oil
1-1/2 cups chopped onion
1 large carrot, chopped
1 large celery stalk, chopped
3 tablespoons chopped fresh Italian parsley, divided
2 garlic cloves, chopped
3/4 teaspoon minced fresh rosemary
1/2 teaspoon dried thyme
1 bay leaf
2 tablespoons tomato paste
1-3/4 cups 1/2-inch cubes peeled butternut squash (8 ounces)
1 28-ounce can Italian-style tomatoes in juice, drained (juice reserved), tomatoes chopped
2/3 cup drained canned white beans
2/3 cup drained canned kidney beans
2/3 cup drained canned garbanzo beans
1/2 cup dry white wine
1 cup vegetable broth
2 tablespoons whipping cream
8 ounces dried pappardelle or other wide noodles, such as mafaldine
1-1/2 cups grated Parmesan cheese (about 5 ounces), divided
Directions
Heat oil in heavy large pot over medium heat. Add onion, carrot, celery, 2 tablespoons parsley, garlic, rosemary, thyme, and bay leaf. Sauté until vegetables begin to brown, about 8 minutes. Add tomato paste; stir 1 minute. Add squash; stir 1 minute. Add chopped tomatoes and all beans; stir 1 minute. Add wine and simmer 2 minutes. Mix in broth, cream, and reserved tomato juice. Simmer until sauce thickens, stirring occasionally, about 20 minutes. Season sauce to taste with salt and pepper. (Can be made 1 day ahead. Cool slightly, then cover and chill. Rewarm before using.)
Cook pasta in large pot of boiling salted water until just tender but still firm to bite, stirring occasionally. Drain. Return pasta to same pot. Add sauce; toss over medium heat until coated. Transfer to large bowl. Sprinkle with 1/2 cup cheese and 1 tablespoon parsley. Serve, passing remaining 1 cup cheese separately.
Makes 4 servings.
Information
Category

Pasta, Main Dishes