Bone Marrow
Trendspotting: Bone Marrow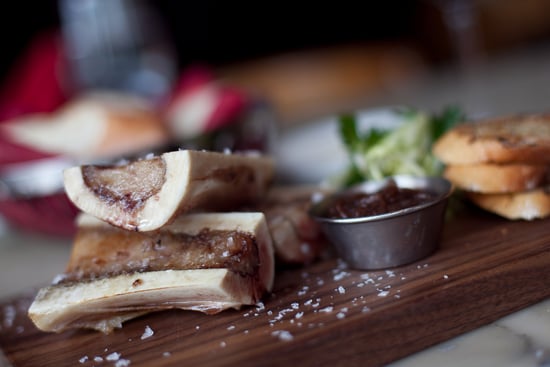 Roasted bone marrow, the affordable luxury food item, has been experiencing a surge at restaurants. Normally, I can't resist the cheese plate on a dinner menu, but recently, I'm forgoing the brie for gelatinous, roasted bone marrow, slathered generously atop crusty bread. One of the most famous preparations of roasted bone marrow is at St. John restaurant in London, where the medallions are topped with parsley, capers, and lemon juice to cut through the fatty richness. Anthony Bourdain claimed it used to be his "death row meal."
However, chefs are breaking away from the traditional pairings and serving bone marrow with unique, unusual accompaniments. Recently at Saxon + Parole in NYC, the bone marrow was glazed in miso and served with an olive marmalade, lightening the dish with its briny and citrusy flavors. Wolfgang Puck's Cut restaurant in Las Vegas serves a bone marrow flan with mushroom marmalade and a parsley salad. In San Francisco, Marlowe restaurant serves bone marrow with salsa verde to give it a zesty freshness.
Some still serve bone marrow in two-inch medallion pieces with a small spoon to scoop the inside, but lately, I'm seeing bone marrow cut lengthwise and roasted open face. I prefer this preparation, which allows the bone marrow to develop a caramelized, slightly crunchy crust. What is the strangest way you've eaten bone marrow lately?