Boston Cream Pie Two Ways — Beginner and Expert Boston Cream Pie is a weirdly misunderstood dessert. It says it's a pie, but in actuality it's a cake. It also gets the reputation for being rather finicky to deal with. Yet every baker should learn how to make one some day.
Because pastry cream can be difficult to work with, I've found a recipe that uses instant pudding instead. If your skill level is beyond that, don't worry, there's a from-scratch one for you as well.
To check out the two recipes — one is easy, you could even whip it up after work, while the other is a bit more challenging — all you have to do is
.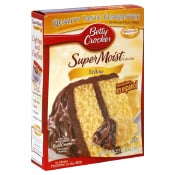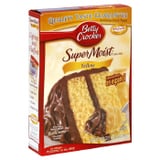 Ingredients
1 pkg. (2-layer size) yellow cake mix
1 cup cold milk
1 pkg. (4-serving size) JELL-O Vanilla Flavor Instant Pudding and Pie Filling
1-1/2 cups thawed Cool Whip Whipped Topping, divided
4 squares Baker's Semisweet Baking Chocolate
Directions
Preheat oven to 350ºF. Prepare cake batter and bake in 24 greased medium muffin-pan cups as directed on package. Cool in pans 10 min. Remove to wire racks; cool completely.
Beat milk and dry pudding mix with wire whisk 2 min. or until well blended. Let stand 5 min. Meanwhile, use serrated knife to cut cupcakes horizontally in half. Gently stir 1/2 cup of the whipped topping into pudding. Spoon about 1 Tbsp. of the pudding mixture onto bottom half of each cupcake; cover with top of cupcake.
Microwave remaining 1 cup whipped topping and the chocolate in small microwaveable bowl on High 1-1/2 min. or until chocolate is almost melted, stirring after 1 min. Stir until chocolate is completely melted and mixture is well blended. Let stand 15 min. to thicken. Spread onto cupcakes. Refrigerate at least 15 min. before serving. Store leftovers in refrigerator.
Information
Category

Desserts, Cake
Expert Boston Cream Pie
From Gale Gand via Food Network
Ingredients
1 cup plus 2 tablespoons sifted cake flour
2/3 cup sugar
1 1/2 teaspoons baking powder
1/4 teaspoon salt
1/2 cup milk
1/4 cup cooking oil
2 egg yolks
1 teaspoon vanilla
2 egg whites
1/4 teaspoon cream of tartar
Pastry cream, recipe follows
Ganache, recipe follows
Pastry Cream Filling:
2 cups whole, 2 percent fat, or 1 percent fat milk
1/2 vanilla bean, split lengthwise, seeds scraped out
6 egg yolks
2/3 cup granulated sugar
1/4 cup cornstarch
1 tablespoon unsalted butter
Ganache:
8 ounces semisweet chocolate
1 cup heavy cream, boiling
Directions
Preheat oven to 350°F.
In a medium mixing bowl combine flour, sugar, baking powder, and salt.
Make a well in the center of the flour mixture.
Add milk, oil, egg yolks, and vanilla. Beat with an electric mixer on low to medium speed until combined.
Beat an additional 3 minutes on high speed and set aside.
In a large mixing bowl, beat egg whites and cream of tartar on medium to high speed until soft peaks form.
Pour the egg yolk mixture over the egg white mixture and fold in.
Gently pour the batter into a 9-inch greased pie pan.
Bake for 25 to 30 minutes or until the top springs back when lightly touched.
Invert the pan onto a wire rack.
Cool completely.
Pastry Cream Filling:
In a medium saucepan, heat the milk and vanilla bean to a boil over medium heat.
Immediately turn off the heat and set aside to infuse for 10 to 15 minutes.
In a bowl, whisk the egg yolks and granulated sugar until light and fluffy.
Add the cornstarch and whisk vigorously until no lumps remain.
Whisk in 1/4 cup of the hot milk mixture until incorporated.
Whisk in the remaining hot milk mixture, reserving the empty saucepan.
Pour the mixture through a strainer back into the saucepan.
Cook over medium-high heat, whisking constantly, until thickened and slowly boiling.
Remove from the heat and stir in the butter.
Let cool slightly.
Cover with plastic wrap, lightly pressing the plastic against the surface to prevent a skin from forming.
Chill at least 2 hours or until ready to serve. (The custard can be made up to 24 hours in advance. Refrigerate until 1 hour before using.)
Ganache:
In a medium bowl, pour the boiling cream over the chopped chocolate and stir until melted.
To assemble pie, remove the cake from the pan.
Cut the cake in half horizontally.
Place bottom layer on a serving plate or board, and spread with the pastry cream.
Top with second cake layer.
Pour chocolate ganache over and down the sides of the cake.
Store in refrigerator.
Information
Category

Desserts, Cake