Braised Red Cabbage With Maple and Ginger
Spotlight-Stealing Braised Red Cabbage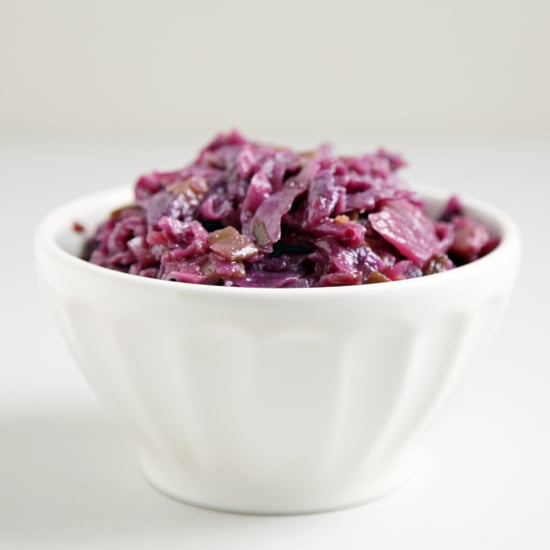 Recently, my boyfriend and I sat down for a hearty meal at Suppenküche — our neighborhood German joint — and did the usual dance around what to order. Bratwurst, thick-cut pork chops, and sautéed trout tempted, but ultimately I settled on a dish of braised beef — though it was the braised red cabbage accompaniment that sold me on my selection.
Thankfully it lived up to my expectations and then some, and despite its enticing plate companions (the aforementioned braised beef, and a heaping pile of tender spaetzle) it was the tart and heavily spiced cabbage that I devoured with relish.
Thoughts of silky-tender cabbage filled my head throughout our belly-stuffed stroll home, and as soon as I settled in for the night, I ran to my bookshelf to crack open the spine of a favorite cookbook, Molly Stevens's All About Braising: The Art of Uncomplicated Cooking, in hopes of re-creating it at home.
True to form, Molly's recipe guidance was spot on, and while this take on braised cabbage isn't quite the same as Suppenkuche's revelatory side, my boyfriend and I both agreed that somehow it managed to top that tantalizing bite.
Ingredients
1 teaspoon extra-virgin olive oil
2-3 slices thick-cut bacon, cut into 1/2-inch-wide strips
1-1/2 tablespoons unsalted butter
1 medium leek, cleaned, halved lengthwise, and sliced into 1/2-inch pieces
Kosher salt, to taste
1 granny smith apple, peeled, cored, and thinly sliced
1 teaspoon freshly grated ginger
1 medium head red cabbage (about 1-3/4 pounds), quartered, cored, and thinly sliced
1/4 cup cider vinegar
2 tablespoons maple syrup, preferably grade B
Directions
Preheat the oven to 300°F.
Add the olive oil and bacon to a large straight-sided ovensafe skillet (12 to 13-inch) set over medium heat; cook until the bacon is just cooked through and has begun to crisp up, about 5 minutes. Use a slotted spoon to remove the bacon to a paper towel lined plate, and set aside.
Add the butter to the rendered bacon fat and oil, and toss in the leek, cooking (stirring occasionally) until it wilts, about 2 minutes. Season with a hefty pinch of salt, add the apple and ginger, and stir to distribute evenly.
Increase the heat to medium-high and add the cabbage, and cook, stirring frequently until the cabbage has begun to wilt and looks glossy, about 6 minutes.
Add the cider vinegar, maple syrup, and reserved bacon pieces, then cover the skillet with its lid and place in the oven. Cook for about an hour, or until the cabbage is tender, taking it out of the oven every 20 minutes to stir.
Remove from the oven and season to taste with salt. Serve warm or at room-temperature.
Information
Category

Vegetables, Side Dishes

Cuisine

North American

Yield

Serves 6 to 8