Bravo's New Top Chef Healthy Showdown Web Series
Top Chef Healthy Showdown: A Gimmick Worth Watching?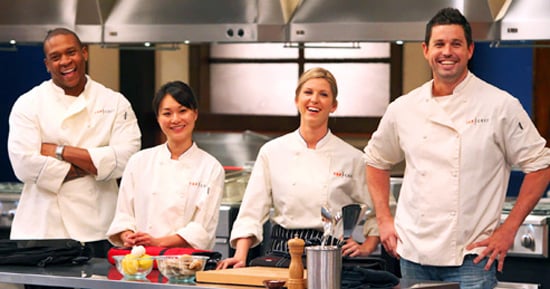 The Top Chef empire just keeps on multiplying. The latest addition to the franchise? The ConAgra-backed Top Chef Healthy Showdown, a weekly, cobranded web series filled with quickfires and elimination challenges using only healthy ingredients.
On the so-called show, four contestants — Sara Nguyen of season three, season four's Ryan Scott, and Casey Thompson and Tre Wilcox of season 3 and Top Chef All-Stars — compete for a $25,000 prize (and, in promotion-heavy Bravo land, the opportunity to launch a Top Chef line of Healthy Choice entrées).
The first episode is riddled with plenty of clichéd phrases like "the competition is stiff, food is skinny, and the stakes are high" ("This is redemption for me," Scott declares in one particularly dramatic moment). Still, with only wholesome ingredients, creative use of kitchen techniques will be more important than ever. I'm curious to watch for that reason alone, and it makes me wonder why they don't have an entire season of Top Chef dedicated to healthy cooking. Will you tune in?