Brazilian Recipe For Grilled Cachaça Marinated Hanger Steak
Raise the Steaks With a Brazilian Cachaca Marinade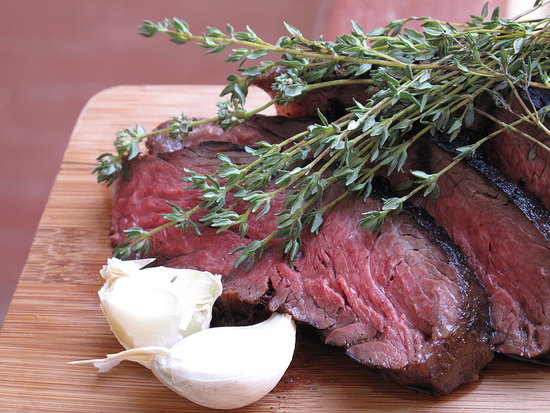 After I found myself drooling over CasaSugar's steak frites, I realized I was long overdue to make a large, juicy chunk of beef for dinner. That's when I remembered an interesting recipe I'd come across for a steak marinated in cachaça, the national liquor of Brazil. Although the meat should sit in this marinade for a couple of days, the prep is minimal, which makes this recipe an overall piece of cake.
A week later, I'm still waxing poetic about the dish and its bold, robust flavor; if you've ever had Chinese drunken chicken, this steak possesses the same booziness factor. Ask your butcher to give you the flattest, thinnest hanger steak he has; it'll make for a more even-cooking, attractive piece of meat. For a different steak dinner, keep on reading.
Ingredients
1 medium onion, thinly sliced
3 cloves garlic, roughly chopped
1 teaspoon ketchup
1 teaspoon coriander seeds
1 tablespoon honey
1 teaspoon soy sauce
1/4 cup cachaça
1/2 cup canola or olive oil (not extra-virgin)
Kosher salt and freshly ground black pepper, to taste
1 (approx. 1 lb) hanger steak (also known as butcher's steak)
Equipment (optional): meat thermometer
Directions
In a large bowl, whisk all first nine ingredients for the marinade. Place the meat in a large zip-lock bag and pour the marinade into the bag. Rub the marinade around the meat until it is well distributed. Remove all the air from the plastic bag and seal it well. Place the meat in the refrigerator in such a position so that it is covered by the marinade, and let it rest for at least 12 hours, preferably for 2 to 3 days.
Preheat the grill on high heat for at least 10 minutes before cooking. Remove the meat from the marinade and wipe off the remaining specks of onion, garlic, and coriander.
Season the meat with salt and pepper on both sides and place it on the hot grill. If you want to create an attractive crosshatch grill mark, grill for 2 minutes, and rotate the meat 45 degrees from its original position, then grill for another 2 minutes; do this on each side. Depending on the thickness of the meat, close the grill and leave it cooking for 4 to 5 minutes on each side, turning sides once. If you like your meat rare (125ºF) or well done (170ºF), adjust the cooking time according to your taste.
Allow meat to sit for 15 minutes, to allow the meat's juices to redistribute themselves. Slice thinly against the grain, and serve.
Makes 2 to 4 servings.
Information
Category

Main Dishes, Beef

Cuisine

South American