Bridal Shower Menu and Recipes 2010-08-10 08:00:09
Come Party With Me: Bridal Shower — Menu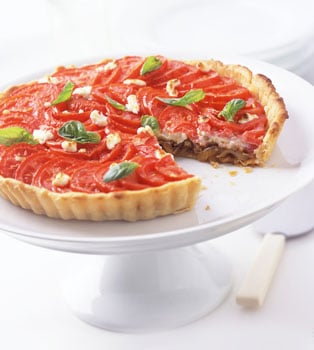 I'm hosting a bridal shower in a little over a week! Now that the invitations are out of the way, it's time to think about the menu. The party is at 1 p.m. on a Saturday, so I'm thinking a light spread of lunchy appetizers. I'll put together a cheese plate with fresh figs and apricots, crackers, honey, nuts, and tapenade. From there, I'll throw in some homemade dishes that can be eaten out of hand. Shrimp with spicy mayonnaise is delicious and can be made in advance. Mini frittatas packed with veggies are bite-sized and addictive. A simple tomato and goat cheese tart rounds out the female-friendly menu. Want to see the recipes? Please read more.
Ingredients
2 very fresh organic egg yolks
1 1/2 tablespoons Coleman's hot mustard powder
1 teaspoon fresh lemon juice
1 cup canola oil
Salt and freshly ground white pepper
1 tablespoon water
2 pounds medium shrimp, peeled and deveined
Directions
In a medium bowl, whisk together the egg yolks, mustard powder and lemon juice. Whisking constantly, slowly dribble in the canola oil. Season with salt and white pepper to taste. Whisk in the 1 tablespoon of water to thin out the mayonnaise if necessary.
Bring a large saucepan of water to a boil. Add the shrimp and boil until pink, about 3 minutes. Drain and let cool. Serve the shrimp with the spicy mayonnaise.
Serves 8.
Information
Category

Seafood, Appetizers

Cuisine

North American
Ingredients
1 medium zucchini
4 to 6 white mushrooms
1 red bell pepper
1 yellow bell pepper
16 large eggs
2 teaspoons salt
3/4 teaspoon freshly ground black pepper
1 tablespoon chopped chives
1/2 cup finely grated Gruyere or fontina cheese
Vegetable-oil cooking spray
Directions
Lightly spray two 24-mini-muffin tins with vegetable-oil spray. Slice zucchini into 1/8-inch rounds. Slice mushrooms lengthwise into 1/8-inch pieces. Core and seed red and yellow bell peppers. Chop into 1/8-inch dice, and set aside.
Preheat oven to 400 degrees. In a large mixing bowl, whisk eggs, salt, pepper, and chives, and set aside. Arrange cut zucchini, mushrooms, and peppers in each muffin tin. Ladle egg mixture into each tin, just even with the rim, and sprinkle with cheese.
Transfer to oven, and bake until frittatas are set, 8 to 10 minutes. Serve warm, or reheat briefly at 325 degrees.
Makes 48.
Information
Category

Appetizers, Finger Foods

Cuisine

Italian
Tomato, Goat Cheese, and Onion Tart
From Gourmet
Ingredients
1 (9-inch) prepared pie dough, thawed if frozen (not pie shells)
3 tablespoons olive oil
1 large onion, very thinly sliced
6 oz crumbled goat cheese (1 1/3 cups)
1 lb plum tomatoes, thinly sliced crosswise
fresh basil leaves, for garnish
Directions
Preheat oven to 375°F.
If necessary, roll out dough on a lightly floured surface into an 11-inch round and fit into tart pan. Trim excess dough, leaving a 1/2-inch overhang, then fold overhang inward and press against side of pan to reinforce edge. Lightly prick bottom and sides with a fork.
Line tart shell with foil and fill with pie weights. Bake in middle of oven until pastry is pale golden around rim, about 20 minutes. Carefully remove weights and foil and bake until golden all over, 8 to 10 minutes more. Cool in pan on a rack.
While tart shell is baking, heat 2 tablespoons oil in a 12-inch heavy skillet over moderate heat, then cook onion with salt and black pepper to taste, stirring frequently, until golden brown, 15 to 20 minutes.
Preheat broiler.
Spread onion over bottom of tart shell and top with 1 rounded cup goat cheese. Arrange tomatoes, slightly overlapping, in concentric circles over cheese. Sprinkle with remaining cheese and salt and pepper to taste and drizzle with remaining tablespoon oil. Put foil over edge of crust (to prevent overbrowning).
Put tart pan on a baking sheet and broil tart about 7 inches from heat until cheese starts to brown slightly, 3 to 4 minutes.
Serves 6.
Information
Category

Other, Main Dishes

Cuisine

North American