Brie With Caramel
Bring On the Brie and Bourbon Caramel!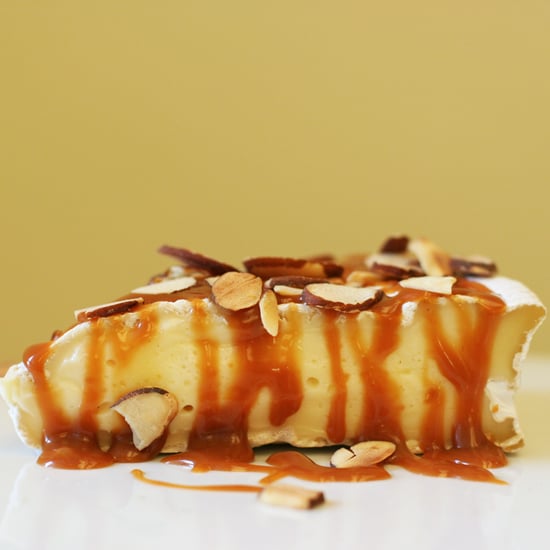 When we received a jar of Fat Toad Farm Salted Bourbon Caramel Sauce ($11), my mouth instantly started salivating. Bourbon and salted caramel, two of my favorite things, had joined forces in one jar; it was too good to be true. Then, I saw that the caramel came with a recipe card for brie with caramel and sliced almonds. It was as if the food gods were bestowing a near perfect flavor combination at my feet.
Caramel sauce may seem like an unlikely pairing for brie, but oftentimes the buttery cheese is paired with a sweet accompaniment like jam or chutney for contrast. This caramel, made from goat's milk, is subtly sweet and offers a grassy, woodsy flavor to the cheese with a bourbon essence that's not too strong. The dish is then sprinkled with sliced almonds, which incorporate earthy, nutty notes throughout each bite.
Our taste testers adored this combination for its sweet and salty flavors as well as creamy and crunchy textures. Overall, the vote was unanimous; this is a holiday party must make. With practically no prep involved, it's an appetizer guests are sure to remember and beg for, for years to come.
Ingredients
1 wheel brie
1 8-ounce jar caramel sauce, for drizzling
1/4 cup sliced almonds, toasted
1 package crackers
Directions
Place brie on a dish. Microwave caramel about 15 seconds, or until caramel is still thick but thin enough to easily run off of a spoon. Drizzle caramel sauce over brie, to your liking. Sprinkle with toasted almond slices. Serve immediately.
Serves 10.
Notes:
If you have time, try baking the brie. Preheat an oven to 350°F. Bake brie in a heatproof ceramic dish. Bake for 5 minutes, add the caramel and almonds, and bake for another 5 minutes until cheese is warm and gooey. Serve immediately.
Leave a bowl of extra caramel near the cheese, in case party-goers want to drizzle more onto their cheese . . . or onto the other contents of their plate.
Information
Category

Snacks, Cheese

Cuisine

North American