Brie, Fig, and Walnut Grilled Cheese
Sweeten Your Day With a Brie, Fig, and Walnut Grilled Cheese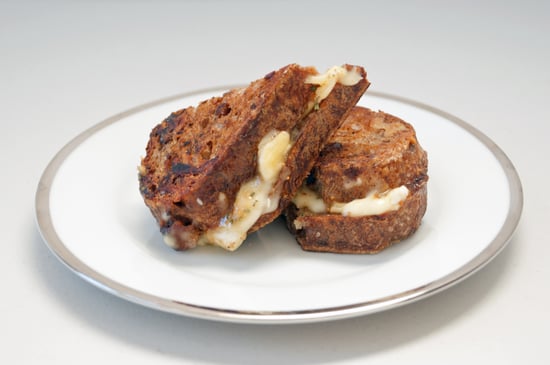 New recipe fodder comes in many forms. Sometimes it's as simple as scrolling through a blog, flipping through a cookbook or magazine, or dining on an exceptional dish at a restaurant or friend's home. In this case, I turned to an entertaining standard — the cheese plate — as inspiration for a sweet-leaning grilled cheese, taking components often paired together in this format (brie, figs, and walnuts) and transforming them into an ooey-gooey sandwich that's equally at home at lunch as it is for dessert. Not too surprisingly, this sandwich is a winner — one I imagine will enter my sandwich repertoire indefinitely. I suggest you take note and do the same.
Brie, Fig, and Walnut Grilled Cheese
From Nicole Perry, POPSUGAR Food
Ingredients
2 (1/2-inch-thick) slices walnut levain, or other rustic bread
1 tablespoon unsalted butter, melted
1 heaping tablespoon fig preserves
Large pinch of rosemary, minced
About 1 1/2 ounces brie, or other bloomy rind cheese, sliced
Neutral oil, such as canola or grapeseed
Directions
Brush melted butter on one side of each slice of bread, making certain to cover the entire surface with butter. Turn the slices over and spread evenly with fig preserves, then sprinkle with the minced rosemary. Arrange the brie on one slice of bread. Sandwich the pieces of bread together, buttered sides up.
Heat a cast-iron skillet over medium-low heat, barely coat the pan with a drizzle of neutral oil, and cook the grilled cheese for about 2 minutes per side, or until the cheese has melted and the bread is crusty and deep golden brown. For best results, press down on the grilled cheese sandwich with a second cast-iron skillet to mimic a panini press.
Allow the grilled cheese to rest for a minute or two, and then cut in half on a diagonal and serve.
Information
Category

Main Dishes, Sandwiches

Cuisine

North American

Yield

Makes 1 sandwich