Brie Pasta Recipe
On Top of Spaghetti All Covered in Brie
Nothing warms the soul more than a comforting bowl of pasta, especially when it is covered in a creamy brie sauce and topped with mushrooms, onions, and spinach. Already, this dish is a fast and easy dinner, and I shaved off even more time by using the quick-cooking angel hair pasta, but any pasta variety will do; just pick your favorite.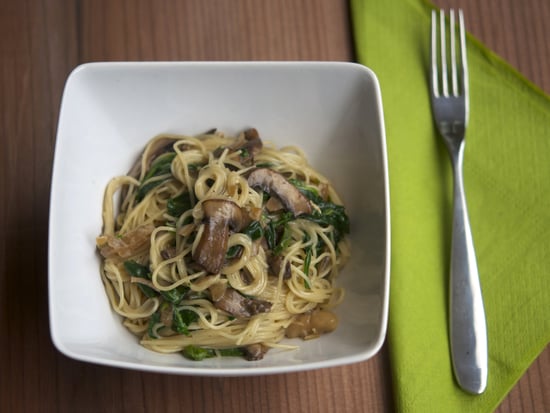 Quickly dice the mushrooms and onions to get them sautéeing in a bit of olive oil. Once they begin to purge their juices, add a bit of white wine and cook down.

Bring your pasta water to boil, and once the pasta is finished, be sure to set aside some of the starchy water to use in the brie sauce. Melt the brie with a little pasta water in the mushrooms and onion mixture. Toss in the pasta and evenly coat with easy creamy sauce. Voilà — dinner!
Of course, covering anything in brie will result in an indulgent and delicious dish. If you want to indulge a little less, I have also used half brie and half low-fat cream cheese to re-create a lighter cream sauce. This fast and easy pasta should be in everybody's cooking repertoire, so keep reading for this quick recipe.
Angel Hair Pasta With Brie Sauce, Mushrooms, Spinach, and Onions
Adapted from Real Simple
Ingredients
12 ounces angel hair pasta
1 tablespoon olive oil
1 pound button mushrooms, thinly sliced
1 small red onion, sliced
1/2 cup dry white wine
kosher salt and black pepper
8 ounces brie, cut into 1-inch pieces
4 cups baby spinach
Directions
Heat the oil in a large skillet over medium-high heat.
Add the mushrooms and onion and cook, tossing occasionally, until the mushrooms begin to release their juices, 2 to 3 minutes.
Meanwhile, cook the pasta according to the package directions. Reserve ½ cup of the cooking water, drain the pasta, and return it to the pot.
Add the wine, ½ teaspoon salt, and ¼ teaspoon pepper and cook until the mushrooms begin to brown, 5 to 6 minutes.
Add the spinach, brie, and reserved cooking water to the mushrooms and onion mixture until the brie melts and spinach wilts. Stir the mixture into with pasta until evenly coated.
Serves 4-6.
Information
Category

Pasta, Main Dishes

Cuisine

North American