British Scones
Teatime British Scones You Won't Be Able to Resist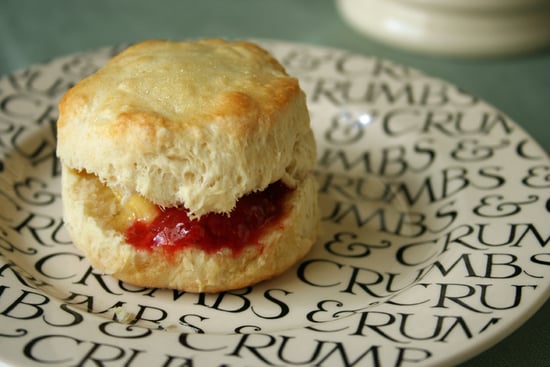 I have no self-control or discipline when a plate of flaky, buttery Southern biscuits presents itself in front of me. It's a hereditary disease, passed on to me by my mother. The same can be said for British scones, which are a world of difference from American versions that tend to be dry, overly sweet, and covered in a murky glaze.
British scones, on the other hand, are quite like cousins to Southern biscuits. Unlike crispy, savory biscuits, scones tend to be crumbly, creamier, and a touch sweeter. While the scone has a delicate buttery flavor on its own, it's only appropriate to follow the British tradition of serving it with clotted cream, strawberry jam, and a cup of black tea.
After a long day of recipe developing, I sat down to enjoy a late afternoon cup of tea and scone. Now I understand why the British are so fond of tea breaks! My bergamot black tea was at once soothing and stimulating and complemented the crumbly scones in such a smooth and seamless way. I look forward to making this pick-me-up a daily routine, and you can start too by trying this British scone recipe.
Classic British Scones
Adapted from BBC Food
Ingredients
1 3/4 cup all-purpose flour
3 teaspoons baking powder
1 teaspoon salt
4 tablespoons butter
1/8 cup sugar
1/2 cup milk
1 egg, whites separated
Directions
Preheat oven to 425ºF. Cover a baking sheet with a silpat silicone pad or parchment paper.
In a large bowl, whisk flour, baking powder, and salt together. Crumble and rub butter into the flour using your fingers until mixture resembles sand.
Stir in sugar. Pour in milk and use a butter knife to cut mixture, combining all ingredients until a soft dough forms.
Turn dough onto a floured surface and knead very lightly. Pat or roll out dough to 1/2-inch thick. Stamp out round scones using a 2-inch dough cutter, spreading them out evenly on a baking sheet. Dough scrapes can be combined, lightly kneaded, and stamped out again. Repeat process until no dough remains.
Brush tops of scones with egg white. Bake for 12-15 minutes until scones have doubled in height and tops are golden.
Makes 11 scones.
Information
Category

Breads, Scones

Cuisine

English/Scottish/Irish