Bryan Caswell to Host Food Network's Best in Smoke
Bryan Caswell Will Host Food Network's Best in Smoke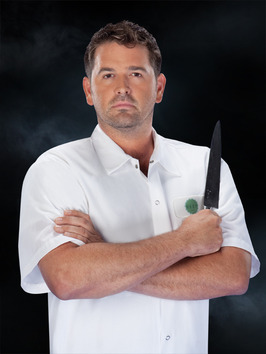 We've got more details on one of Food Network's brand-new primetime television shows, Best in Smoke: turns out the reality TV series, which premieres May 8 at 10 p.m., will be hosted by none other than The Next Iron Chef's "linebacker ballerina" Bryan Caswell.
The Texas restaurateur, who's no amateur when it comes to barbecue himself, will follow America's best pitmasters as they compete head to head in venues across Manhattan for a $50,000 grand prize and the title of "best in smoke." He'll be joined by judges celebrity chef Tim Love, cookbook author Amy Mills Tunnicliffe, and James Beard Foundation executive Mitchell Davis.
Contestants include "Famous Dave" Anderson, founder of Famous Dave's America; Chris Hart, winner of the 2009 Jack Daniel's Invitational; Sara Horowitz, runner-up at the Versus National BBQ Championship series; Matt Lang, former head chef at New York's Fette Sau; Chris Lilly, vice president at Big Bob Gibson Bar-B-Q Restaurant; and Brad Orrison, founder of The Shed BBQ.
I'm a huge fan of both barbecue and Bryan, so I can already smell the hickory smoke coming out of my TV screen. Will you tune in to watch?