Buffalo Chicken Pizza Recipe
Buffalo Chicken Pizza With Shaved Celery Salad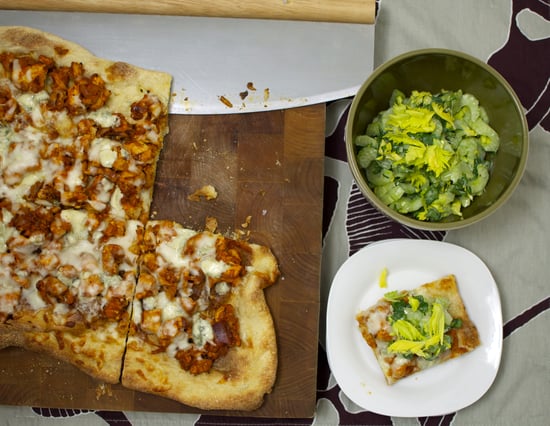 Buffalo chicken is one of my favorite game-time indulgences, and I love to transform its flavors into something new, like a buffalo chicken dip and now a pizza with all of the same flavors. This tasty pie is topped with buffalo chicken, mozzarella, and Gorgonzola cheese, but it doesn't end there: the whole pizza gets topped with a shaved celery and parsley salad.
If you've never shaved your celery, don't worry: it's really easy. Use a vegetable peeler to remove the stringiness, and be sure to hang onto the leaves of the celery, since they are quite tender and add texture to the salad.
Alone, this pizza might be a little heavy but topped with shaved celery salad, it's lighter and even has a bit of a crunch. Score a touchdown with this pizza at your Super Bowl party when you get the recipe!
Buffalo Chicken Pizza With Shaved Celery Salad
From Lauren Hendrickson, POPSUGAR Food
Ingredients
For pizza:
1 package of premade pizza or homemade pizza dough
2 shallots, finely chopped
1 tablespoon olive oil
2 cooked chicken breasts (roughly 1/2 pound), chopped into 1/4-inch pieces
1/2 cup Frank's RedHot sauce
1/4 cup cornmeal or flour
2 cups mozzarella, grated
1/4 cup blue cheese or Gorgonzola, crumbled
Salt and pepper for seasoning
For shaved celery salad:
1 bunch celery, washed, peeled, and finely chopped (inside leaves included)
1 bunch of parsley, stemmed and roughly chopped
5 tablespoons blue cheese or ranch dressing
Directions
Place a cookie sheet or pizza stone in the oven, then preheat the oven to 500ºF. In a large pan over medium-high heat, slowly caramelize the shallots with the olive oil. Once the shallots are soft and lightly golden, about 10 to 15 minutes, add the chicken. Once the chicken is nearly warmed all the way through, add the hot sauce to the pan and gently stir. Remove from the heat.
On a large cutting board or kitchen counter, dust with cornmeal and roll out a pizza dough.
Precook the pizza dough by carefully placing it on the preheated pizza stone and stab the pizza dough with a fork quickly, to ensure no bubbles. Bake for four to six minutes until golden.
Once golden, remove the pizza stone and pizza from the oven to top with the chicken and hot sauce mixture, grated cheese, and Gorgonzola crumbles. Place the pizza back into the oven and cook until the cheese has completely melted, about five to seven minutes.
While the pizza is cooking, use a peeler to remove the stringy outer layer of the celery. Chop into thin slices. Pick the inner layer of celery leaves and place three-quarters of the leaves in a large bowl. Add the celery, parsley, and dressing to the bowl. Gently toss. Garnish with the remaining celery leaves.
Serve a slice of pizza topped with celery salad.
Serves four to six.
Information
Category

Main Dishes, Pizza

Cuisine

North American