Buffalo Chicken Two Ways — Beginner and Expert From pickled jalapeños to chipotle chile chocolate bars, I love spicy food, but if I were forced to pick a favorite, I'd have to go with spicy buffalo chicken. Not only is it the ultimate comfort food, but the tender chicken is also crispy, zippy, and tangy all at once.
Whether you're looking for the perfect Super Bowl party platter or you simply want something to fulfill your quest for spice, look no further than these buffalo chicken recipes.
The first, made with breast tenders and breaded for crunchiness, is a simplified version of the classic buffalo wing. Alternately, pull out your frying pan and try your wing hand at a traditional recipe for buffalo chicken. Both are definite crowd pleasers.
To see either recipe,
.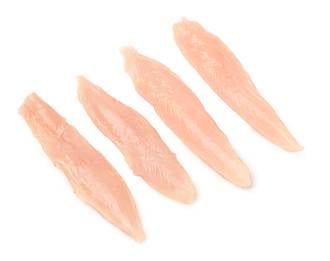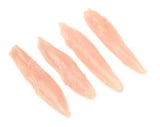 Ingredients
2 1/2 cups breadcrumbs
1 1/2 teaspoons salt
1/2 teaspoon pepper
4 large eggs
4 chicken tenders
1/3 cup extra-virgin olive oil
2 tablespoons butter
6 tablespoons hot pepper sauce
3/4 cup crumbled blue cheese
Directions
Preheat the oven to 425°F. In a medium bowl, combine the breadcrumbs, salt and pepper. In a shallow bowl, beat the eggs. Coat a chicken piece with the breadcrumbs, dip in the eggs, then coat again with the breadcrumbs; place on a plate. Repeat with the remaining chicken.
In a large, heavy skillet, heat 1/4 cup olive oil over medium-high heat until shimmering. Add half of the chicken tenders and cook, turning once, until golden, about 4 minutes. Transfer to a baking sheet. Repeat with the remaining chicken. Bake until cooked through, about 10 minutes.
Microwave the butter at medium power until melted, 45 seconds. Stir in the hot sauce.
Place the chicken tenders on a large platter, drizzle with the sauce and top with the blue cheese.
Serves 6.
Information
Category

Poultry, Appetizers

Cuisine

North American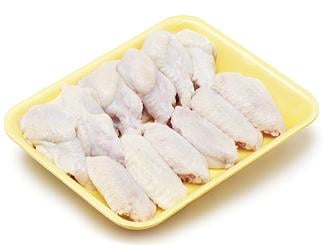 Expert Buffalo Chicken
From Gourmet
Ingredients
Blue-cheese dressing:
1/2 cup mayonnaise
1/4 cup plain yogurt
2 ounces crumbled blue cheese (about 1/2 cup)
Wings:
3 pounds chicken wings (12 to 14)
2 tablespoons vegetable oil (if grilling) or 6 cups vegetable oil (if deep-frying)
1/4 cup unsalted butter
3 to 4 tablespoons hot sauce such as Frank's or Goya
1 1/2 tablespoons cider vinegar
4 celery ribs
Directions
Make dressing: In a bowl, whisk together mayonnaise and yogurt and stir in blue cheese (dressing will not be smooth). Dressing may be made 8 hours ahead and chilled, covered.
Cut celery into thin sticks. Soak celery in a bowl of ice and cold water at least 30 minutes and up to 1 hour.
Deep fry wings: In a large (5- to 6-quart) deep heavy kettle heat 6 cups oil until a deep-fat thermometer registers 380°F. Just before oil reaches 380°F, pat dry 6 or 7 wings. Carefully lower wings into oil and fry, stirring occasionally, until cooked through, golden, and crisp, 5 to 8 minutes. With a slotted spoon transfer wings to paper towels to drain. Pat dry and fry remaining wings in same manner, returning oil to 380°F between batches.
Make sauce: In a large skillet melt butter over moderately low heat and stir in hot sauce, vinegar, and salt to taste. Add grilled or fried wings and toss to coat.
Serve chicken wings warm or at room temperature with dressing and celery sticks.
Makes 6 hors d'oeuvre servings.
Information
Category

Poultry, Appetizers

Cuisine

North American