Burger King and Jamba Juice Offer New Breakfast Menu Items
Burger King, Jamba Juice Hope to Start Your Day Right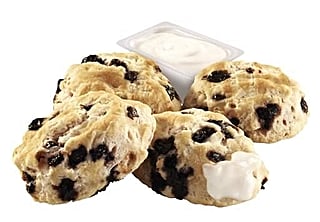 Both Burger King and Jamba Juice are revving up their morning engines as millions of Americans head back to school.
This morning, Burger King rolled out its self-proclaimed "largest menu expansion ever" with a beefed-up lineup of items until 10:30 a.m.: a BK Breakfast Ciabatta Club Sandwich ($2.89), four Mini Blueberry Biscuits, served with vanilla icing ($1), and the BK Ultimate Breakfast Platter with eggs, sausage, hash browns, pancakes, and a biscuit ($4.29). In addition, the recently-acquired fast food joint, which has been serving Seattle's Best Coffee, is also venturing further into the coffee market with flavored iced coffees in mocha, vanilla, and regular flavors for $1.89.
The King isn't the only chain treating breakfast like royalty, however. Jamba Juice is also adding to the fast food breakfast madness with the "Better Start. Better Day" campaign. The program, which begins tomorrow morning, features the likes of Hearty Start, Power Start, and Balanced Start — meal combinations that include hot oatmeal with fresh juice or coffee, nutrient-enhanced smoothies, and blended drinks topped with whole fruit and granola.
As breakfast and brunch's biggest proponent, I welcome all morning menu items with open arms. Do you think you'd buy either Burger King or Jamba Juice's new offerings?