Burger King Offers New French Fries For Free
Burger King Hopes to Reclaim Its Throne With New Fries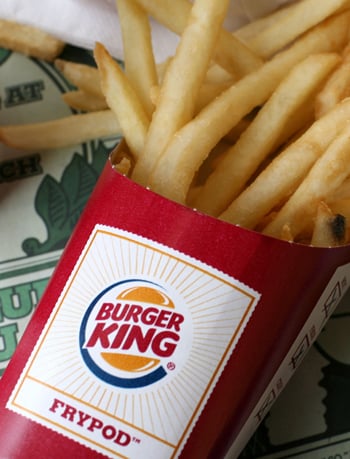 Like condiments, french fries are ripe for a makeover.
Just ask the top fast food chains: in the past year, Jack in the Box has overhauled its fries to mimic those at McDonald's, and Wendy's has announced that its new fries are actually better than those from the Golden Arches. The latest chain to jump on the french fry reformulation bandwagon? None other than Burger King.
The number two fast-feeder — who's recently been rumored to be at risk of losing its top spot to Wendy's — is hoping the Dec. 5 debut of its newfangled pommes frites will reclaim a piece of the fried potato market.

According to BK, the new fries will be fluffier and have a better potato flavor on the inside and a "crispy, golden-brown deliciousness" on the outside. Burger King hopes to prove its french fry cred to customers come Dec. 16, when it'll be offering free small fries to everyone, no purchase necessary.
I'll be checking out the new fries, as I'm curious to see whether Burger King's given priority to the quality of its ingredients. In your opinion, do any of these french fry reformulations actually make a difference?