Burger Toppings at Burger Bash
5 Burger Toppings Inspired by Burger Bash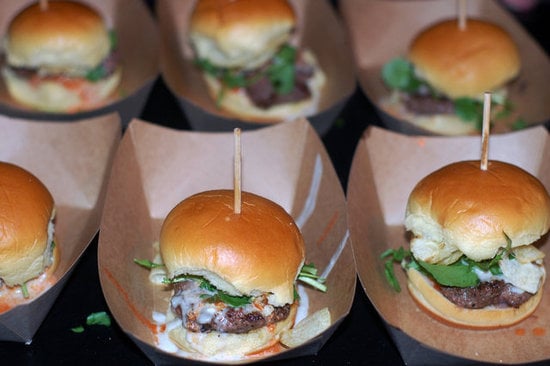 It was just a week ago that we were chomping down on burgers at Rachael Ray's Burger Bash in South Beach, where we tried just about every topping imaginable on a burger, from Morimoto's braised pork and wagyu beef to Guy Fieri's secret donkey sauce. Seven days later, we're still dreaming of those patties, and hoping to re-create some of them at home. Here are several things we're hoping to try on our own burgers at home.
Brick cheese spread
Give the burger a further nod to nostalgic Americana by adding creamy, dreamy brick cheese spread. Keep it honest and go for one made by one of Wisconsin's cheese artisans, like Abe & Arthur's did.
Bacon mixed into the beef patty
Tons of restaurants were doing this, from Shake Shack to Chicago's NoMI Kitchen (served with a spiked watermelon slice, no less!). We were most fond of applewood-smoked bacon coarsely chopped into the beef patty, then served with cherry pepper relish, as seen in Danny Meyer's SmokeShack burger.
See the rest.
Bacon jam
Need we say more? Eschew ketchup and mustard (you can do it! Burger and Barrel did it!) and slather on bacon jam instead.
Potato chips
OK, so Bobby Flay didn't invent the concept of potato chips in burgers — but he did trademark it! Play up the crunchy along with the juicy and fatty by slipping in a few of your favorite kettle chip brand.
Buffalo wing sauce
When we saw this, it was a big, "Duh! Why haven't we thought of this?" Yes, buffalo-style works just as well on a burger as it does on pizza or mac and cheese, as we discovered at the Bobby's Burger Palace booth.
What burger toppings did we leave off?
Photo by Camilla Salem