Butterball Turkey Talk-Line Interview
Turkey Pointers From the Industry's Best Experts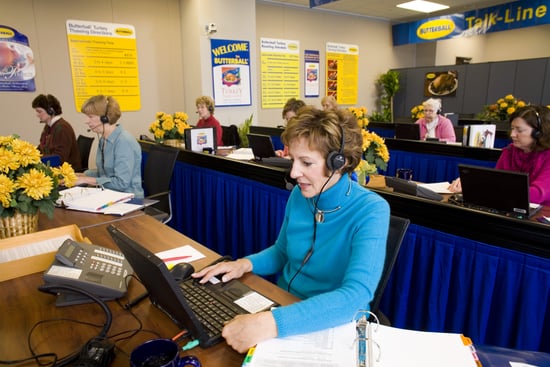 We may be living and breathing Thanksgiving plans this week, but we've got nothing on the experts answering phones over at the Butterball Turkey Talk Line, who stand by each holiday season to answer your every turkey conundrum.
I recently dialed the company's talk line headquarters in Naperville, IL, where I caught up with veteran talk-line expert Marty Van Ness. She's been offering turkey advice all day, every day, two months out of the year, for the past 20 years. Since — obviously! — she's got quite a way with turkeys, Marty shared some sage turkey advice, plus a few of her favorite Butterball hotline stories.
POPSUGAR: How and when did you get started as a talk-line expert?
Marty Van Ness: This is my 20th year. Years ago, in the 1980s, I went to work in a test kitchen and met a group of women who did the talk line. I applied, got the job, and was thrilled. Now I do both jobs, all at the same time.
PS: How do you gear up for the holiday cooking season?
MVN: We start Nov. 1; prior to that, we have Butterball 101 at Butterball University, where our staff of 55 in home economics trains on all different methods of cooking turkey. We learn different methods of cooking turkey and cook all our turkeys, from opening the bag until carving at the end. It's interesting to see 10 different turkeys and their different [cooking] methods; each is wonderful for its own reason.
Read on for more turkey talk-line questions, answered.
PS: Everyone wants to know — is it worth it to brine your turkey?
MVN: Brining adds some interesting flavors; my only question or concern about brining is, where would I put a large container filled with the brining liquid? That needs to be refrigerated, but I just would have a problem designating that much [fridge] space to a whole container holding the turkey.
PS: What's the worst thing that can happen to a turkey?
MVN: In order to know that a turkey's safe to eat, you need to get it from 40ºF to a minimum of 140ºF within a four-hour window. People will call us because their oven has gone off [in the middle of cooking], and we tell them that if it's been over four hours and the turkey's not hit 140ºF, then we're concerned about the safety of that turkey.
PS: Yikes! So what's the craziest kitchen conundrum you've ever received?
MVN: One woman called a few days before Thanksgiving. She lived outside of Denver, and it was 30 degrees outside, so a few days before Thanksgiving, she placed the turkey outside in a large snow bag. The next day, she went out to get her turkey so she could finish thawing it — and it had snowed so much overnight that she couldn't find it!
PS: What's your favorite story from over the years?
MVN: I remember a cute story where a grandmother was stuffing her turkey, and her grandson was there helping. She stepped away to answer the phone, then she finished stuffing her turkey. When they served it, they scooped out the stuffing, out came a little matchbox car. She turned to look at him, and he sheepishly ran away! The little boy must've thought the turkey was the car garage.
PS: Be honest — after all that turkey-line talking every holiday, are you still a fan of turkey?
MVN: Yes, definitely!
Have you ever called the Butterball turkey hotline when you're in a bind?