Buttermilk Ice Cream Recipe
Homemade Buttermilk Ice Cream Is Unlike Anything Else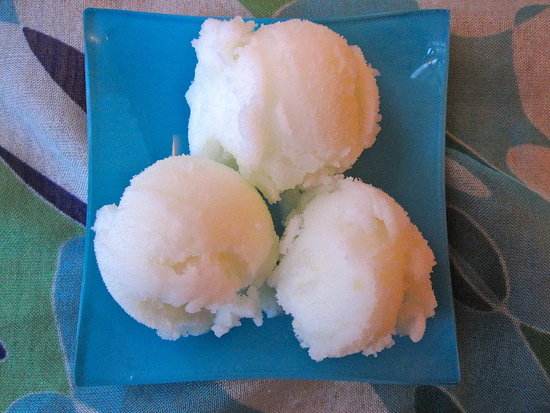 A long time ago, I was watching Martha Stewart, and she mentioned that her favorite ice cream was buttermilk flavored. For some reason, I've always remembered this, and when I purchased an ice cream maker, I was determined to make it. However, I got distracted by more glamorous flavors, strawberry, mint chip, vanilla bean, and only recently remembered my desire to try Martha's buttermilk ice cream.
Boy, does Martha know what she is talking about: this was one of the best ice creams I've ever tasted. It's creamy, but sorbet-like, tangy, and rich. One guest described it like frozen pound cake. Another simply could not stop mmm-ing. And me? I'm still dreaming of this lusciously wonderful ice cream. Although you need an ice cream maker, the recipe is shockingly easy. Learn it when you read more.
Ingredients
1 cup sugar
1 cup water
2 cups buttermilk
Juice of 1 lemon
1 tablespoon corn syrup
1 pinch of salt
Grated zest of 1/4 lemon (about 1/2 teaspoon)
Directions
In a small saucepan, bring sugar and water to a boil; remove from heat. Refrigerate for at least 1 hour or until chilled.
In a large bowl, whisk together buttermilk, lemon juice, corn syrup, and salt. Slowly add chilled syrup; whisk to combine. Stir in lemon zest.
Freeze in an ice-cream maker, following manufacturer's instructions.
Makes about 6 cups.
Information
Category

Desserts, Ice cream

Cuisine

North American